Quantum EXO 200 PT Casting Reels - $269.99
Featuring an unmistakable EXO skeletal aluminum frame that actually fended off being run over by a truck during product testing, the EXO Reel Series just got bigger with the Quantum EXO 200 PT Casting Reel. Capable of holding 30 more yards of line than it's 100-size predecessor, the EXO 200 PT is the perfect reel for launching oversized swimbaits and the insanely popular Alabama Rigs.
Plus, as Kevin VanDam will be quick to tell you, you simply have better casting control and accuracy with a larger, fuller spool. And when you hook a beast with an EXO 200 PT, not only can you count on the aluminum frame to feel rock solid in your hands, Quantum's CSC Drag System will take the heat and operate smoothly thanks to its carbon, stainless and ceramic disks that stack up well against fever-generating runs from big fish. Still incredibly lightweight like the originals, soft EVA foam handle knobs put a comfortable final touch on the new, bigger Quantum EXO 200 PT Casting Reels.
The Quantum EXO 200 PT Casting Reels are bigger and better than ever with increased line capacity and the same award-winning, ultra lightweight, lightning fast performance.
Comments: This is one SEXY ASS REEL...When I used to work @ a fairly large tackle shop as a manager we had a large reel repair business and the guy who did most of the reels said that out of all the companies there was no comparison as to who used the most solid, quality construction...QUANTUM. I have owned quantums and always been pleased because they are so solid and resilient and I believe they are some of the best casting reels out there...BUT I always complained that their higher end reels weighed significantly more than competing brands' higher-end reels...But THIS right here solves that problem...THe more I look @ this reel and read about it, I know I am going to have to give one a try. I doubt I will be disappointed. TRY ONE TOO AND LET ME KNOW! (Although I'll be ordering one ASAP so i'll let YA'LL know!!!)

From: Tanner: Sou Eastern, MA

***Note: If you have questions about this product or need assistance with an order please email your questions to info@tacklewarehouse.com
View Large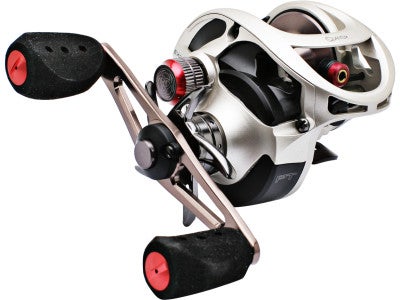 Place Your Order
More Quantum Reels Casting