Quantum EXO PT Spinning Reels - $199.99
Featuring a revolutionary EXO-skeletal hybrid construction, Quantum shoots conventional reel design full of holes with the Quantum EXO PT Spinning Reels. By combining special, ultra-rigid aluminum alloy in load bearing areas with lightweight composite that reduces weight in non-critical locations by 50%, Quantum was able to build the lightest possible frame with absolutely no sacrifice in strength. In fact, it's 38% stronger than magnesium and 6-times stronger than a graphite composite frame.
Quantum shaved weight from the EXO PT reels in every place possible for a difference you'll feel on the water. Even the spinning reel rotor is built with a revolutionary new material called C4LF, which minimizes rotor arm flex under heavy drag loads, while remaining 80% lighter than standard rotors. The EXO PT's new lightweight spool also employs Quantum's MaxCast II design. Optimized for today's range of line types and smaller, more compact rod guides, it further maximizes casting performance with its variable oscillation system that lays line evenly on the spool. Also equipped with an exclusive EXO CSC Drag System which features a series of carbon, stainless steel and ceramic discs for an extremely smooth drag that can take the heat of any fishing situation, the Quantum EXO Spinning Reels take lightweight spinning reel performance to the next generation.
Featuring Quantum's revolutionary EXO-skeletal hybrid construction, the Quantum EXO PT Spinning reels are incredibly lightweight and powerful. They shoot conventional reel design full of holes.
View Large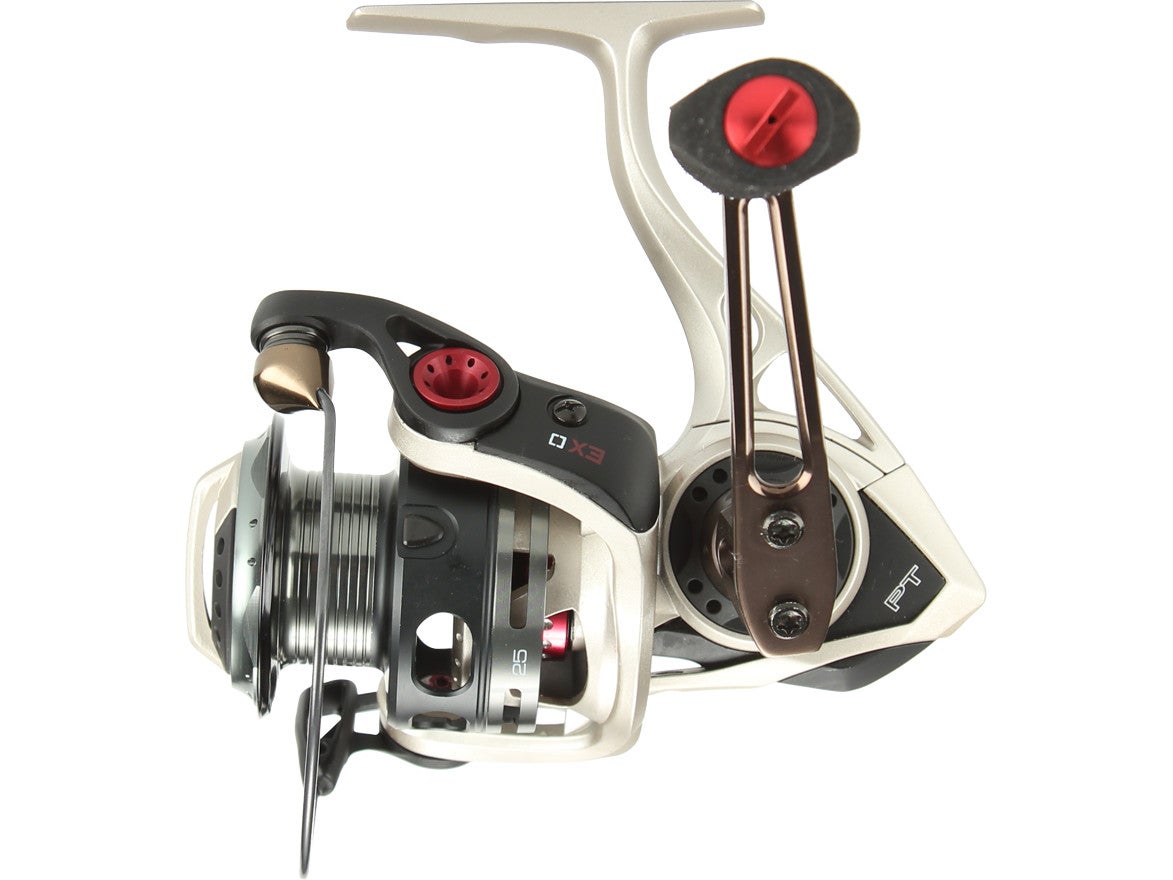 More Quantum Reels Spinning
Comments: I have been using the 25 EXO for a few years now. I absolutely love this reel. Lightweight and super smooth. paired with an EXO spinning rod is top notch. I feel the smallest of twitches from my bait and nibbles from fish. The CSC drag system is super smooth. This assures me the drag is not going to stick, risking line failure when going with a lighter line on finicky fish.
From: Mike: Logan, IA 6/18/15
Comments: The best spinning and baitcasting reels I own. The drag system in the exo is perfection at its finest. I fish in Manitoba and Northern Ontario from small pan fish to large Northen Pike and Channel Catfish, my exo handles all very very well. Though it is not the smoothest reel I own it is the toughest and most reliable, a regular cleaning and some quantum hot sauce is all it has required over the three years I have had it, nothing more then what all my reels recieve every year. Best bang for your buck in my opinion.
From: Corey: Winnipeg, Canada 4/24/14
Comments: this reel ism light andd well built fights and handles fish well. It is not the smoothest reel but its the best spinning reel for getting fish out of laydowns and dock pilings. I got the 30 paired with and Oman black 7,3 M its perfect for wacky worm, drop shot, andd a finess jig. I would highly recommend.
From: Aric: Siloam Springs, AR 3/2/14
Comments: This reel is not worth the money! I usually buy Shimano but took a chance with this reel and regret it! It is great out of the box but with use it gets dirty VERY quickly! That it gets rough after a lot of use. I had to take this reel apart countless times to regrease/clean. I gave up and got the Ci4 and it is absolutely hands down better than this reel.

From: Matt: IN

Comments: this reel is not worth the money, i would like to know how many of these KVD burns out in a year, complete garbage

From: Al: South Windsor, CT

Comments: Come on Quantum, get with the program. All the state of the art features and not available in high speed? I'll stick with my Ci4.

From: Tom: Somers Point, NJ

Comments: Nice reel not the smoothest I have but it really does stand out with the craftsmanship and build quality of the reel, honestly Daiwa has some of my favorite reels like the fuego a, but if you want a good Quantum go with the Smoke I have that one also and its smooth and reliable.

From: Eric: Florida

Comments: I have fished this real hard now for 5 months I mean hard. Now im sad to say its slowly dying. I have had pulled it apart now several times to clean down and re-grease. Its super light and allows me more time fishing before it feels like my wrist is about to fall off.
Caveat, I fish salt water 100% of the time and use marine grade bearing grease to service the reel.
P.s.
My old Diawa is still rocking on strong.

From: Thomas: Carnarvon, WA

Comments: absolutly the best reel i have ever baught light durable well built i highly reckomend this reel to any one

From: Joel: Beckley, WV

Comments: I purchased this reel because I really like the EXO baitcaster. The EXO spinning reel is NOT so great as I expected. The reel feels like I am cranking a crankbait and I have not even put line on it yet..... I think there is already to much tension with no line on the reel. Some how Quantum missed this with the spinning reel. On the other hand the EXO baitcaster is perfection. Ultra-smooth and free of tension.

From: Markell: Asheville, NC

***Note: If you have questions about this product or need assistance with an order please email your questions to info@tacklewarehouse.com