Quantum Energy Casting Reels - $159.99
As far a low profile, lightweight baitcasters in the ultra popular $100 - $200 price range are concerned, you'll be hard pressed to find one loaded with 11-bearings, and as many pro tour level features as the Quantum Energy Casting Reel. Housed in the Energy's rock-solid one-piece aluminum frame and gear sidecover, its dual cast control system includes both an internal ACS system and an external magnetic system for ten external and six internal adjustments.
Quantum's Flippin Switch, also found on the Energy, allows Gary Klien and other avid short-line anglers to engage the reel by simply lifting their thumb off the thumb bar, instead of using the other hand to crank the handle and engage the reel. Serious shallow water flippers and pitchers won't need to fear a drag failure when they slam home the hook as Quantum's exclusive Performance Tuned ceramic drag system will be there to endure the fight. Taking it to the competition, the new Quantum Energy Casting Reel is here.
If you're looking for a reasonably priced reel packed with more features and technologies than the competition, look no further than the Quantum Energy Casting Reel. Flippin Switch and dual cast control included.
Comments: This reel is amazing and what I mean by that is it's lightweight and casts like new money son! If you're having trouble casting and getting back lashes take the side plate off and tighten the gear from 0 up to about 3 or 4, 6 being the tightest. If you do this you won't have a problem casting this joker. For the money this is by far the best reel I've ever owned. GO GETCHA ONE!
From: Collin: Donalsonville, GA 8/11/14

Comments: Very nice reel at this price point... I have been replacing some of my older reels with these for 2 years now... I have 5 of these at this point... I have used them all over the years... Revos, Daiwas, Shimanos, Lews, and of coarse Quantum... and honestly they are all good and it really comes down to personal preference... sometimes you get a lemon and then you wont buy that brand again, that doesnt mean they are junk... If you spend $150 on a reel it is going to be a nice reel... That been said I do own 5 of these... Smooth, casting, drag, feel, weight, style, looks, fast retrieve speed and flippin switch all are pros... are there better reels on the market??? Of coarse... But in this price range it is very nice reel..
From: Mike: CT 8/11/14

Comments: got this reel for a hundred bucks about a year ago very light and cast very well but after a couple of months has became very noisy even after cleaning and oiling hasn't effected performance just irritating prob wouldn't buy another will stick with my revos and lews in the future
From: Bubba: Sylacauga, AL 6/28/14

Comments: Wow this is the best reel I have ever used. I have been catching some nice sized largemouth and it is not a fair fight. The drag on this thing is so nice. I also love the texture of the grips that Quantum has used. In conclusion I love this reel and Ps: Quantum rocks!!!
From: Jacob: TX 6/6/14

Comments: This reel is outstanding! I have the KVD tour signature series and this reel performs just as well. I have had this reel for a while now and I am very impressed, absolutely no problems what so ever. I would recommend this reel to everyone looking to buy a reel in this price range, it is absolutely worth it. Great job Quantum!

From: Jacob: La Crosse WI US

Comments: this reel is fantastic! Allot of people will try to tell you quantum is junk but that is far from the truth. right out of the box the reel is extremely smooth, super light, and the color is just plain out awesome. i got a chance to fish it tody the drag is smooth, and it is an amazing caster. the only thing about this reel is you better make sure you have some internal brakes on.Quantum must have really put high quality bearings in this reel because on mine the spool floats so well it's almost unnecessary, just make sure you have a couple internal brakes on. once a couple internal brakes are on the external brakes can be left off and you won't even have too thumb it too cast into the wind. believe me this reel once it's set up is an amazing caster and definatley outcasts my lews and shimanos.

From: Cole
Comments: The un-named review below is by me and I want to re-iterate after taking this reel out on a trip---the thing is AWESOME...it casts SOOO far and SO easily and needs very little adjusting from lure to lure...just an AWESOME REEL. Smooth, easy casting, great-looking...etc.

From: Tanner: Southeastern, Massachusetts

Comments: Wow!, i thought previous energy and tour edition were great but this new model is so smooth and cast like a charm. Turned magnetic brake off and left only 1 ACS on, little adjustment on spool tension knob and no birds nest. I've used Abu, Smoke, and Shimano Curado/Core and let me tell you, this reel is better. For the guys who complain about color, no left handed reel, and having to remove side cover to adjust, stop being baby's and post realistic comments.

From: Eduardo: CA

Comments: I'll start off with WOW...I'm an abu and shimano guy but lately i've been un-impressed with Shimano's offerings so the newer Quantums intrigued me and the reel repair guy @ my old shop always raved @ the quality Quantum uses. So I tried the EXO first and loved it...then I went this the Energy High Speed and WOW...Honestly...a lot of the stuff on it is BETTER than the EXO for 100$ less...the handles are much grippier...more and easier cast controls...feels a little more solid...Yeah the energy's a bit heavier but that helps balance a lot of rods these days anyway and it's by no means "heavy" it's a lightweight reel the exo is just absurdly lightweight. I think The exo had to sacrifice a little to get it so light so the energy's where nothing was sacrificed...I still prefer the exo but the energy is SO CLOSE. An AMAZING reel and I have Revo Premiers, Core's, Lew's SS...i've used em all.

Comments: Having several Quantum reels varying from a old school Profile to a KVD, this is a very nice reel. Took no time to get set up and casts great. The flipping switch works easily and comes in handy if you need a general purpose reel.

From: Nathan: Taylorville, IL

Comments: Purchased this reel about a month ago and love it! I have ordered 7 more of them! I paired with the 7'5" MH GlX. It is the sweetest combo on my new skeeter. I have many Quantum, Shimano, and Lews reels. This one blows the rest of them out of the the water! Including the MGX! MUST HAVE another one soon!

From: Chad: TN

Comments: I bought this reel recently and I love it, I do prefer my Exo over this although

From: Alex: LA

Comments: Quantum has seemed to really step it up with the new exo, energy, and the (not so new) smokes...They're good solidly made reels. They've finally got their reels weight down to compete w/ how light today's reels are...and impressive price points...I'm sold on this reel and/or the exo...They just looks DOPE. And the reviews seem as impressive as the look so far. Thanks my TWH PEOPLE!

From: Tanner: S.E. MA

Comments: Sorry for the typos in the previous comment. My friend has the same reel and his works fine. Mine might have been a dud.???

Comments: I got this reel for 119.99 brand new and thought I had a good deal but I was wrong. The flipping switch is hard to kove and its very noisy. I oiled and greased it, still the same problems. I gues Im going to have to stick with my Lews (best reel made).

From: Mike: Norman Park, GA

Comments: I cast with my right and reel with my right hand so i dont see why you complain and whine like 2 year old so i have to put my rod in my left hand after i cast wow a one second lag between casting and reeling just do what every you feel like but done whine when companies don't offer left hands quantum will probably come out with a lefty in a few months

From: WI
Comments: i feel the same way. i dont care at all what it looks like. if it peforms good, thats all that matters

Comments: I like for my setups to look good just as much as the next guy, but when it comes down to it, i think the way the reel performs is more important than the color.

From: Dan: WV

Comments: why orange???!! The previous energys (both the 2005 and 2009 ) where the best looking reels out there. Why would they change that? I guess I will just keep all 5 of my old ones and just stick with smokes and EXOs from here out.

From: TN
Comments: Dear Jash, I don't think so. I'll just buy a different reel made for right handed people, so I can cast with my right hand and crank with my left. There are reel manufacturers who actually understand this simple concept.

From: Larry: VA

Comments: I really have liked this reel so far. Its sort of a cross between a smoke and an exo, just slightly heavier. Very impressed so far and would order more.
From: Cody: Little Rock, AR

Comments: Well thanks all of you for such informative reviews you've all given! I am totally sold on them now!

From: Eric: Dallas, TX

Comments: I feel for you lefties, but fortunately for me, i reel right handed. I'm impressed with the new energy, and i'm a huge fan of the previous model. I've got the 6.3:1 paired with a 7' 3/4m big bear rod and use it for small, shallow crankbaits. Can't speak yet for the drag, but the reel is really lightweight and comfortable in my hand. I also like the oversized eva foam handles. I think these are a upgrade from previous smoke handles. The one drawback for me is the new braking system. Don't get me wrong, it's easy to adjust, but i just hate having to completely remove the sideplate to adjust the brakes. If quantum continues to use the dual cast control, i'd like to see them steal an idea from shimano and be able to just swivel the sideplate to the side to adjust the brake. Although i never use it, the flippin' switch is also a nice added feature. Great reel at $30 less than previous models equals a happy customer.

Comments: nice reel but quantum just cant figure it out, why make a reel that only right hand cranking people can use? Thats why I switched to shimano, awesome reels for EVERYONE.

From: WA
Comments: typical quantum product.....designed to catch fisherman not fish.

Comments: I'm right handed so I cast and control the rod and reel with my right hand and crank with my left. I would never consider a right hand cranking reel no matter how good it is.

From: Larry: VA

***Note: If you have questions about this product or need assistance with an order please email your questions to info@tacklewarehouse.com
View Large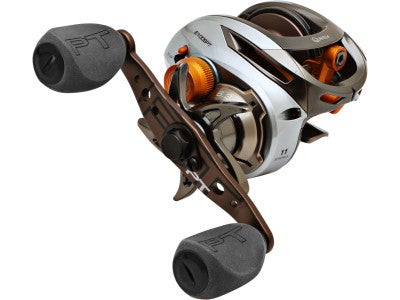 Place Your Order
More Quantum Reels Casting