Quantum Energy PT VI Casting Reels - $148.88
The popular Energy PT casting reel is totally new for 2009 with a new sleeker body and weight reduction of 2.1 ounces. The weight reduction and sleeker design are most noticeable on those long fishing days, translating into added comfort and performance. That goes a long way to keeping you out on the water, focused and catching fish.
Even though these new reels are significantly lighter than before, they don't lose a step with regards to power and durability. In fact many of the improvements that made the reel lighter actually made it function better. Quantum took a look at key reel parts and improved the materials and engineering to make the reel as strong and smooth as it ever was.
With 3 different gear to chose from (the 'Burner' 7.0:1; the 'Speed' 6.3:1; and the 'Power' 5.1:1) there is an Energy PT that fits your style of fishing. Quantum packed as many features as it could in their new PT series, including a new powerful ceramic drag system:
CNC Machined aluminum frame, side cover and front support - The one-piece design provides a solid foundation for the PT drive train and means less wear and tear on the moving components for less maintenance.
ACS II externally adjustable centrifugal braking - the external dial allows you to adjust the centrifugal brakes to perfectly match your fishing situation, without having to disassemble the reel.
Ceramic drag system - special ceramic coating provides more consistency and dissipates heat much more quickly. This translates into better wear and less maintenance.
Dual PT-bearing Continuous Anti-Reverse - provides a fail-proof, rock-solid hooksets with absolutely zero backblay
Super Free Spool pinion design - allows the spool to "float" on the drive train, which creates less friction and contributes to the smoothness of the reel.
Easy Access lube port
Light-weight aluminum handle
BASS Elite Series Pro Kevin Vandam Quantum Video
Fishing Tips With Quantum Pro Kevin Vandam
Reel Specs
E100PPT
Bearings: 9BB
Line Cap: 12/135
E100SPT
Bearings: 9BB
Line Cap: 12/135
E100HPT
Bearings: 9BB
Line Cap: 12/110
Comments: I love the 5.3 cranks effortlessly .I aam buying a new reel this weekend for my dobyns jig rod. And I think I might get one of these in 7.1 after reading all you guys using the for frogs I guess it should be good for jigs too .Always read the reviews people....

From: Barry: Lowell, MA

Comments: Great reel. It was my first casting reel and I have 0 issues with it. I never touch the spool tension and just set 6 brakes and NEVER have to worry about a backlash, no matter what size lure I'm throwing. My only complaint is it is a little light on the drag, but still, it's enough to get the job done. For the price, its a great buy!

From: Steve: Sylmar, CA

Comments: Traded for one of these bought a month ago and sold it about 2 weeks ago. Its a good reel really smooth casting and reeling, my problem with it is it feels really big in your hand. Casting and fishing the reel just seems bigger in my palm than my Abus and Daiwas. As far as the reels performance ill give it 10/10 but I just didnt like the way it felt, maybe you will.

From: Will: Tuscumbia, AL

Comments: Great reel easly competes with my lews speed spool tournament pro its soo smooth i love it for all my frogs

From: Louis: Baton Rouge

Comments: This reel is amazing, ive fished several different Quantum baitcasters and this reel casts so much farther with such ease too. I personally love the 7.1 burner ratio.

From: Tyler: Old Hickory Lake, TN

Comments: Have fished an Energy E760PT for about 5 years, and its been great, no.. (excellent) for me. Honestly I think its got better with age! Caught most of my big fish on it, and its been through ALOT! Used in every application. Gettin a little old and now she's retired to a crankin' reel.. Still works and cast like a Dream.

From: Lake Texoma, TX

Comments: doesnt feel cheap if it makes noises that means oil it!!!!!

Comments: your wrong its awesome!

Comments: reel feels cheap, and makes weird noises when casting, also doest have much drag. get a revo sx or a lews

From: Ryan: CO

Comments: This reel is absolutely outstanding! I own the 7.0:1 and i use it for frogging. It has enough drag power that it doesn't slip when cracking a hookset on the big ones in the junk, and you can horse them out with it. Its super smooth, and it casts a mile too. would recommend this reel to anyone.

From: Cole: Ontario, Canada

Comments: I got this reel for my birthday and it is amazing. I put 50lb sunline fx2 braid on it and it is so good. it is light, smooth, and casts a long ways out there. It is a very slick looking reel and I personally love the grips. Some people think their too skinny and thin but they aren't. The only bad thing is that the spool tension knob is hard to turn, but that is a very minor issue. I could care less about that. But otherwise the performance of this reel is great.

From: Jason: USA

Comments: well I have a lot of different quantum reels like the accurist smoke and tour an this one. This reel is definatly one of the best iv ever used its smooth, a solid weight, its versital and can do any technique you throw at it and lets face it, this reel is down right sexy. I got it on a 7ft MH smoke rod for throwing Texas rigs, jigs, spinnerbaits and swim jigs. If your in the market for a new reel. Get this one. You'll love it

From: Matt: MN

Comments: all around good reel. very fast and smooth retrieve, and a perfect frog reel

From: Vin: Ft. Lauderdale, FL

Comments: bought this reel in 7:1 gear ratio to throw my war eagle finesse spinnerbaits, and i love it. the only baitcasters i use are quantum. this reel is super smooth and casts great. i somewhat agree with dave who commented below me. i bump up to a 150 size reel (reax for me) for all of my 1/2 oz and 3/8 oz w/ colorado blades. just another quality product from quantum.

From: Dan: WV

Comments: This is a great reel. I have had the Energy 5.1:1for 3 months now as a crankin reel, and with the acs brake I have made bomb casts INTO the wind. small 1/4 oz baits cast well plus without adjusting anything I tied on a 1/2 oz bomber model B and it casted without even an over run. I also have a 7.0:1, but it just feels like it struggles for spinnerbaits. it also casts diffently than my 5:1. Just make sure you oil it with Quantum hot sauce prior to use. the noises you may here will go away and casting distance will increase.

From: Dave: MI

Comments: This is probably the best low profile baitcasting reel i have ever used besides the smoke. It is well built and casts like a dream!

From: Nick: Canada

Comments: This thing is the deal. I use mine exclusively for froggin` with 50 lbs braid, it'll chuck a croaker way back into the thick stuff. More specifically what I really like about it is the design of the spool. The contour allows for not only more line to be reeled onto it but it promotes for an extremely even transfer of line, thus reducing the chance for backlash, knotting, etc. This aids with further casting. Beyond that this thing is tough - I've applied oil once in 2 arduous seasons of casting and this thing still performs like new. The look is great with the oil slick, I have not tired of it. Easy to tune and responsive to slight adjustments.. if you're considering this reel I can give a monks honesty in telling you it should be a no brainer. Great price point doesn't hurt.

Comments: this is the best reel i own. I have two brownings one citori and one midas and my quantum is hte best one smooth casting great drag all around great reel for the money

From: Cori: Omaha, NE
Comments: I had bought this reel and only had it for 2 months and it started falling apart, First, the button would stick and eventually get stuck down. Second, the reel would slip. Third, the magnetsnand drag setting is all messed up and this all happened after only having it for 2 months. Worst reel i have ever bought. To this day i cannot and will not trust Quantum and i will never buy their reels again!

From: Grant: Dillsburg, PA

Comments: Wonderful cranking reel with the 5:3:1 gear ratio. You can crank any deep diver with little effort. This thing also can huck light and heavy baits great distances with few backlashes. Adjust the cast control accordingly and go to work. Not enough is said about drag systems on reels anymore? Quantum has the best, smooth as silk.

From: Tom: St. Joe, MI
Comments: great reel. i use mine for crankbait.super smoooooth!

From: Seth: Iola, WI
Comments: Wow, thats all i can say. This was my Christmas present from some of my family and it is just an amazing reel. It took a few minutes to get it dialed in right, but now i dont even have to thumb the spool and i can cast a mile. Set your mag brake one above the lowest setting, and then adjust your cast control to make it so your lure barely falls when you freespool. Thats what i found works the best to start, when you have that down, start letting off your cast control if you want to.

From: Ryan: North Carolina, USA
Comments: this reel is awesome. I suggest you add this one to your gear, you will not regret it.

From: Chris: Chattanooga, TN
Comments: This reel casts better than my Curado200e. All metal and still less than 8oz. Really smooth retrieve, on par with the Curado. Overall really solid reel, I would recommend to anyone !!

From: Choke Canyon Boy: Texas, USA
Comments:If you want the Quantum Tour and can't spend the money, get this, its almost the exact same thing. I have both and they feel the same.
From:Sonny: Massachusetts, USA
Comments: All I can say is, WOW!! I already own 12 PT reels (5 TE, 5 Energy, & 2 Accurist) all 2008 models and didn't think I would ever be happier than with what I already had. Well..... I finally decided to break down & buy a newer model Energy and am very impressed. I didn't think the weight reduction would matter but they feel EVEN BETTER than before - lighter, lower profile, 2 more bearings, and still look great!! Excellent value & excellent product!!!!!!
From:Regan: Mitchell, IN
Comments:These reels are worth the $, if not more. I recently purchased 2 Revo STX reels and after a long week of fishing them, i was NOT impressed. I returned them and got 2 of the quantum energy reels and could not be happier. The braking system is great, they cast further than the revos, and the retreive feels better. also, the thumb tab is set lower on this reel, and makes for easier thumb control when casting with brake and backlash settings dialed out! I have both the 7 and 6 geared versions....paired on St Croix rods...you will not be making a mistake with this reel!
From:Louis: Mississippi, USA
***Note: If you have questions about this product or need assistance with an order please email your questions to info@tacklewarehouse.com
View Large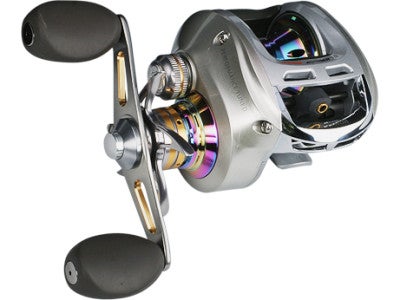 Place Your Order
More Quantum Reels Casting