Quantum PT Smoke 150 Casting Reel - $219.95
The Quantum Smoke Casting Reel Series is quite possibly the smoothest casting reel series in Quantum history. Weighing in at only 6.8-ounces - the Quantum Smoke PT 150 Casting Reel boasts a larger spool for fishing scenarios requiring greater line capacity, while remaining extremely lightweight for those long tournament days on the water. A solid, lightweight, one-piece Aluminum Frame with Aluminum Side Covers, rather than Magnesium, also ensures that the Smoke PT doesn't sacrifice on durability like similar lightweight reels. The reel's rigid aluminum construction not only helps keep all the internal components ultra flush with no sloppy play, it also provides a solid base under heavy winding pressure.
A Micro ACS nine-position Cast Control System allows you to fine-tune the amount of centrifugal braking to match exact casting conditions, and whether you choose a lock-down Tommy Biffle-tough setting for pitching heavy cover, or a looser KVD setting for treble hook baits - the patented, layered Quantum Ceramic Drag System can take the heat. It doesn't warp like lesser quality drags and stays smooth for years. Featuring seven Performance Tuned bearings for excellent corrosion resistance and fluid, reliable functioning, the super lightweight Quantum Smoke PT 150 Casting Reels are packed with Quantum's Performance Tuned features - and available for a great price.
Match the Quantum Smoke PT 150 Casting Reel with a Quantum Smoke PT Micro Guide Casting Rod for a lightweight combo weighing in at 8-9 ounces.
Additional Features:
Titanium-Nitride Coated Line Guide
Lightweight Skeletal Handle with EVA Knobs
Possibly the smoothest casting reel series in Quantum history, the Quantum PT Smoke 150 Casting Reel features a larger spool for more line capacity, while remaining super lightweight - only 6.8-ounces.
Comments: bought this reel last winter and after one season this reel is giving me some serious problems. After a cast the reel will not engage and will not crank, it just gets jammed. After taking it apart giving it a thorough clean and lube everything works fine again until half way through the day the next time out the same thing happens. I will not be buying another quantum product.
From: Josh: Brampton, Ontario Canada 10/13/14

Comments: I absolutely love this reel! I got it for Christmas and I can cast lures a mile, with a 3/4ounce jig I can cast it 40-50 yards, the reel is incredibly nice weight and can cast any size lure, from the 6 inch Huddleston to a weightless worm. It is an incredibly tough reel too.
From: Cade: NJ
Comments: nice reel overall had it for two years and fished heavily. Still like my lews speed spools better. Plus they are half the price and perform equally as well just not as light.

From: Rogers: GA

Comments: Ticks and grinds when cranking. (All my reels are extremely well maintained) Can be tough to tune. My biggest complaint on this reel is that when palming the reel, the Acs adjust tends to move into different positions. So when i go to do my next cast and i dont realize its on "Free". it can be a mess.

Comments: This is a great reel I've had mine for 2 years going into 3. Just make sure u give it regular maintenance. Quantum is offering a all metal reel at 6.8 oz not even daiwa zillion is all metal with their cheap graphite side plate and it's a 320 reel. I've been able to cast a 1/16 oz shakey head with a roboworm at least 30 feet get this reel.

From: Antonio: md,USA

Comments: I beat these reels up and they keep on giving back to me.. Yeah the paint scratches a little... but the components are solid and it continues to fish like a dream . Light , dependable and comfortable... this is why I only use quantum. All reels need routine maintenance take care of your investment and it might give you the double digit day.

From: Thomas: holly springs, NC

Comments: Best baitcaster eva!!

From: Mike: trussville al

Comments: great reel I have the 151hpt on a lamiglas si,I originally looked at these reels because they match the rod perfectly but I am a shimano guy.when I got my hands on one though I had to get it. Extremely light,plenty of power,good line capacity,consistent drag,cast really far(farther than my curado) and once you tune it it resists backlashes quiet well.overall I am very happy with this reel.it has a season under it's belt now of very heavy use and works just as it did out of the box.

From: C: WA, USA

Comments: I have to admit, I'm not a Quantum fan overall. After sending a spinning reel back twice within the first two months, the last time with no return address so they couldn't send a replacement, I swore I wouldn't buy another Quantum product again. However, I took a chance on the Smoke when it first came out. I was taking a trip to the Amazon for Peacocks and needed a light, high speed reel with good line capacity to work the big prop baits fast. The reel has now been back twice and after thousands of casts and hundreds of Peacocks, it's still a terrific reel. I use it all the time for bass in Florida on the weekends. Aside from a bit of a noisier retrieve than some other reels I own, it's a fine tool for catching fish.

From: Rick: Wellington, FL

Comments: I have purchased many reels and different combos and the smoke just blows my mind. This thing is so light in the right rod combo it's ridiculous ! It's smooth and feels great... in cast and retrieve, just what any angler wants .. plus it has a## in a good fight. If you can't oil a reel you can't land a hawg. I have completely given up my combo selection to quantum and have ordered two more of these in diff gear ratio's. This reel won't disappoint.

From: Thomas: Holy Springs, NC

Comments: i've used quantums all my life. i love them. but today i got a surprise. i was doing a final cleaning before i put my reels away and started on my 7.3 smoke that i bought two years ago and noticed that the reel foot was bent. turns out i had sheered the frame and bent the reel foot. also on the other side of the reel foot it is sheered on the frame as well. so it is only being held on my the front part of the frame where the reel foot connects to it. it was probably my fault but i know this shouldnt have happened. im only 16 and dont have alot of money so when i lose a reel like this it puts a huge dent in my wallet. i will still use quantum products because they are indeed great products but i now know the limits on these smokes

From: Joe: Spokane, WA

Comments: Purchased the 7.3 model and put it on my Falcon Bucoo Micro 7'MH rod. So light its not even funny. Caught a nice 6lber on my first trip out with it, along with many others. Total Cake Walk. If you are thinking about buying this reel without having held it before, just do it, you will not be disappointed! I plan on buying another soon.

From: Don: Ft. Worth, TX

Comments: Really a good reel, nothing bad to say about this reel! 4 sure Quantum has did a good job with thos one!

From: Billy: Texas, USA

Comments: GOOD! It's my first Quantum and it worked much better than an other reel I wont name. It's extremly smooth on casting, makes no noise. the drag is very very very smooth too. enough light too, the design fits perfectly in your hands, And I had no problem with backlashes, When you try out a reel for the first time, you don't cast it out like your other reel, take time to tune it slowly by making short casts at the begining, I might quit Shimano and get on Quantum now, sorry curado :(

From: Victor: Quebec, Canada

Comments: Hey Matt and Brett from Illinois, learn to properly tune and lube a reel correctly before you belly ache about how bad a reel is. Must be related!!!!

From: Glenn: AZ

Comments: Simply amazing And the 100 size isn't to bad either

From: Jonathon: TN

Comments: BEST reel money can buy i received this reel 6 days ago and spooled it up with 12 pound vicious pro elite fluorocarbon and slapped it on my kvd tour cranking rod i 7'10" medium heavy and man this would have to be the best reel that i have ever had i own 2 kvd tour reel in 7.3:1 and a 5.3:1 and i love this reel more than both of them these reels are very smooth and tremendously light weight i am planning on buying at least 3 more before my tournament on kentucky lake august 18th and 19th hope to see some of you guys there and buy some quantum reels!

From: fishinkentucky247: KY
Comments: This is just a great reel. Smooth, great drag, and a good casting system. Would recommend this to anyone.

From: Cole: Ontario, Canada

Comments: THIS IT DEFINATLY THE BEST REEL I HAVE EVER USED BUY IT!!!!!!!!!!!!!!!!!!!!!!!!!!

From: Jack: Hinsdale, IL

Comments: Im a avid offshore fisherman and although I like fresh water I never gave it must thought. I won a trip to Aqua Milpa Lake in Mexico and that all changed. I needed two set ups for my trip and spent several days looking at gear. Because of the reviews and info at Tackle Warehouse I decided on Quantum for my reels. I purchased 2 150 Smoke reels in 7.3:1 & 5.3:1. But them both on Abu Garcia Vendetta rods one 6.6" Med/Heavy and a 7.4" med. Spooled up with 20lb P-line clear and we were off. In three days we landed 495 bass up to 6.5 lbs and lost a few bigger. I had none of the backlash propblems or concerns that I have seen on here. The reels performed great and I never had an issue. Trust me in order to land 495 bass you have to throw quite a few times. We probably lost half as many as we landed.
Even with 20 lb P-line these fish put on a air show the Blue Angles would be proud of. Granted we had to go in deep to get them, thats the reason for the heavy line. The hogs hide in the deep nasty stuff. Even when the wind came up I didn't have an issue throwing cranks or plastics. Once you have the reels tuned they work with out a thought. If you are considering a new reel and you want one that can get it done time and again then the Smoke 150's are the reel to get. They worked great either throwing cranks, spinners on my 5.3:1 and worms, brush hogs and senkos on my 7.3:1. Have fun and remember ( let em go so they can grow ).

From: Tony: Fallbrook, CA

Comments: WOW love this reel to death. this reel is worth every bit of what is tcost it has incredible casting distance, buttery smooth retrieve, and a very quiet spool release. i have no problems with this reel at all it has also a lot of power i swung a 3lb bass from 25ft high with this reel i faught a 6lb bass on it with ease and many 4lb bass i completly recommend this reel 100% go get it!!

Comments: Wow!!! I bought one now I have two.

From: Michael: GA

Comments: Love Quantum, but they never come out with left hand reels in cranking ratios!

From: Jack: Toronto, Ontario, Canada

Comments: Love this reel to death... LITE SMOOTH Casts a mile everything you need. Drags perfect to

From: Sonny: East Wareham, MA

Comments: this reel is freakn awesome, i have 9 quantum reels and they all are excellent reels, but this smoke is amazing, check this out i bought a 100spt 6:1 on ebay, and when it arrived i opened the box labled 100 spt, and there sits a 150 spt, so i got this thing like half price. I spooled it with some 12 lb spiderwire and stuck it on a 7' falcon bucco micro quide, tied on a begabass vision 110, and hit my private pond, this thing was a freakn rocket, with very little effort 50 to 60 yard cast with ease, put some mucle into it and its easily a 70 to 80 yard throw, smooth as silk and light! ABOUT 11 OZ. bottom line this reel will hag with the best for half the price, quantums kick a$$.

Comments: Not a bad reel. Definitely agree with Josh about loosening the cast control for better performance. If you're fishing any reel with the breaks set all the way you are not getting the full potential of your reel. Holds plenty of line, and casts great even with slightly lighter baits. Thinking about getting the 5.3 to 1 for cranks.

From: Andrew: AR

Comments: love it have it on the 7 ft smoke rod medium heavy have the 6.6.;1 sL 151 spt left hand retrieve and by far one of the best priced and best over all rod and reels

From: Daniel: Nashville, TN

Comments: These reels are great and once people stop turning the cast control knob too tight, they will realize just how good they cast and retrieve. I repair, clean , super-tune reels for people in all of my bass clubs and others and I notice that every reel that I receive have the cast control knobs so tight that the reels seem to not cast or retrieve the way they are intended ( you have to get used to feathering the spool or you do not maximize the reels potential) and if you are getting a lot of backlashes try having the cast control more free and practice with your thumb more often. I believe the new ACS3 is one of the best cast control systems available. You will be pleasantly surprised at the outcome if you try these suggestions.

From: Josh: MI

Comments: Made the first comment on this reel. The reel started to not engage at all from free-spool so i sent it back to quantum and they replaced it for free. This one feels MUCH better and more sturdy than the last. Judging by the diversity of comments on this reel im am guessing that they had a bad batch or something. The one i have now is definetly of the quality quantum reel i have come to know. 5 out of 5 stars for the reel i have now.

From: Ray: Texas

Comments: this is by far the best reel i have ever fished with! i love the foam grips have already caught several fish on this reel and it is the smoothest reel iv ever felt i will have to order some more.

From: Kiel: Kansas

Comments: I've bought 4 of these and intend to buy more. Best reel on the market. Mine came greased and ready to go, I'm not sure what the other guy is whining about. Either way, his man-card is being revoked because apparently he can't oil something himself. Foam grips aren't for everyone, and I'm on the fence. I like them better than traditional PT handles when it comes to gripping them, but I don't like the fact that they will compress and get light dents in them from sitting in my rod locker. Other than that, I love these reels. The main selling point for me was the weight. The difference between the smoke and other PT reels is actually noticeable when in your hands. Casts far, retrieve is smooth, and drag is reliable.

From: Marc: MI

Comments: First if I pay that much for a reel, I should not have to oil it prior to use. Second, I did buy some Quantum Hot Sauce and oiled it. I even took it to a Pro and he took it apart and said that everthing was oiled correctly. They are junk. If this is the best reel Quantum has produced in the last two years, I feel sorry for anybody that buys Quantum.

From: Brett: IL

Comments: You have a small problem with an easy solution. That sound you are referring to is not uncommon when purchasing imported reels from East Asia. Sometimes the proper components are not oiled, or the oil dries suring the long boat ride over here. You simply have to get a bottle of reel oil, oil just a couple easily accessed areas, and your problem is solved. I have owned several Quantum baitcast reels and always make it a point to oil them prior to use. Just a small drop in the right places goes a long way. Reference to the Smoke series reels in particular, they are awesome! Smooth, fast, strong, and light. They entail everything that the higher-end reel market has available, for a fantastic price. This has to be one of the best reels that Quantum has ever produced and they have certainly made huge strides in the right direction over the last 2 years.

Comments: Buy my Quantum Smoke reel 150 and smoke 6.6" rod in January. I had the opportunity to wear in Bita and Orinoco River in Colombia. Large peacock bass, payaras and other species of large size and result was excellent. I recommend this reel, after use in fishing days over 10 hour an large fish in Colombia Rivers.

From: Diego: Medellin, Colombia

Comments: One thing to note about the PT Smoke 150 reels from Quantum is that the Quantum website & web-catalog (as of March 2011) list the specs on this reel as having the Infinite ACS II (2nd generation ACS) cast control when in fact the reels that are in stores and the one that I've purchased have the ACS III (3rd generation) cast control. As far as specs go.. the only difference between the Smoke 150 and the top of the line Tour KVD is 2 bearings and the Carbon Fiber Handle.. and of course the finish! I've used the PT Smoke 150 over the course of two weekend fishing trips thus far and this is one phenomenal reel for the price. Love the cast control, smooth performance and the over-all a great feel of the reel. Awesome reel!!!

From: Sendo: IL, USA

Comments: This is indeed a great reel. One of the best Quantum has produced. Casts great performs under preasure and stands up to any big name reel on the market in its class. I have it paired with a Temple Fork rod and it is a great combo for tackling big red fish.

From: Charlie: Austin, TX

Comments: These reels are great. I have far more expensive reels like revo prm., zillion, steez, and cronarch and this reel smokes them all. The review below must have come from someone who doesn't care or is ignorant about reel care. No matter what brand I buy I always flush and re-lube all spool bearings and put a little oil on the cast control brass ring.

From: Josh: MI

Comments: Absoute junk! I bought 5 of them. Three of the 5.3:1 and 2 7.3:1. All three of the 5.3's make a terrible "whining" sound when you cast them. They are way overpriced. The right price should be $100 and that would be about 20 or 30 too much. Do not buy this reel you will regret it.

From: Matt: IL

Comments: I love Quantum. I have two reax, a catalyst and an energy with no problems. I got this reel and took one cast and it sounded a two-stroke dirt bike. I figured out where the vibration was coming from and found that the acs bearing was completely dry. I put a couple of drops of oil in it and fixed the noise issue. One minor complaint is that the engage from free-spool doesnt feel as firm as thier other reels. Only time will tell if this reel holds up and i hope it does because the weight and casting and smoothness are all tremendous. thats why i didnt send it right back.

From: Ray: Texas
***Note: If you have questions about this product or need assistance with an order please email your questions to info@tacklewarehouse.com
View Large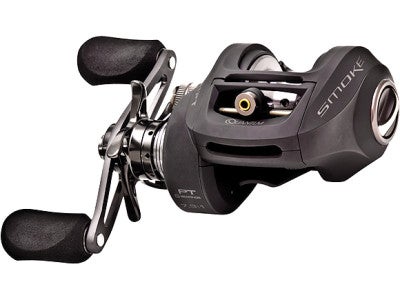 Place Your Order
More Quantum Reels Casting