Quantum Smoke Inshore PT Spinning Reels - $179.99
Redefining lightweight, inshore spinning reel performance, the Quantum Smoke Inshore PT Spinning Reel has the corrosion-resistance to take on saltwater environments and last longer in freshwater.
Quantum shaved off weight wherever they could, including from the rotor frame and reel handle to make the new Smoke one of the lightest, toughest inshore spinning reels available. The new-and-improved SCR base alloy aluminum body and side covers are protected by Quantum's exclusive SaltGaurd 2.0 coating for multi-layer corrosion protection. The proprietary C4LF rotor is also composed of C4FL composite, which uses exceptionally long carbon strands to make it 2.6-times stronger and 80% lighter than typical spinning reel rotors. The watertight Carbon Stainless Ceramic (CSC) Drag System resists heat and warping when a big fish makes a long run, and lasts longer than typical drags.
If you want a reel that smokes fish and the competition, look no further than the new Quantum Smoke Inshore PT Spinning Reels.
-Backed by a Limited Lifetime Warranty
The new Quantum Smoke Inshore PT Spinning Reels deliver unprecedented corrosion-resistance and strength to take on brackish water, freshwater and saltwater alike.
Comments: The Quantum PT Smoke Inshore Casting Reel is by far the best reel I have owned. I chose the Inshore version because I fish both fresh and salt water...I fish 1-2 times a week. I own and use an Abu Garcia STX and older Shimano casting reels, and I will be replacing them with the PT Smoke. I paired the reel up with a St. Croix Rage 7â•Â˙ 1Ã¢Â•Âˇ medium power rod. I fish from a kayak and at 320 lbs. I am a small guy with large hands. The reel is nice and compact, light, and even with my large hands it is very comfortable. The reel is easy to adjust, has awesome power, and it will cast a country mile╜I personally feel I have more control and sensitivity using the PT Smoke when compared to my other reels. It is a bit pricy, but well worth it if you can afford it.

From: Moose: Extreme Southern California

***Note: If you have questions about this product or need assistance with an order please email your questions to info@tacklewarehouse.com
View Large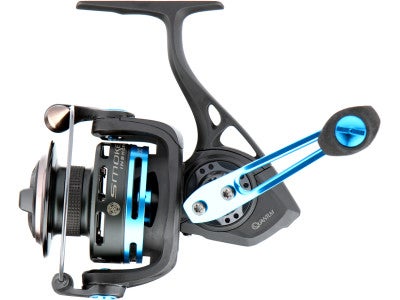 Place Your Order
More Quantum Reels Spinning