Rapala DT Fat Crankbait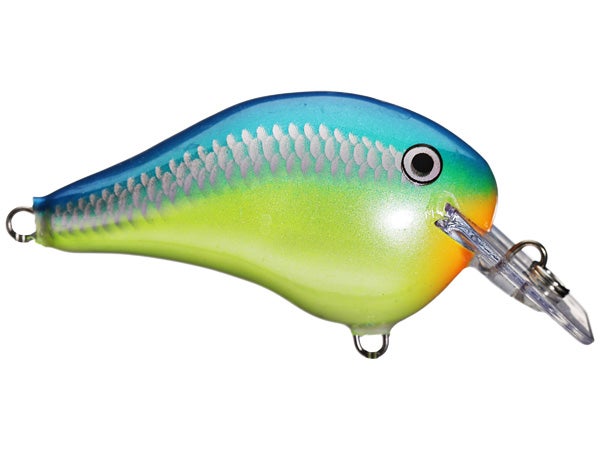 Throw your fat around with the first fat body DT from Rapala. Other crankbaits fear heavy cover, but the aggressive wobble and square lip of the new DT Fat plow through cover while rooting out the hawgs.
| | | | | |
| --- | --- | --- | --- | --- |
| Rapala | Length | Weight | Class | Depth |
| DT Fat Crank 3 | 2-1/2" | 1/2oz | Floating | 0-3ft |
| DT Fat Crank 1 | 2-3/4" | 5/8oz | Floating | 0-1ft |
15 Colors
More From Rapala Crankbaits
Customer Reviews
Comments: Got the DT1 in hot mustard for my local pond. great bait. love how you can crank it down or lift it up to use as a wake bait. caught 4 decent sized LMB. lost one though due to a snapped hook. not sure what happened. hooked up, pulled some drag, then pow. broken front treble hook.
4/21/16

Comments: I have this in both sizes in shad patterns. I use DT 1 a lot more than I use the DT 3, but I love them both. The DT 1 is a truly unique bait that is really bulky and really easy to wake. It rolls almost all the way over, creating a massive wake. It deflects really well, and wakes well in open water. The DT 3 also seems quality, but I have not caught as many fish on it. I bought these baits when they were 8.49 and I will definitely buy more now that they are 6.79
From: Ethan: Charlottesville, VA 5/12/14

Comments: This bait is my new favorite crank of all time! Something about a crank on the surface drives fish CRAZY! I've caught LMB, SMB, pike, and even bluegill that can't fit it in their own mouths. My favorite is Firetiger Size 1. Paint chips kind of easily, but still holds up decently to the pike (I caught several on one bait and it still works like it's new). PLUS no snags because it runs on the surface.
From: Carter: IL
Comments: these crankbait's are by far the best shallow water cranks ive used i throw the Helsinki Shad behind bream beds in my local pond caught a 8# largemouth the other day love these cranks but as some have stated DO NOT smack these on the water to remove moss ,grass or anything on the bait the bills will come right out

From: Thomas: kennesaw ga usa

Comments: love the Rapala DT Fat 1! Run it over shallow weeds in the spring while they arent to the surface yet. I was out with a buddy last night and caught about 15 fish with 3 in the 20 inch range, which are monsters in southern MN!Ikes Smash is all you need.

From: Jack: Mankato, MN, USA

Comments: like the colors, but DO NOT, smack this lure on the water trying to get moss off. Broke a bill on a new lure doing that. Inside looks like sawdust all glued together. Surprised there aren't more quality failures.

From: John: St. Louis, MO

Comments: Love the DT Fat 1 and glad i finally got a few new colors to choose from! It works best for me during the spawn and postspawn periods and is one of my go-to lures. Its very fun to fish and is pretty much idiot proof. I like using the more natural colors and just waking it very slowly over and around shallow cover and its that easy! It seems like a good sized lure but it will catch any bass it gets close to! Like the buoyancy and that its silent and I've even caught fish on it after dark under the right conditions. They have held up really well for me but over several uses i have had trouble with the sure set versions breaking the hooks so those might should be changed.. also work well with a feathered rear hook. Half the price of most other wakers like it but catches fish just as good if not better than the more pricier lures so buy it you wont regret it!

From: Wesley: Rogersville, LA

Comments: This bait works. It's amazing you can work so slow which is nessecary when the ponds get turned up. The bet color for me has been hot mustard and my biggest bass on it has been a 4 pound lmb. Tight lines

From: Ryan: Chitown, IL

Comments: this lure has great wobble, only negative, the bill is weak and cracks or breaks with little use. grab a few of these lures and you will catch fish! 5.99 is awesome compared to some other SB Cranks.

From: Ronnie
Comments: Best squarebill around. Throw this in some gnarly stuff, it will run great. IMO, most squarebills come up too fast, and you can't crank them slow enough- which is a problem in really dirty water. They are that way so they float up out of snags, but they overdo it. You can run this pretty slow. 20 lb cxx p-line. Swap out the trebles with #2's and you are set. Sell all of your other shallow cranks, then replace them with these.

From: Snaildog: Indy

Comments: i caught a 10 inch bas to a 7 lbs bass on this lure definitly gettin more the only thing is that they dont make my favorite design on it anymore parrot and hot mustard all the way

From: Matt: Chicago

Comments: This lure is BBBEEEAAASSSTTT!!!!!!

From: Tori: Southern, MN

Comments: Best shallow bait that I have ever put on the end of my line is the Rapala DT Fat. It has a bass and pike catching ability like no other bait that I have ever tried. One time before a storm I limited out on largemouth bass in a matter of 45 minutes to an hour, all from casting between two docks while fishing from land. It works for me whenever I fish near weeds or down trees. At times I prefur it even more than plastic worms. It even catches those open water suspended bass that can be tricky to catch. I recomend this bait to any bass angler ready to catch some big ones.

From: Josh: Southern MN

Comments: Awesome shallow crank, caught 5 in 45 min the first time out on regal shad. comes through grass and deflects brush nicely. highly recommended

From: Reed: TX

Comments: probably the worst crankbait on the market i ordered one in blue shad and on the very first cast and it broke in half

From: Wilson: USA

Comments: Cant say enough! best shallow out there!! tough, catches fish, good paint jobs....LOVE IT!

From: Kyle: Southern Wisconsin

Comments: I basically own a few of every squarebill and deep crankbaits and can say that this one is my perennial favorite, especially for cedar and laydown flats. I have ruined a lot of the hooks but the baits are tough, won't melt, and come through cover clean with a frantic wobble and a nice buoyancy.

From: MJ: OKC, OK

Comments: Easily the best crankbait for the money.

From: Nathan: Port Huron, MI

Comments: The Rapala DT 3 is the best crankbait that I have ever used. When deflected off of laydowns or stumps in shallaow water, it gets vicious reaction strikes when it is allowed to float up after contacting the wood. In my opinion, it is better than Lucky Craft crankbaits for catching more fish and hanging up less. Rapala should consider making it in a slightly smaller size. Hot Mustard is my "go to"color in stained water and it is my color for clear water also. I tried the Silver in clear water with no success and switched to Hot Mustard and it saved my day.

From: Chuck: North Carolina, USA
Comments: These lures are by far the best lures that I have ever fished. Rapala's entire 'Dives to' concept was a great idea. I went from DT-10's, to DT-4's, to now DT-3's and all of them have caught a tremendous amount of bass and pike. When you match the right color with the conditions, you are in for a great day of fishing. These lures trigger strikes. I've lost several of them to big fish. They are my favorite lure to use, and they've been my 'go to' lure for the last two or three seasons. The top lid of my tackle box is filled with 11 of these lures, and they all have scratch marks from constantly catching fish.

From: Eric: