Rapala Husky Jerk Jerkbait - $4.69 to $5.49

A classic jerkbait that continues to put fish in the boat, the Rapala Husky Jerk is precisely balanced to run true at any speed. Its rattle chamber transmits sound waves that amplify through the water, catching and piquing attention of lurking fish, and on the pause its nuetral buoyancy design allows it to suspend perfectly. Available in a variety of colors, the Rapala Husky Jerk delivers the classic Rapala swimming action that's proven to attract fish all over the world.
| | | | | |
| --- | --- | --- | --- | --- |
| Rapala | Length | Weight | Depth | Class |
| Husky Jerk 08 | 3-1/8" | 1/4oz | 4-6ft | Suspend |
| Husky Jerk 10 | 4" | 3/8oz | 4-8ft | Suspend |
| Husky Jerk 12 | 4-3/4" | 7/16oz | 4-8ft | Suspend |
Comments: Great lure for all times of the year! Caught bass around many types of cover with this lure in TN shad and silver. Great on Lake Lanier!!

From: Randall: Gainesville, GA

Comments: solid lure for the price! i got a Bass on the Glass Minnow pattern today. with a little bit of tweaking to this lure by putting an extra O-ring or two, it should suspend even better. overall, you cant beat the price. for the solid quality of the lure!

From: John: Nj,United States

Comments: Great lure in all seasons! Fish it slow in cold water and fast in summer. I caught the biggest fish on this lure in late spring.

From: Marco: Portugal

Comments: From crappie to largemouth, in the spring, I can fish out anything with this lure. Great action and very good if you want to fish slow.

From: Connor: Holbrook, NY

Comments: this is old lure, I used this on bass, the largest vision didn't work for me but it has great action, have at least one to try out or pick your favorite other baits. Pretty good lure and good action, no tungsten weights to improve on newer models. I like rapala to make more lures because they were biggest company with best action. I like more baits from them and newer models of older baits. God bless

From: Alex
Comments: this lure is great. i have landed many 3lbs+ largemouth on this lure on the perch color i lost it in a snag in the bottom of the water in a dead tree but this lure is definitly worth it get one

From: Matt: Naperville, IL

Comments: Hooked a big 10-plus pounder with this, unfortunately like a dumbass I had my drag too tight and the line broke. Good lure

From: Dan: Jax, FL

Comments: I have acouple of this baits, its good fishing, also i played it alot off rapala fishing for PS3 in winter time, Good fishing folks and get out on water more!! God bless forever!

From: Alex
Comments: Have caught hundreds of fish on these baits. Bass, walleye, pike you name it, they'll eat it.

From: Cory: Mandan, North Dakota

Comments: If you want the fish react, it's the bait that you need! Pike killer all the way!


***Note: If you have questions about this product or need assistance with an order please email your questions to info@tacklewarehouse.com
View Large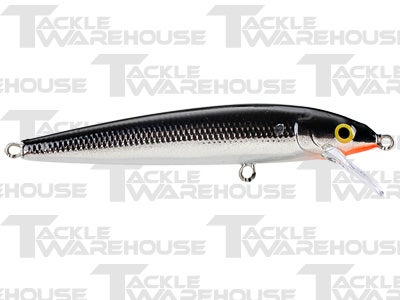 8 Available Colors