Rapala Max Rap Jerkbait - $15.99 to $16.99
Designed for maximum casting distance, the Rapala Max Rap Jerkbait features an aerodynamic shape that combines with its patented internal MaxCast mechanism to deliver unbelievable distance on each cast. Premium from tip to tail, the Max Rap is equipped with every imaginable feature, including laser-engraved scales, VMC Spark Point hooks and superior quality components. On a straight retrieve it delivers the hard-flashing Rapala "wounded minnow" wobble, and when you rip it through the water and pause it, it produces a wild darting and searching action that has proven deadly for a variety of game fish species. Available in several colors, the Rapala MaxRap Jerkbait is the choice for discriminating anglers who demand the best from their lures.
| | | | |
| --- | --- | --- | --- |
| Rapala | Length | Weight | Depth |
| Max Rap 11 | 4-3/8" | 7/16oz | 1-3ft |
| Max Rap 13 | 5-1/4" | 1/2oz | 1-3ft |
Comments: This lure is AMAZING. This lure is ideal in early spring after the ice goes out and the bass come into the shallows pre spawn. I used this lure in the flake hot blue (got this color in store) and caught 60+ nice bass and a 13.7lb northern pike in 2 1/2 hours. The price is somewhat steep but if you use heavy tackle and strong line you shouldn't lose one. They cast a mile on braid mono and flourish and have EXTREMELY nice hooks out of the box, DO NOT REPLACE THEM. I lost one of them to a 15lb+ pike, broke my line, using only 8lb test for bass, didn't expect the hog pike. The one I have now has nearly no paint on it but still catches emblem. Another Goood bait from Rapala, suggest one to anybody.

From: Lex: Stearns, MN

Comments: Another good lure by Rapala. However, it's nothing special. Sure it catches fish, has nice action, does everything you'd expect from a Rapala. It is a bit overpriced, and seems to be Rapala's way of keeping up with the market of ever more pricey lures finding their way into everyone's tackle boxes. But still, a good lure. It just doesn't do anymore than a flat rap, an xrap, or the Husky Jerk - which are all about 8 dollars cheaper.

From: Eric: MI

Comments: They cast a mile and have a great action. They twitch well and are a great looking lure. Over priced and in my opinion I think an X Rap would do the same job. Might excel in lakes with smelt or slender bait fish.

From: Nathan: Kingston, Ontario Canada

Comments: i use it last spring first time for European lake trouts, one cast, one twitch one hit one trout! a nice 26inc fish!

From: Meier: Switzerland
***Note: If you have questions about this product or need assistance with an order please email your questions to info@tacklewarehouse.com
View Large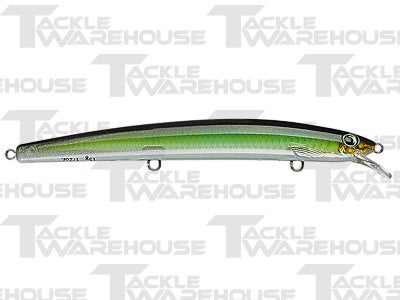 5 Available Colors