Rapala Scatter Rap Crank - $8.29

Featuring Rapala's revolutionary Scatter Rap technology, the Rapala Scatter Rap cruises through the water in a frantic and evasive pattern that gets bass salivating. With the addition of the new Scatter Rap bill, the Scatter Rap draws tenacious reaction strikes - without ever making contact with structure. Simply by varying your retrieve speed from slow to fast, you can get the Scatter Rap to deflect out to the side and generate vicious reaction strikes. Built using the classic Rapala crankbait body profile, the Rapala Scatter Rap features a rugged, non-ratting, balsa wood construction, and two razor sharp VMC black nickel hooks. Offered in a host of classic colors, as well as, some of Ike's Custom Colors, the Rapala Scatter Rap is another example of Rapala's continuing innovation.
| | | | | |
| --- | --- | --- | --- | --- |
| Rapala | Length | Weight | Depth | Class |
| Scatter Rap Crank | 2" | 5/16oz | 6-8ft | Floating |
Comments: Good idea but bad worksmanship. this isnt the cheapest crankbait in the world so you would expect it to hold up for alittle while. on only my second cast with this thing i smacked it off the water to get rid of grass just like i do with every other crankbait i own and the bill broke right off. i like the idea but it seems like they put an unfinished product on the market. flawed design
From: Robert: PA 5/25/14

Comments: It works great and has caught me largemouth, smallmouth, trout and even channel cats. It's not meant to be burned in, works best with a slow steady retrieve. It doesn't dive much over 4' on 10 pound test mono, but is still heavy enough to cast well with my 5.0:1 Curado E. Very good shallow crank that can get bit when others come up short.
From: Tyler: Grand Junction, CO
Comments: First off, let me say THANK YOU, Rapala! I've always thought crankbaits looked fake because they all stayed on a center line. With this guy, you can make it move almost 2 feet to each side! The most interesting thing about this bait is that it moves so far to each side that it barely resembles a crankbait at all. The only real downside is that deflecting off cover ruins the action because it takes the bait a while to recover. A minor design problem is that when cranked at a million miles per hour, it has a tendency to roll over, but who needs to fish that fast anyway?

Comments: here is the deal with this bait. you need to do just a few things number 1 only use a spinning reel with a 7 foot very moderate taper blank in other words a very wippy rod.also use a reel with a gear ratio of 5.0 or less then I either use 6 pound fluorocarbon or 6 pound fireline with a flouro liter and if you do these things along with a slow to steady retrieve this bait works totally flawless!!!!!!!!! it will out produce any squarebill hands down. it will also out produce just about all other crankbaits. plus for water up to 12 feet these will for sure do the job.

From: Jim: lake tomahawk wisconsin

Comments: I didn't have any of the problems mentioned on some of the other reviews. No roll overs and can reach a depth of 7' using Seagar Invis X 15#. Using a Mojo 7' crankbait rod with Daiwa Zillion 7:1 ratio. I think the key is to fish it in very clear water until you learn how it reacts. For me, a steady, moderate speed is the ticket. I fished it a little quicker than I do a lipless in the spring. Oh yeah it caught some nice fish too. It didn't hang up any worse than a square bill plus I can get this deeper than a sq bill.I will be getting more. Helsinki Shad was the color I used

From: Bart: IN

Comments: Dont expect to work perfectly the first time. You gotta learn how to use yourself. Just experiment with it. Works well for me

From: Paco: Carlsbad CA

Comments: Works for me. Read the other reviews, and fish it slow. Use a whippy rod. Or cry about it and throw it away. I dont care.

From: Meatwad: scat-rappin

Comments: what can I say other than I caught a 7.3lb bass on the bluegill color...love this bait, never fails me, but it does take some practice, I think it works way better with fluorocarbon

From: Rudy: Tracy, CA

Comments: I probably should have done more research before buying this bait.... for cold water, I'm sure it's great because the action is very impressive, but I like to burn shallow crankbaits to get reaction strikes from shallow bass and this thing is not built for that. As previously noted, this thing does a loop de loop if you get too aggressive with it, so be advised or otherwise you might wind up screaming "SCREW YOU DOG!!"

From: Alan: Adairsville

Comments: This lure really does have an erratic, hunting action and does everything that you see in the youtube videos. However, even with 8 lb fluorocarbon and a long cast, I wasn't able to get this bait to even dive 4ft down. If you burn the bait it will barrel roll. Also, if you start cranking the second it hits the water, it tends to roll a bit. I found that the best way to get this bait to function properly is to let it sit for a second or two after hitting the water and reeling with a steady medium retrieve.

From: Elijah: Seattle, WA

Comments: I like the lure the hot steel works great.the only problem is that if u reel them in to fast they roll.make shore to reel in slow.

From: Nater: Berkshires ma USA

Comments: I love that so many guys are having problems with this bait. It means that not every weekend warrior will be out there throwing it. It takes a keen eye, attention to the action and patience to fish this bait properly. Crankbait hardcores will go through 10 of the same baits before they find one with the right action. This takes the same amount of dedication, except you learn when to speed up and when to slow down. It will chug along at center at a slow retrieve, and roll if held too fast for too long. Varying on the edge of chaos is where you need to be. Like any bait, and maybe more so because it's so specialized, it needs to be learning, and tuned. Swimbaits don't work and neither do these. Stick to senkos guys!

From: Jeff
Comments: This worked fine for me, the only issue I have with these is getting them started on a long cast sometimes they don't run correctly but a few tugs will set them straight. Other than that, they don't seem to work well on fast retrieve but great for a pause or steady retrieve. I've only caught one bass but about 8 trout but the ponds I've been fishing are heavily stocked with trout.

From: Chad: Yakima, WA

Comments: Have caught tons of fish on these. Make sure to throw on med. action cranking rod, 10lb line,and a low gear ratio reel. I throw it with a 4:9:1 ratio reel. You absolutely cannot burn these.

From: Kevin: NC

Comments: Made 10 casts and threw it in the back of the boat.. This is nothing new that a good square bill will hunt, this is nothing new and revolutionized; just another gimmick to make people spend money. On top of that making the retrieve limited to one speed, just seems worthless to me.

From: Brett: NY

Comments: Save your money, this lure rolls at any retrieve speed. I have 2 and both have the same problem.

Comments: This not just another crankbait. It is a crankbait right on the edge of stability so that it kicks out, then recovers. That means by definition that it has a narrow range of speeds that will work with it. You cannot blaze it. You need to practice with it to find that sweet range. When you do you will realize that a steady retrieve or trolling speed will lead to an irregular pattern of bait movement. Stop trying to make it into something it isn't and enjoy what a truly unique lure it is.

From: Dean: Apple Valley, MN USA

Comments: Not impressed at all. I tried different retrieve speeds and even went down to 8lb line and this lure still rolls and spins. NO WAY the SR Crank will go 6-8ft like advertised. Maybe 4ft if you are lucky. I did however catch some fish but after the 4th one or so, the lure was so out of tune, it ended up in the bottom of the boat

From: Alex: Phenix City, AL

Comments: My bait performed as advertised! Make sure you reel at a steady pace, but don't try to burn them. The best action I got was on a medium fast retrieve but not too fast, or it will roll on you. Nice bait and I'm very happy with it!

From: Tom: N. Charleston, S.C.

Comments: People are saying that is rolls over which it does if you retrieve to fast. My first cast with it I caught at least a 5 pounder. It was the helsinki color.

From: Phillip: Orlando, FL

Comments: I picked up a scatter rap crank in bluegill two shad models and a minnow in firetiger. I had some of the problems fishing the crank that others have described you really have to fish it slow to keep it from spinning out. The shad and the minnow however I could fish however I wanted. Which was great for getting the maximum amount of action out of them. I fished em on my 7ft MH Fast Abu Garcia Veritas rod and Quantum Smoke sl 100HPT 7.0:1 baitcaster. The bass weren't biting for anyone else around me all day but I pulled out a really nice 5-6 lb Largemouth a 1.5 lb'er and a couple small stripers. All on the minnow. The action is great when fished properly. I'll be keeping a couple in my tackle box from now on and will be picking up a couple more patterns in the minnow to try out soon.

From: Anthony: Clarksville,TN,US

Comments: i used on my 6'8 xfast mojo spinning rod with a smoke reel threw out there lit it rest give it tug and once under i just kind of treated it like a jerk bait all the way back i realty couldn't burn it eather

From: Adam: US

Comments: Don't listen to the bad reviews. These baits are great, they work and they hold up. I've hit mine off a couple rocks casting shorelines for Smallmouth with no problems. They dive the way they say they will and the action is amazing. Watch some of the videos online to get the maximum action out of these things and you will be amazed. Like another reviewer said, they're not a magic bullet, but they're a great tool to have in your box.

From: Kevin: WI

Comments: Picked up the crank and minnow version. Both lures roll with any speed at all. Threw it at a nice spot a few times and pulled in water, changed to a jackall ASKA and pulled three 3 Lbs from the same spot. Rapala started with a good concept but didn't work out the kinks IMO.

From: Greg: AL

Comments: Threw the Ike's Smash color on a recent trip to Beaver Lake, AR. I was running 10lb mono with a 7' MH/M St.Croix Pro Glass with a supertuned E5 Curado and had no problems with casting the bait or with getting the bait to dive. Ground it through the rocks and deflected off laydowns without losing the bill. Fished it side by side with a Little John and LC 1.5 and the Scatter Rap caught fish when the other two struck out. Fish were schooling on shad and I think the wandering action looked like a shad separated from the rest of the school. Caught all 3 species of bass on it, the spots seemed to be just pushing it or swatting at it but the largemouth were knocking slack in my line and really choking it. I'm not a fan of Rapala baits because they're so fragile and overpriced but this is a bait worth having in your box. It isn't a magic bullet but it is something very different from the other cranks that the fish see day in and day out.

From: Clayton: Gardner, KS

Comments: Used the Scatter Rap today and I did not have any of the problems people are talking about. It casts as far as a regular crank bait and I had no trouble getting it to dive immediately. I like the evasive action it has and I will be using it quite often. I would recommend it.

From: Matt: San Diego, CA

Comments: First off, you can't expect your bait to go all the way to max depth if your using heavy line, secondly it sounds like some of the conditions y'all are putting this bait in aren't helping you regardless. It's a great bait for what it's made for.

Comments: This lure works pretty good, but it's defiantly not worth the money! The reason why they call it the scatter rap, is because after a couple of fish the paint disappears !!!!!

From: Peter: acushnet,ma

Comments: This does all what other people have written. Doesn't cast well, spins, hard to get diving but have to say it works. First tournament of the year pulled in a 19 lb sack all coming on this bait. It has issues but it does catch fish. One thing that wasn't mentioned is that my bill broke on the 5th fish... it was a 5 lber so I wasn't complaining but thought it should have held up better.

From: Frank: PA

Comments: As any rapala balsa bait it is a little difficult to cast on baitcasters but, I have to say that it does perform as specified and advertised. I was throwing it today on 10lb. test braid on a med. light cumara rod and a Lews tournament 5.4:1 reel and it worked really good. Tried the Rap Crank and the Rap Shad with equal results, if you burn it really fast it will go out of wack but at medium speed its great, at least for my liking!

From: Charlie: Trenton,NJ USA

Comments: So far I'm not Impressed, unless I got a defective one this bait isn't that great. Every other cast when I retrieve this thing it just rolls over or spins the whole way back to the boat and I'm not even burning it. I'm actually fishing it with a lews 5.4:1, so I don't know what the problem is.

From: Mike: Iowa

Comments: Don't waste your money. Threw it half a day yesterday on Table Rock. Too light for most baitcasters absolutely can't be thrown into the wind. Won't dive past 4 ft, rolls over in circles when burned, maybe a good creek lure on spinning tackle but not cut out for rea; deal Bass fishing. I can throw a 1/4 oz Speed Trap a mile but this thing just catches air and falls short every time. I was expecting some competition for the KVD 2.5 well this isn't it....Roger

From: Roger: Nixa Mo USA

Comments: Great concept but they dont dive very well. They end up torpedoing on top like the hook is snagged on the line and it really isnt. tough to get these to start diving, they just torpedo and flip around. cool idea but doesnt work well.

From: James: New england

Comments: I would agree with CJ from New York fished it for twenty minutes in a local pond one three pounder one dink. Pretty unique action.

From: RN: NM

Comments: Used it last friday for first time so far not impressed. At first it is hard to hard, scatters so much it just flips up and turns on its side alot. Reel super slow and it ok and you are suppose to vary speed to make it scatter. Seem hard to control and doesn't dive very well. It give them another try this week still learning but it looks easier than it is.

From: Bill: Liberty twp. Oh

Comments: Not sure why TW isn't selling these yet they have already hit the market at big box stores like dicks sporting goods. This bait is really awesome and unique. First day out this spring caught a few nice 2-3lbs LMB in one of my favorite spots on the lake. I hope they make them in bigger sizes soon!

From: CJ: York, PA

Comments: GAME CHANNGEEERR

From: TP: OC, CA

***Note: If you have questions about this product or need assistance with an order please email your questions to info@tacklewarehouse.com
View Large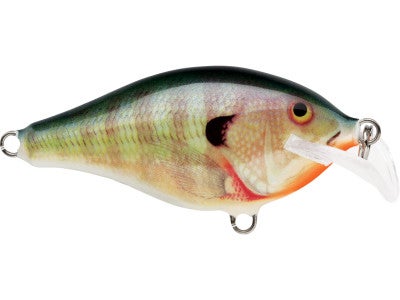 18 Available Colors