Rapala Scatter Rap Crank Shallow - $8.29
Attack shallow water like never before with the Rapala Scatter Rap Crank Shallow – a light-diving version of the revolutionary Rapala Scatter Rap Crank, meant for targeting fish in 4-5 feet of water. Fitted with a stunted version of the Scatter Lip, the Rapala Scatter Rap Crank Shallow delivers an erratic sweeping action that perfectly imitates a spooked baitfish fleeing from attack. This evasive maneuvering draws vicious reaction strikes and can be manipulated simply by varying your retrieve speed from slow to fast.

Built using Rapala's iconic crank body, the Rapala Scatter Rap Crank Shallow features a buoyant, non-rattling, balsa wood construction that makes it even easier to fish in ultra-shallow water. Armed with two sticky-sharp VMC trebles, the Rapala Scatter Rap Crank Shallow allows anglers to utilize the patent-pending Scatter Lip Action in an even broader range of conditions – so bass can run, but now they have nowhere to hide.
| | | | | |
| --- | --- | --- | --- | --- |
| Rapala | Length | Weight | Depth | Hook |
| Scatter Rap Crank Shallow | 2" | 5/16oz | 4-5ft | #5 VMC |
Comments: I've yet to get a hit on Ike's Mule. That said, I still give it a few try's here and there but fish it with no faith, I cast and then back in storage you go...I'm hesitant on trying any of the other colors because of this
From: Joey: Lakemoor, IL 9/23/14

Comments: Used the shallow crank and very impressed. Without a doubt, the most effective shallow crank Ive ever used. Used BB Herring in spring and caught a ton of Spotted Bass on Lanier. I also purchased the Bluegill pattern for pond fishing. I have caught a #6 and #7 LM of this crank. You can do so much with it to entice a strike.I will definately buy more and possibly try the deep crank as well. God bless.
From: Mike: Cumming, GA 7/10/14

Comments: Bought 4 of the Scatter Rap Crank Shallow and used the bluegill color. Third cast past weeds on top of the water, cranked down and felt a fish hit the SRS. Not the biggest bass but the lure worked to fool the bass to hit it. Definitely not the usual crankbait in so far as the action of the lure and the bill so far has not broken off after smacking it in the water to dislodge weeds on the hooks. I own the Scatter Rap Shad, Crank and Countdown models. I haven't caught a bass on any of these Scatter Rap lures. The action is unique and interesting, with the SR Crank you have to find that sweet spot retrieve or it starts going in circles on a fast retrieve. The SR Shad is too light to cast on baitcast gear, but the action is good up to a medium retrieve. The SR Countdown cast good with a baitcaster and good action. The SR Shallow retrieves good up to a medium fast retrieve and doesn't lose track and go in circles like the SR Crank does. It dives up to 3' using 30/8 lb Power Pro braid. The SR Shallow tracks good and shoots off side to side on the retrieve. One thing I notice when retrieving the lure is it has a light feel through the line to the rod. Not what I'm used to comparing it to other Scatter Rap models which you can feel the action to the rod. I like the color options on the SR Shallow and wanting to get the Bruised color because I think it's interesting. The SR Shallow is the perfect Scatter Rap from the other SR models. It dives to the right depths that I need, it scatters and tracks good, quality VMC treble hooks, durable paint and doesn't need too much tweaking to make it run straight.
From: Ghost: CA 4/6/14
Comments: The original scatter rap only dives to about 5' on 10 pound fluoro. This looks to be more of a wake bait then but should still be good.
From: Tyler: Grand Junction, CO 2/28/14
***Note: If you have questions about this product or need assistance with an order please email your questions to info@tacklewarehouse.com
Color:
Ike's Bruised
View Large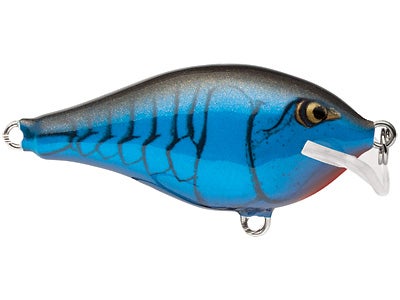 18 Available Colors