Rapala Scatter Rap Minnow - $8.29

Featuring Rapala's classic balsa minnow profile, the Rapala Scatter Rap Minnow perfectly imitates a baitfish fleeing from attack, triggering the instincts engrained in the DNA of predator fish. The addition of Rapala's new scatter rap lip allows the Rapala Scatter Rap Minnow to produce the erratic, hunting action usually generated from deflections. All you have to do is vary your retrieve speed and the Scatter Rap Minnow scatters out to the side like a real baitfish being chased. Offered in a multitude of fish catching colors and equipped with two sticky sharp VMC black nickel hooks, the Rapala Scatter Rap Minnow is a threat to bass anytime it gets near water. Non-rattling.
| | | | | |
| --- | --- | --- | --- | --- |
| Rapala | Length | Weight | Depth | Class |
| Scatter Rap Minnow | 4-3/8" | 3/16oz | 6-8ft | Floating |
Comments: This is a great concept, terrible practice. In order to achieve that evasive swimming action you have to reel at a high speed. Most important, this is the worse casting lure on the market. The bill makes it almost impossible to cast in all conditions. I have tried throwing it on different lines, finding no luck. Bypass this purchase and stick to the original floater.
From: Gary: PA
Comments: bill broke off within the first couple of outings.

From: Steven: VA

Comments: It does have that erratic swimming action to it. Just put it in the tackle box on those windy days because it will not cast well. Don't expect to cast a mile like the lures with weight transfers.

From: hmoobmuas: Clovis, Ca, USA
Comments: Bought the Minnow series roughly right when they appeared in the stores. Finally was able to use it and rest it on 4/27 while fishing the Allegheny river. Like the prior complaint the bait is extremely light for it's size which is expected for the balsa construction. Par on with Rapala's quality construction and use of quality components. I fished with the Silver Fluorescent Chartreuse and the Clown for about a total of 5-6 hours bagging 21 walleye 1 small mouth and had some pike action as well. Having only two issues 1 being an out of the box issue, the Silver Chartreuse nose split ring seemed to be miss shaped causing the connection knot to slip into and open the split ring (this was a fairly easy to fix issue but if unchecked could cause a loss of bait and it also messes with the swimming action from time to time.) As for the second issue I caught 3 fish with this color and upon inspecting my line and knot (for abrasions) I noticed that the lip had broken off. I didn't drop it of smack it off a rock it seemed to come in attached from the lure itself. Needless to say this should not be a reason to skip buying this lure, it is a proven producer IMO for Walleye and once the weather gets a bit more consistent I'm hoping for the same outcome with Smallies and Pike.

From: Tom: Pittsburgh, PA

Comments: This isn't a review, but, it is a complaint about this lure. For it's size, it is very light, making it very difficult for me to cast it on my Shimano Caenan. I truly wish Rapala would make this lure in a larger size, possibly 16 or 18.

From: Eric: MA

***Note: If you have questions about this product or need assistance with an order please email your questions to info@tacklewarehouse.com
View Large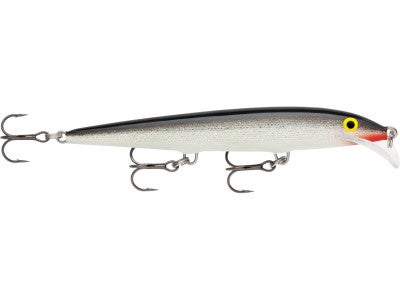 14 Available Colors