Rapala Scatter Rap Shad 07 - $8.29
For years you've had to deflect your crankbait off of an object to get that deflecting action that generates reaction strikes (even from inactive bass). Not anymore. Featuring Rapala's innovative Scatter Rap lip design, the Rapala Scatter Rap Shad allows you to produce that hunting action without hitting anything. By simply varying your retrieve speed from slow to fast, the Scatter Rap Shad will kick out to the side in a killer deflecting motion then return to the center. If a baitfish is getting chased by a predator fish, it's not going to swim away in a straight line. It's going to try to scatter and dodge at angles to evade, just like a crankbait deflecting off structure, and just like the Rapala Scatter Rap Shad. Still featuring the classic profile of the Shad Rap that closely resembles baitfish found the world over, the Rapala Scatter Rap Shad also comes equipped with super sharp VMC black nickel treble hooks and is available in a range of proven colors. Non-Rattling.
| | | | | |
| --- | --- | --- | --- | --- |
| Rapala | Length | Weight | Depth | Class |
| Scatter Rap Shad | 2-3/4" | 1/4oz | 5-8ft | Floating |
Comments: while this may have some great action in the water, it doesnt cast far at all! terrible flaw to what could have been a great lure. i wouldnt recommend this lure.

From: Travis: RI

Comments: Spent some time trying to figure out how these could contribute to any type of tournament pattern. Not buying it. Too inconsistent, they burn out easily, don't dive hard enough to bang bottom cover, don't cast far enough to cover large shallow flats. Don't get me wrong they catch fish, for sure! But you wont see tournament guys with a "scatter rap" dedicated Plano.

From: Travis: Whatcom County

Comments: Have had good luck with these. Best color has been Helsinki and brown craw coming close second. First couple of trips I didn't have any luck with them and started slowing down my retrieve and caught a 4 lb, couple of 2lbrs, a 5.5 lb one evening. Have caught several fish since then, finish is scratched some but holding up well. I would recommend them..

From: Keith: AL

Comments: First Name: bought one today at work tested it out and wow it looks so good in the water cant wait for the water to warm up some gonna be buying some of the scatter cranks to buy some



***Note: If you have questions about this product or need assistance with an order please email your questions to info@tacklewarehouse.com
View Large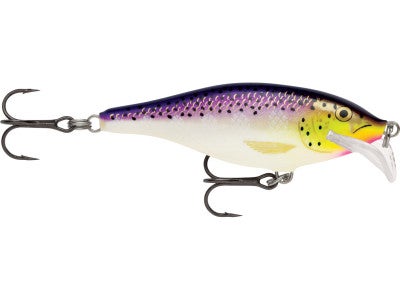 16 Available Colors