Rapala X-Rap - $8.49
When Rapala introduced the X-Rap they not only brought a great new bait to the fishing community, they introduced an entire fishing system. The versatility of the X-Rap allows an angler to impart a number of fish catching actions in a single retrieve. The X- Rap triggers strikes when other baits fall short. Rapala matched the X-Rap with incredible color schemes and finishes that reflect light like baitfish found all across the country.
The X-Rap casts like a bullet, allowing you to make long casts. One tip from the Rapala Pro-Staff is to fish the X-Rap on braided line for those long cast situations. The fireline crystal works great for clear water situations when fish are spooky. Braided line will allow you to get maximum action and hook setting power when making long casts.
| | | | | |
| --- | --- | --- | --- | --- |
| Rapala | Length | Weight | Depth | Class |
| X-Rap XR08 | 3 1/8" | 1/4oz | 3-8ft | Suspending |
| X-Rap XR10 | 4" | 7/16oz | 3-8ft | Suspending |
Comments: these are great baits for the price! Some work better than others out of the package as far as suspending goes. But they flat catch fish for me from September - April! Beats the heck out of paying $25 for a megabass jerkbait

From: Jevin: TN

Comments: The best out there by far. Jerkbaits are my favorite lures to throw certain times of the year and this is always my go to bait. Unfortunately their to good and my buddies sneak into my tackle box and steal them.

From: Wesley: Lake Havasu City AZ

Comments: By far my favorite jerkbait. Extremely versatile always have it rigged up and fish it year round. I've caught a multitude of species on this bait and for those who question its toughness, just letting you know the 4 inch model had the backbone to tangle with a 24 pound muskie and still works like a charm. Favorite way to fish it is with a reel, jerk, jerk, pause technique. Killer lure.

From: Chase: Chardon, Ohio

Comments: The best jerk bait out there.

From: Eric: Everett, MA

Comments: @ George, you forgot to include flourocarbon line. I use XR10 with 10 lbs P-line 100% flouro and it does great.

From: J@y: CA

Comments: Absolutely the best lure in my box. Have over 50 in all sizes and colors. My buddies and I have caught over 200 walleyes in a two week period using the X-rap alone on a river in February and early march.

From: Ken: Southampton, PA, USA

Comments: I purchased the Rapala X-Rap, XR-10. I do not have much experience with suspending jerk baits, but I wanted to see how well this bait did suspend. I filled a 5 gallon bucket with water and pushed the bait to the bottom and when I released it the bait IMMEDIATELY floated to the top. I tried this with the weights back, centered, and forward it floated every time? Was this not a fair test? Is there a better suspending bait out there?

From: George: PA

Comments: Got the silver color, and went on the Indian River and cranked out schooling fish. First time I used this bad boy in the river, however a treble hook broke off on a pompano. Might just have to exchange the hooks when you buy one, or else that pompano was a man.

From: Adam: FL

Comments: i got one of these baits last summer and shortly after. In 5 casts i got 1 hit and a 17inch largemouth bass. Much more action all day. They work so good I had to go get another one the next day. The non-stop action inspired my buddy from Southern MN (Has a review below) that i was fishin with to go get 1. For me the Albino Shiner and Clown color work great. Best fished in shallow weeds and rocks. Even good for eye's at night.

From: Josh: MN

Comments: I own every color and during the small window of rip bait season, when the water gets down in the 50 range. I guarantee this bad a** bait will be on my line. I found several at a yard sale recently practically new, bought all of them $3.

From: Brandon: Gastonia, NC

Comments: I know TW is more Bass-intended, but this product is the number one bait I have ever used for Saltwater, under dock lights. I have had to retire many of these, one on the keychain, the others on an "outdoor" shelf I have. I have never had a problem with hook ups, and the hooks have never failed me; they had to lift some 3lb+ speckled trout 20ft in the air. I have caught numerous White Bass, and many Largemouth Bass, too. I would rate a 5/5, and either always have one tied on, or have it in my box, where ever I go.
Clown, Moss back Shiner, Perch, Olive green, and silver have all caught fish, and have all been recomended to friends.

From: Jake: C. TX

Comments: Seriously one of the best rip baits out there. I own about 12 and they have all caught fish. Rapala did this one right. Gangsta!

From: meatWad: watching the wind blow

Comments: I recently purchased the x-rap and it is great! I caught 2 15-18in bass right off shore in a matter of 5 minutes. It is one of the best shallow suspending lures out there. I recomend this to anyone who doesn't have one!!

From: Tori: Southern MN

Comments: I fish from shore for bass, & this bait is a winner. During the summer after the morning bite ends for me I tie on a XR10.I catch the bass that are waiting on edge of flats that break into deaper water in the depth of 4 to 6 feet.The water clarity being 1.5 to 2 feet visibility.I use the bright coolors & jerk this bait hard sweeping my rod upwards after short pauses. This keeps the bait from digging into the bottom and it produces a crazy zigging action that gets some hard strikes!

From: Dean: Novato, CA

Comments: I just got done using this lure in Black Lake NY, and crushed the largemouth, smallmouth, and northern pike. Jerk it hard and fast the first few pulls to get the depth, and then slower more violent twitches there after. I wasn't keeping count, but I'm guessing about 250-300 fish in six days of fishing. Awesome Lure!!!

From: John: NJ

Comments: The finish on the X-rap is outstanding and looks amazing coming through the water. So far I only caught pickerel on it, but on a side note, they did hit it like a ton of bricks. Bottom line, I will pick another one of these in a different size and color.

From: Joesph: Syracuse, NY

Comments: If I had to fish one jerkbait for the rest of my life, this would be the one. It is a beast. Casts well, very durable, great long lasting finish. Every one that i own has ran true and suspended perfect.

From: Tim: TX

Comments: I fished this thing in a lake with a lot of concrete chunks, and rocks for about 3 days exclusively no other lure used and banged this thing off of rocks and concrete chunks on the bottom on just about every cast as well as pull it through lillypads, and this bait has only scratches on it where the fish have been biting it, I'm talking my very first cast with this thing and I caught a 5 pound fish, the bill has a few scratches from the rocks and such but it is still holding strong unlike my vision 110 where one bang off a rock and the entire bill was broken off, the megabass was 25 bucks this was 8, this one is lasting way longer also.

Comments: they are alright. rather use a pointer

From: Jes: Phx, AZ

Comments: Great bait and in my opinion they are better than the lucky crafts and half the price!

From: Tyler: Cincinnati, Ohio

Comments: This is my go to bait in the spring time when the bass are suspended. Ive caught the most fish on this lure than on any other. Worth every penny. I recommend it 100%

From: Richard: Mendota, IL

Comments: Most deadly lure on the market hands down. You want pike largemouth and smallmouth in canada? I suggest using this. Produces lots of fish in little time.

From: Austin: NJ

Comments: IT CATCHES BASS,GARFISH AND BOWFINS.I LIKE THE SUSPENDING MODEL4-6 FEET,IN THE GLASS GHOST COLOR.IVE HAD BASS HIT IT- JUST HANGING RIGHT OUT THE BACK OF THE BOAT, AT A DEAD STAND STILL!!!!!!!!

From: Kevin: Miami, FL

Comments: This bait in the silver/blue is deadly! Even in cold water temps. Caught many quality bass and a 15# northern on this badboy within 2 hours fishing yesterday in 45 degree water! Jerk hard and let it suspend for a couple seconds between. Thats when they will hit.

From: Chris: Rochester, MI

Comments: Great lure, always catchin'em on the clown color. Caught about ten bass over 3lbs in 1 days worth of fishin. Definitally recomend the clown color.

From: H.D.: Texas, USA

Comments: I've caught a 100 bass on this bait! Jerk it fast and hard and hold on---they tear it up!

From: Bunker: VA, USA

Comments: What a great lure! it very versitile, not too expensive, and casts like a dream! i use them in the canals for tarpon, the inlets for snook, the flats for trout and reds, and then take them home and produce vicous strikes from large bass in very small ponds. i have had the most luck with the glass ghost, olive green, and purple gold colors! definetly a lure worth trying!

From: A.J.: Florida, USA
Comments: Unbelievable bait, I use nothing else. The XR08 has landed many fish including...now get this!!!Pickeral. small mouth, large mouth, musky and even a CHANNEL CAT all in the same location. Just incredible.

From: Harry: Oshawa Ont. Canada
Comments: Everytime I tie this bait on I have complete confidence that I'm going to catch quality fish.

From: Destin: Erie. PA
Comments: This is a fun lure to fish with. It casts well and it performs well. My stock is constantly needing to be replenished due to hooking monster pike with it that end up breaking my line. Each different pattern and color that I've gotten have produced fish. If fishing a lake with pike in it, I'd recommend a steel leader when using this bait.

From: Eric: Michigan, USA
Comments: Great jerk bait maybe even better than the husky jerk.

From: Brian: Quincy, MA
Comments: I've had excellent results with the clown color at the spillway, catching snook from 8-15 lbs. I twitch it quickly to keep it diving and breaking water.

From: Harry: Palm Beach Gardens, FL
Comments: Caught a fish on the second cast out of the box then my dad who likes catching bass but doesn't like using artificial tried it and first cast he hooked one. To me this bait is magic i love it.

From: Brendan Jr.: Lisbon, OH
Comments:I have used the perch color and the clown color in the XR10. When slow twitching, will stay more toward the 3' depth range. When twitching it really hard, will go down to the 5' range. Works on largemouth, smallmouth and even caught a pike on it. So durability and hook strength/sharpness is obviously not an issue. It will slowly float up instead of perfectly suspending. Can be resolved by adding bigger hooks or suspendots. However, have caught plenty of fish with the pause and slow float, so I have left the hooks the same after seeing them perform with the heavier hooks. These catch fish just as well as the lucky crafts and are half the price, so you can have one for backup.
From:Matt: Westminster, CO
***Note: If you have questions about this product or need assistance with an order please email your questions to info@tacklewarehouse.com
View Large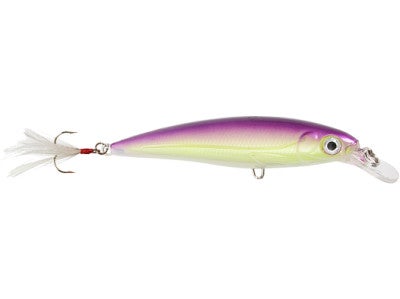 10 Available Colors