Rapala X-Rap Pop - $8.99
Designed to out-perform other poppers on the market, the Rapala X-Rap Pop features a specially designed thin-cut cupped mouth that pops, spits and bulges just like a shad on the surface. It also delivers long casting capabilities, and is designed to sit tail down when at rest for a better hook up percentage. A loud, hypnotizing rattle calls fish up from the deep, and its VMC teaser hook offers additional action even on the pause. Available in a range of proven Rapala colors, the Rapala X-Rap Pop can even walk-the-dog if you pair it with a split ring.
| | | | |
| --- | --- | --- | --- |
| Rapala | Length | Weight | Class |
| X-Rap Pop | 2-3/4" | 3/8oz | Topwater |
Comments: I don't know why the reviews aren't that great on this bait. I love it. After all it is a Rapala. Great looking bait with sticky sharp hooks. Caught lots of fish on mine.

From: FearNoFish: PA

Comments: save your money!!!!!!!!!!!

From: jd: pilot mt, nc

Comments: FAIL. The spit on this SUCKS. I got two of these chunks o' turds b/c I needed a larger profile. What a waste. Seriously unproductive.

From: Meatwad: truthin

Comments: someone has the x-rap pop confused with the x-rap PROP which is real similar to the great devils horse. the new x-rap prop is a beauty but only time will tell if it produces like a devils horse. if this x-rap prop is equal to the pop-r which it looks like, it will be another winner from rapala.

From: Wes: Salinas, CA

Comments: for such a large body this popper has a decent pop, but does not have near the "spitting" or walking potential of a splash-it. Spend the extra money and you wont regret it.

From: Sean: IN

Comments: this is an awesome popper. Not sure why anyone would compare this to a devils horse. It makes no sense.

From: Tim: TX

Comments: ehh its ok,i suggest u save $5 and go with the trusty smithwick devil horse,that bait hs been around forever and still to this day will kill bass whenthe topwater bite is on..to me this rapala is just a copy of the smithwick an $5 more.a little trick to the devil horse too....shhh...unscrew the front prop and turn it around and put it back on,it gives the lure a more "wounded" and commotion action,on days th reg. devil wasnt gettn hit as much a simple change to the front prop turned the bite back on.

From: Steveo: USA

Comments: Good size bait, might be blast for smallmouth, the popper is classic bait, Good fishing Forever!

From: Alex
***Note: If you have questions about this product or need assistance with an order please email your questions to info@tacklewarehouse.com
View Large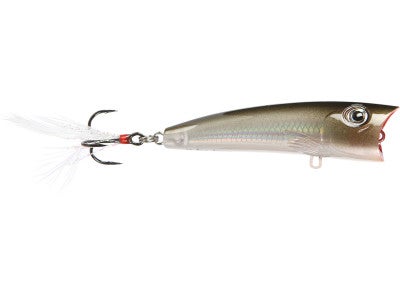 4 Available Colors