Reaction Innovations Little Dipper 3.5" 9pk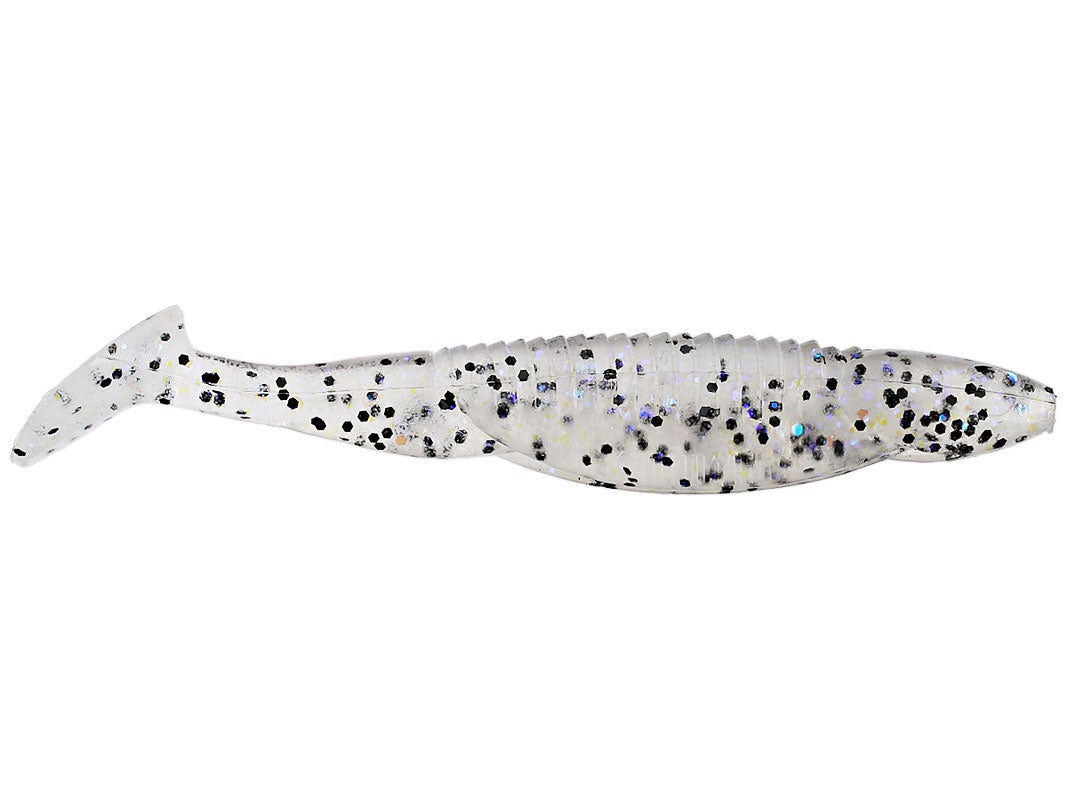 Reaction Innovations has done it again! The Little dipper is the kid brother to the skinny dipper. At three and a half inches in length, this bait is an excellent choice when a finesse approach is a must. The little dipper can be fished in the same fashion as the skinny dipper, but will excel behind a fish head spinner such as a Sworming Hornet. Other applications where the Little Dipper excels are drop shotting and behind a jighead. Any way you fish the Little Dipper it will produce.
22 Colors
More From Reation Innovations Swimbaits
Customer Reviews
Comments: Without a doubt the best swimbaits on the market. I've tried dozens of different kinds and none of them have nearly as much action. These really excel no matter how you rig them. I mainly use them as swim jig and chatter bait trailers. I found most of the other brands have no movement at slow speeds.
From: Donnie: Virginia 11/16/16
Comments: My favorite is to throw it out over grass/weed mats submerged below the surface & try to roll it right across the top edge of the foliage. Surprisingly even when the hook is a little exposed it comes back fairly, if not completely weed free.
From: Gary: Indianapolis, IN 12/19/15

Comments: Walleye love em'... I fish em' on a eighth or quarter oz. darter head and reel it in as slow as I can stand it and wait for that little tick. The colors I've had the most luck on are Bull Frog and D. Sanchez; best time is pre-spawn and spawn.

From: Noah: Estancia, New Mexico

Comments: This is the perfect swimjig trailer iv caught tons of fish on it i love em

From: Louis
Comments: These little guys are on my top 5 soft plastic lure list. Have tried about 6 different colors and all seem irresistable to bass. Using White Trash and Sexy Shad right now and both are outstanding. Maybe it's the action of these on the retrieve and not so much the color. Anyway, I'm also hooked on em!

From: Tom: Somers Point, NJ

Comments: Rigged on a 3/0 Owner Twist Lock Light hook, the Little Dipper has an erratic swimming action that recently enticed just over 100 bass onto my line over what became my two best largemouth bass fishing days ever! I get my best results retrieving at moderate to fast speed to keep the paddle tail wiggling and make occasional, brief pauses that often trigger the strike. To swim it true without such erratic behavior, fish it deeper, or cast it into the wind, I use Owner Twist Lock 3/0, 1/16 oz Weighted hooks instead of the un-weighted version. To protect the lureÕs tip from damage coming through weeds, and to add extra flash, I add a ¼ inch nickel colored cone-head fly fishing weight to the line, un-pegged. To avoid fish pulling the tail off the lure, I hold my rod at a 60 to 90 degree angle to the line during the retrieve and when I feel the impact of a strike, I immediately point the rod tip towards the fish to create slack, pause briefly for the fish to get the entire lure into its mouth, then take up the slack and set the hook with an upward sweep of the rod. I cast these light weight lures farther and with less effort using a spinning outfit instead of a bait-caster. Little Dippers are so durable that I typically catch at least 8 bass per lure and can usually extend that by making repairs with Mend-It. They are well designed to conceal the hook tip for weedless retrieves and have ample space within the body for the shank to ride-up during the hook set. The wide range of colors allows me to match-the-hatch in vastly different environments.

From: Vince: LaZara: Tucson, AZ

Comments: Amazing dropshot bait! just cut the paddle tail in half towards the head and nose-hook it!

From: John: Telletubby Land

Comments: Awesome little bait, whether you fish it weightless, on the back of a swim jig or on a darter head, this bait excels! Sprayed grass and houdini are the best, except houdini is always out of stock. TW needs to fix that problem! It's the best color!!!!
Comments: screw the grub, put THIS on your darter head. works well OUTSIDE of CA as well.

From: Meatwad: Spillin Beans

Comments: Good little bait, effective when the bite is tough. Rigged weedless on a slider head, has been highly effective for both largemouth and smallmouth. Bullfrog has been the best color.

From: Big J: Houston, TX