Reaction Innovations Skinny Dipper 7pk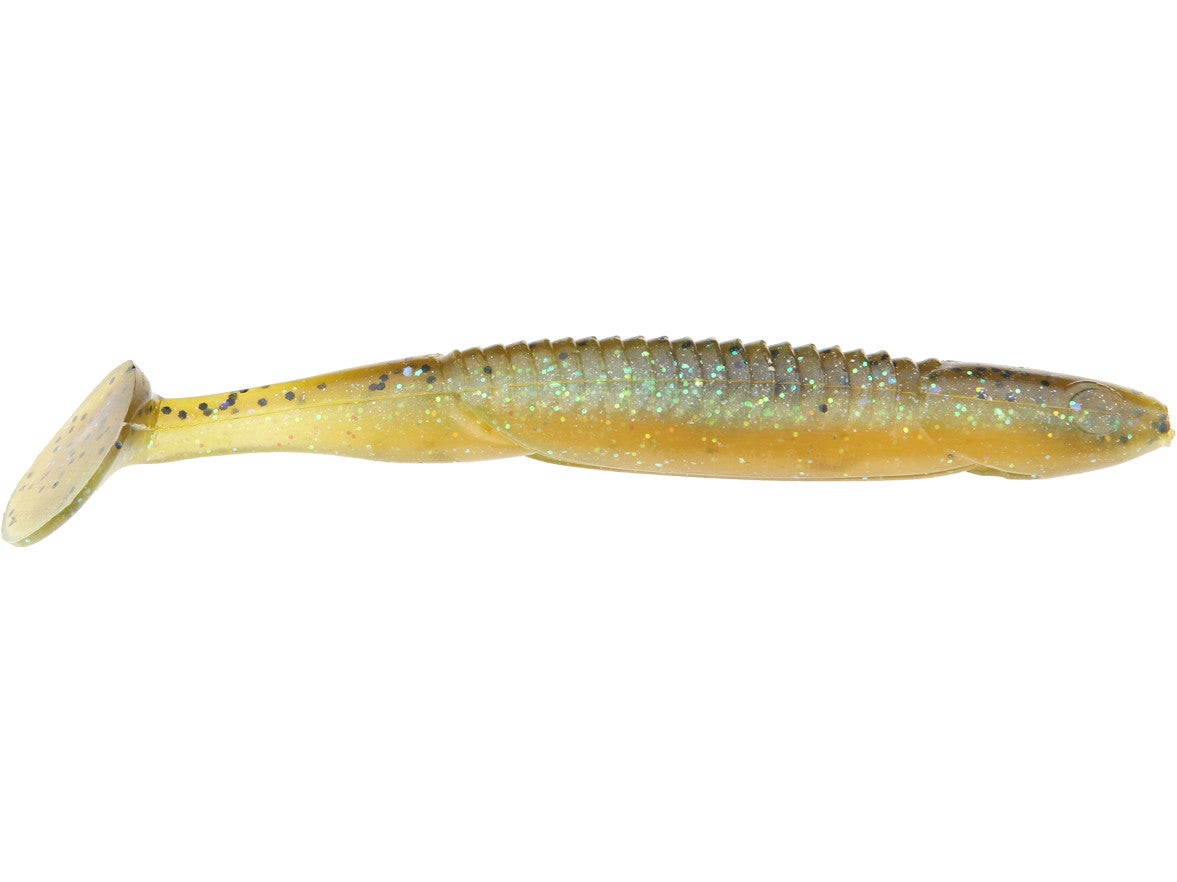 Reaction Innovation's creativity has once again developed a bait that will put fish in the boat when others won't. The Skinny Dipper is a soft plastic bait that can be effective in and around all types of structure. When you're faced with vegetation you can rig the Skinny Dipper weedless and swim it over grass beds or add weight to the hook and swim it through sumbmerged weeds.
The slender design of the Skinny Dipper coupled with the paddle tail creates a vibration in the water that bass cannot resist. The Skinny Dipper can also be deadly fished on a Carolina rig over humps and creek channels with grass and brush. The durability and size of the Skinny Dipper allows a hook size up to a 6/0 superline hook. For a different look, try the Reaction Innovations Skinny Dipper, you won't be disappointed.
29 Colors
More From Reation Innovations Swimbaits
Customer Reviews
Comments: Used the sungill color today at my local farm pond. Caught 20 fish & a solid 4lber! The best part about this bait is the versatility. Caught fish on the slop, slow rolling, jerking & falling it on the weed line. I watched as bass would go 10 feet out of their way to smash this bait! There is no wrong way to fish it & you will not be disappointed!
From: Brian: Cleveland, OH 5/30/16

Comments: Just like every other bait they have there application. When I need a smaller profile moving bait, these are my goto. Like others have said they do get bit on the fall. During fall I like to retrieve these like it's a mix between a swim bait & a stick bait. It imitates small dying bait fish & it drives the bass crazy. While the bite is slowing down for every one that only uses senkos & frogs mine stays consistent. Fall is moving bait season! Pick you up some swim baits, spinner baits, square bills & chatter baits. Then hold on.
From: Jessie: Moore, OK 10/30/15
Comments: Just be advised, they may be kinked up when you get them. Store em right and they will be okay. Any way you rig em, they will work. No lie.
From: Jay6: USA 1/28/15

Comments: I recently picked up a couple bags white trash and pearl blue shad to toss out for stripers. They have great action, and I have actually had most success throwing them weightless and working them like a jerk bait. They are a little thick though, so they don't fold as well as slimmer baits. The little dippers are a good alternative if a larger bait isn't needed to draw strikes. Overall, great bait. None less than I expected from Reaction.
From: Kevin: CA 10/23/14

Comments: These swimbaits are the real deal. These have me hooked on soft plastic swimbaits. They have a ton of action crawled really slow, but at the same time can be burned effectively. They even get picked up on the fall a lot before you start swimming it. I've been throwing these the last few times out and i'm already sold. I just caught a 5 pounder on one yeesterday.
From: Alex: Cleveland, OH 8/16/14
Comments: These lures are the ones that got me into plastics. I've been a cranking guy my whole life. After losing hundreds of dollars on each expensive baits on rocks/twigs, I picked a pack of these up but never used it until last summer. When nothing else was hitting, these resurfaced in my tackle and I decided to give it a whirl. I've never had luck with plastics and these things made me instantly a plastic guy! Slapped the Money Shot Violet color with a weighted Gamakatsu 3/8 oz size 5 hook and it instantly became a largemouth magnet! Caught the biggest bass of my life with these baits - 6lb largemouth! Stocked up and ready to catch bigger ones this year. Sad I used them too late in the season last year! You won't be disappointed!
From: Nraj: WI
Comments: I would recommend this lure to anyone. I use it on a 5/0 tokar weightless swimbait hook and reel slow. I've caught fish when other people aren't catching anything. My favorite colors are Money shot green and violet. It doesn't matter if it's clearwater or stained it will catch fish. The other color I use is the 420.
From: Randy: Tampa, FL
Comments: After trying these out for the first time, I'm in love. the roll on these as they swim is amazing. I used them on a texas rig and swam a money shot violet through bullrushes and caught three 16-18 in smallies in under 30 minutes. Also caught a 18 inch largie off these on a bama rig. Use this whenever they are chasing baitfish and hold on. Find us on YouTube for great fishing bass vids with the account versatilebassin. We also have a channel for you multispecies anglers, versatileangling. Check us out!! Sub and comment if you found us of tacklewarehouse.

From: Aaron: Lake Mills, WI

Comments: I've caught a ton of fish with these swimbaits. The "bad shad" color is my favorite. The come through heavy cover nicely and are really good baits during the spawn and post-spawn phase. I recently found a company that makes this style of bait but they have a lot more colors. "Bittersbaits" makes these type baits and they have an awesome color for muddy or stained water. It's black with red flake. If Reaction Innovations made a black and red flake, I would order them! These baits are awesome and you won't be disappointed.

From: Tom: N. Charleston, S.C.

Comments: Awesome bait! Im not a fan of swim baits and never was but picked up a pack of these randomly in the watermelon/green pumpkin color. They're awesome i use a 3/0 weighted swim bait hook and it swims with a crazy side to side wobble that fish love. I find the best times to use it are when fish will strike top water but jut aren't committing and I wake it under the surface. I caught my biggest bass so far this season on one. Great bait

From: Max: CT

Comments: This bait is second to none!!! My best friend and I make our own swim jigs and this and this Lil dipper are the only trailers to use on a swim jig by far. Cost is reasonable and they are defiantly more durable than bitters naked swimmer,can't go wrong here no way.Houdini is where it is anywhere you fish an Florida period!!!!!

From: David: Geneva, FL

Comments: Not only the best soft plastic swimbait on the market, but maybe the best soft plastic, period. I've caught more fish on skinny dippers than any other plastic. I typically fish with an EWG belly weighted 4/0 hook. Nothing better.

From: Adam: Bowling Green, KY

Comments: I have caught many fishy fish on this lure.

From: Jim: Dallas, TX

Comments: Got the white trash and put it on a alabama rig and started catchin em. These things swim really good and r very lifelike. The durability is great but decent depending on how big the fish your catching are. They work great on an A Rig.

From: Will: AL

Comments: So i order these for the first time thinking they would be better than the havoc version and i was right... for the two of the seven that were fishable! The paddle tails are bent for five of them and i am currently trying to slowly bend them back into shape. Good product, just needs better packaging

From: Mike: Harrisburg, PA

Comments: Great swim bait when rigged with EWG hook swims true. Definitely has great action and catches fish but tears really easy. If you live in FL you should get Bitter's Naked Swimmer because it is cheaper and basically exact copy.

From: Alex: Palm Bay, FL

Comments: this is an extremely versatile bait. you can rig it in multiple ways, and fish it in multiple ways, and catch fish. they are also fairly durable. RI has some really nice color combinations too. i think its hilarious that you can catch fish on something that looks like a tally-whacker swimming through the water!

From: Dan: WV

Comments: This is the best non hollow body soft plastic swimbait on the market. I go through about 2-3 packs every week bc fish are killing the. I use a gamakatsu superline screwin hook 5/0. Houdini is deff the best color!

From: Cody: Tally, FL

Comments: Ive been doing just swell swimming these weightless. I call em 'super doo-doo' because they are the shiz. I use a superline 2/0EWG to swim mine, they seem to hang onto it longer.

From: Meatwad: Swimmin

Comments: This bait is awesome. Fish it weightless on a 5/0 EWG and swim it for abut 5-10 seconds and then kill it. Gold Digger has been great for me.

From: James: Lake Minnetonka

Comments: Tried this bait on 3/8 oz swim jig for the 1st time 6 months ago. Made a definite believer out of me. 1 drop of glue holds it in place. Easily mended unless tail breaks. SLOW retrieve has worked best for me thru vegetation. Has been moved to "Go To" bait. 1 Knockers now number 2

From: Steve: The Villages, FL

Comments: wow! what a great swimbait, this thing casts a mile and get vicious strikes! caught an 8 pounder on one of these today! they arent very durable and if you try to jerk them too hard the tail will fall off, But its all worth it when you start catchin fish. Best colors for me are bad shad, bull frog and money shot green. Rig them on a 4/0 EWG and your all set.

From: A.J.: Florida

Comments: Superswim bait! Swims at slow speed casts a mile, great colors and I find they last a long time. They glue up well with Mend It glue. I'm still working off the pack I bought down in Okeechobee this past winter.

From: Steve: W. Milford, NJ
Comments: this is an awesome bait! my friends and i use these in tournaments and local ponds all the time. you can count on these to catch a fish anytime anywhere! the fish really hit these hard and very often. you will catch fish from 7 to 30 inches on this bait the fish just love them.

From: Sayge: Florida, USA
Comments: You can do anything with this bait, I like to put it on a Carolina rig when they're keying on shad!
From: Jesse: Phoenix, AZ
Comments: This is basically a copy of the Keitech Swing Impact. Although I have found the Keitechs to work MUCH better, these won't hurt your wallet quite as much.
From: Mike: Mansfield, CT
Comments:A buddy and I were using these lures down at the Potomac this past week and they are awesome! We caught fish after fish in shallow water using a 4/O hook and about a 1/8 ounce weight on the front. We each had about 30 to 40 fish each day to make it a trip to remember. We caught fish on other lures too but the great majority was on the Skinny Dipper.
From: Rick: York Haven, PA