Reaction Innovations Vixen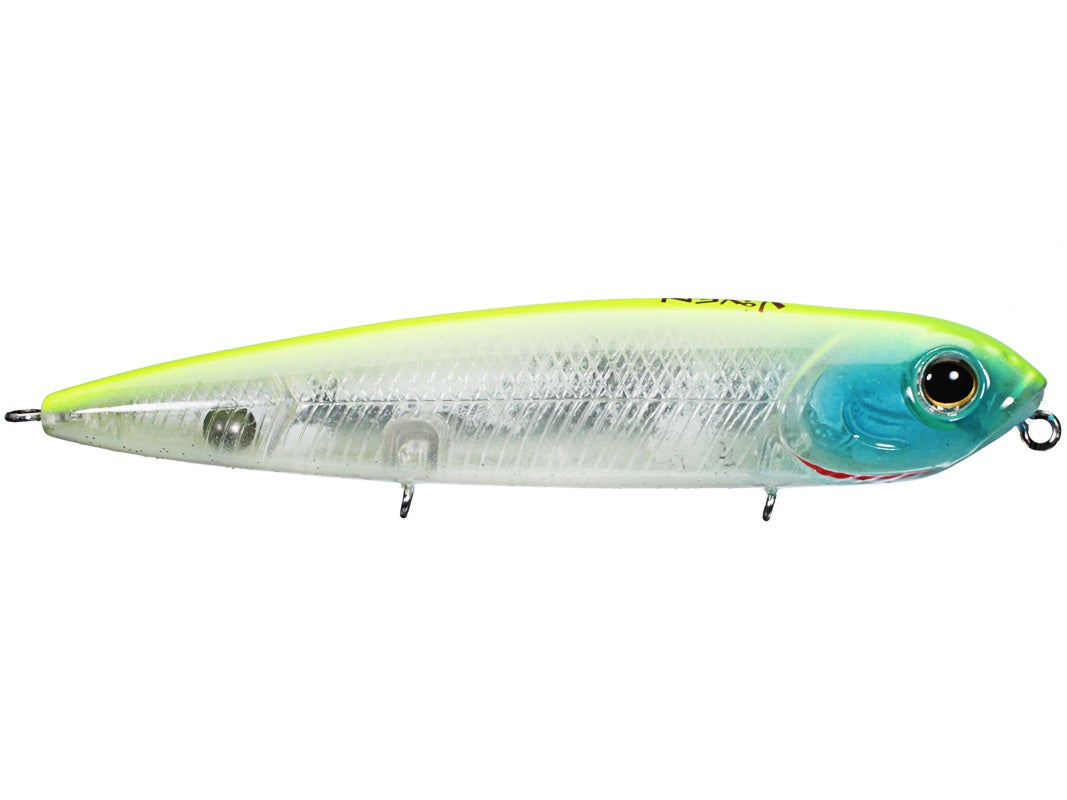 The Reaction Innovations Vixen has returned. One of the most dominant topwater walking baits to ever hit the water, it has been a fixture on the pro circuit and club level tournaments across the nation. Constructed from a special formulation of plastic that is harder and more resonant, the Vixen is extremely loud on the retrieve. Incredibly easy to walk as well, its side-to-side action is more subtle than a big bait like a Super Spook, so it's not too much for calm water, but can still attract attention even if there's a little chop.
The finishes and attention-to-detail are also incredible like all Reaction Innovation lures. Deep, holographic eyes are recessed into the head, so they will not get knocked off by fish, sticks, or the accidental rock, and even the gills are extremely realistic. Not just a red stripe painted in the throat area, they are molded into the lure with ridges that look exactly like real gills. Armed with three super-sharp trebles, the Reaction Innovations Vixen has been a long time favorite among tournament anglers, and now that this once hard-to-find lure is back, it's anyones game.
| | | | |
| --- | --- | --- | --- |
| Reaction Innovation | Length | Weight | Class |
| Vixen | 4.75" | 3/4oz | Topwater |
7 Colors
More From Reaction Innovations Topwater Baits
Customer Reviews
Comments: Just picked up this lure and ended up catching over 10 fish per hour consistently. I would defenetly recommend this to any fisherman because of how easy it is to walk the dog with this lure. Now I keep at least 3 of these on me at all time. Try the Silver Flitter Shad colour pattern it works great!
From: Fuji: Canada 8/230/16

Comments: Awesome Bait. Caught a 3lber and a 5lber this morning at Lake Berryessa. Love the walking action and stock hooks are sharp and durable.
From: Michael: Fremont, CA 7/12/15

Comments: The factory hooks are sharp but weak. I had three nice fish pull free because they straightened the treble hooks. I was using mono and had the drag set to give. The hooks were easily bent back by hand - so it's thin weak wire - not stout enough for bigger fish. But - still a great bait that calls fish up!
From: Jocko: Alpharetta, GA 6/15/15

Comments: The Pros: This thing will out catch a spook 5/1, it has a tighter walking action and doesn't cover the same amount of water as a spook but it jumps higher compared to a spooks back end always in the water, its louder than a spook and flat out catches em. The cons: The paint is an absolute joke; I threw one for two days and caught a ton of fish on it probably 40 fish and 7 or 8 over 3 pounds but the paint is almost completely gone. I don't mean a few places are chipped I mean the bait is completely a blank now.
From: WarEagle: AL 4/3/14
Comments: Comparing the one I just got today to the old ones I have to say I preferred the paint schemes on the older. These new ones have what looks to be an 'oil slick' paint coating. Not that it sucks, just different. But aside from that they look and sound the part.
From: CL: So CA 3/26/14
Comments: Best walking bait ever Im glad reaction innovation has brought it back and tackle warehouse is carrying them thanks!!!!
From: Jeremy: Big Spring, TX 3/25/14