Reaction Strike Popping Revolution Frog - $5.29

The Reaction Strike Popping Revolution Frog allows bass fishermen to present an ultra realistic frog in a more aggressive popping presentation. Designed by Reaction Strike's pro staff, the Popping Revolution Frog is built for success. Thanks to its weedless design, the Popping Revolution Frog gurgles and pops effortlessly around weedbeds, lilypads, limbs and stumps. Easy to fish in places other lures can't go, you will be sure to pull heavy hitters out of the thickest cover. Available in array of colors, the Reaction Strike Popping Revolution Frog is a largemouth bass catching machine.
| | | |
| --- | --- | --- |
| Reaction Strike | Length | Weight |
| Popping Revolution Frog | 2" | 3/8oz |
View Large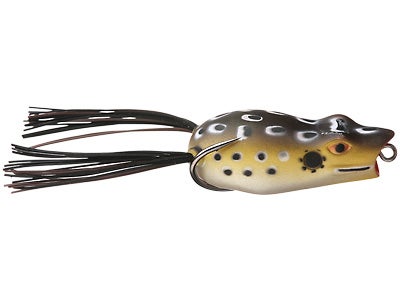 More Reaction Strike Frogs
Comments: I was in the market for some good cheaper popping frogs and these seem like they would fit the bill. I was wrong these things suck. all of the ones I had sank after 3 casts and then I had to squeeze out the water and then in another 3 casts same thing so don't get these get the booyah ones they are so much better and they don't sink.

From: Luc: sharon pa

Comments: I bought two, Midnight and Moss yellow.Haven't tried them on the water but my first impression of them were bad. The frogs were smaller than what i expected and it seem like right out of the box the eye of the hook is crooked and at a angle from the mouth (maybe they did this to walk the dog better). The mouth of the frog "the popping part" is really small so it seems like it wouldnt put out much water.

From: Tou Yang: MN

Comments: Don't waste your money. Bought several and they all sink.

From: Gerald: Huntsville, AL

***Note: If you have questions about this product or need assistance with an order please email your questions to info@tacklewarehouse.com