Reel Grips Pro Series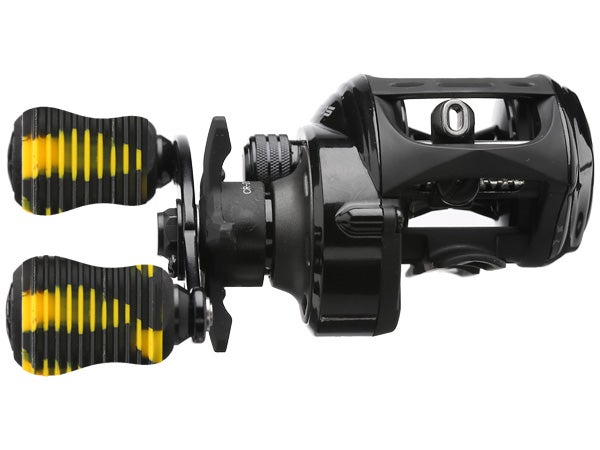 Reel Grips are the latest fishing tackle accessory that adds comfort and grip to your existing reel handles. Because they are made of a soft rubber composite, they easily slide over your existing bait cast reel handles. The concept is simple yet very efficient. Slip the no slip grips over your existing bait cast reel handles and you're ready to catch your next lunker bass. Don't let that bass slip away this time! Discover why pro anglers and sportsman everywhere are catching on to ReelGrip in tournament and recreational fishing.
*Slip resistant, even during the most vicious strikes!
*Less hand fatigue with crank baits
*More control to your reel
*Added sensitivity
*Excellent in damp weather
Each pack contains a total of two grips.
The Reel Grip Pro Series enhances the range of feel with a 20% smaller inside diameter. The Pro Series will also better fit reels with larger grips like the Shimano Chronarch, Shimano Calais and most spinning reels.
20 Colors
More From Reel Grip Accessories
Customer Reviews
Comments: I love reel grips, they are so comfortable! I wish they came in more colors though. The grips really do help in the rain, and they put less stress while reeling in big baits.

From: Dominic: MD

Comments: they worked really good for the day i used them, caught some big fish with them on my reel and they worked really good while i was flipping, until i set the hook on a 7 pounder. One of the grips came right off some how. Still managed to land the fish. Will give them another chance and buy more. They really help when your hands get wet from flipping all day

From: Raul: Lake Guntersville

Comments: At first I though these were more for show, but after a day of fishing you can feel the difference.

From: Adam
Comments: I use the every reel i own with the exception of my reels with eva foam handles. They add a ton of grip to all my reel handles. They do help in rainy situations, but i Also sweat like a pig at times and my grip continues to stay rock solid. These grips can also help keep you organized by color if you use a lot of the same rods/reels. I'd like to see a grey or silver type color too.

From: Dan: WV

Comments: They thought of every color, BUT PURPLE :(

Comments: Love these grips! they really make it easier to fiind a good hold on your reel when you set the hook on a pig. they really save your fingers from irritation too. and for the fisherman who has a little bit of style, the right color looks great on any reel

From: Mat: OH

Comments: Great product. They fit snug on all of my reels. The material is very durable and easy to work with. It also helps me keep a good grip on my reel handle when it is raining.

From: Bernie: Burke, VA

Comments: Great dont turn them around got 2 pairs waiting to buy more i like them a lot great grips even in rain and on top of that made in my home state of Ohio

From: Matt: Lima, Ohio

Comments: try a drop of super glue under the grip,AFTER you install.

From: Joe: AL

Comments: good idea and i liked them, but i found my self often trying to slip them back into place as they would slide off allot

From: Cole: ON, Canada

Comments: Good feel! Nice looking addition to your baitcast, great selection of colors. I have the red, white, and black and the match my abu rod very nicely. A little more snug than the last pair I had, this can be good and bad. Putting them on is not easy but they will not slip off either. Good product, will order more.

From: Bill: Wild Wonderful, WV

Comments: look great, feel great adn made in the USA cant go wrong with these.

From: Steven: NH, USA

Comments: Great quality material. Made in the USA. Fits my oversize grips on the Shimano Curado. Vibrant yellow to spot the reel right away. Cheapest price online is here on TW. Can't go wrong with this product.

From: M: Vancouver, Canada

Comments: Great grips, will be getting some more soon for the rest of my revo's, my only complaint is that they don't work well on the Shimano curado grips, but other than that, a must have for Revo's

From: Mike: Waukesha, WI

Comments: These are very nice in bad weather. I have these on like 2 reels for bad weather, unfortunately they kill the enthusiast charm of cork on carbon handle and don't fit on bassart rigid cylindrical grips, well very uselful.

Comments: i missed a huge bass with these not on my reel it was raining and my hand slipped so i got me some of these and presto, no more missing huge bass.

From: Bubba: Fayettville, AR
Comments: I use these grips on all my reels and they are nice and look sharp. different colors help me keep track what the setups I use, especially when I have multiple rods with same make of rod/reel.

From: Jason: Port Huron, MI
Comments: The Reel Grip Pro Series is great. A must have. I don't know about yall, but I used to miss fish occasionally when fishing in bad weather because my hands and the reel would get wet and I would slip. Never again, thanks to this product. Makes the knobs much easier to grasp and keep ahold of, overall increasing feelings of solidity and security. I have these on every casting reel and highly recommend that you do the same.

From: Big J: Houston, TX
Comments:These reel grips work like a dream when its wet out all my reels have them.
From:Richie: Lynnwood, WA