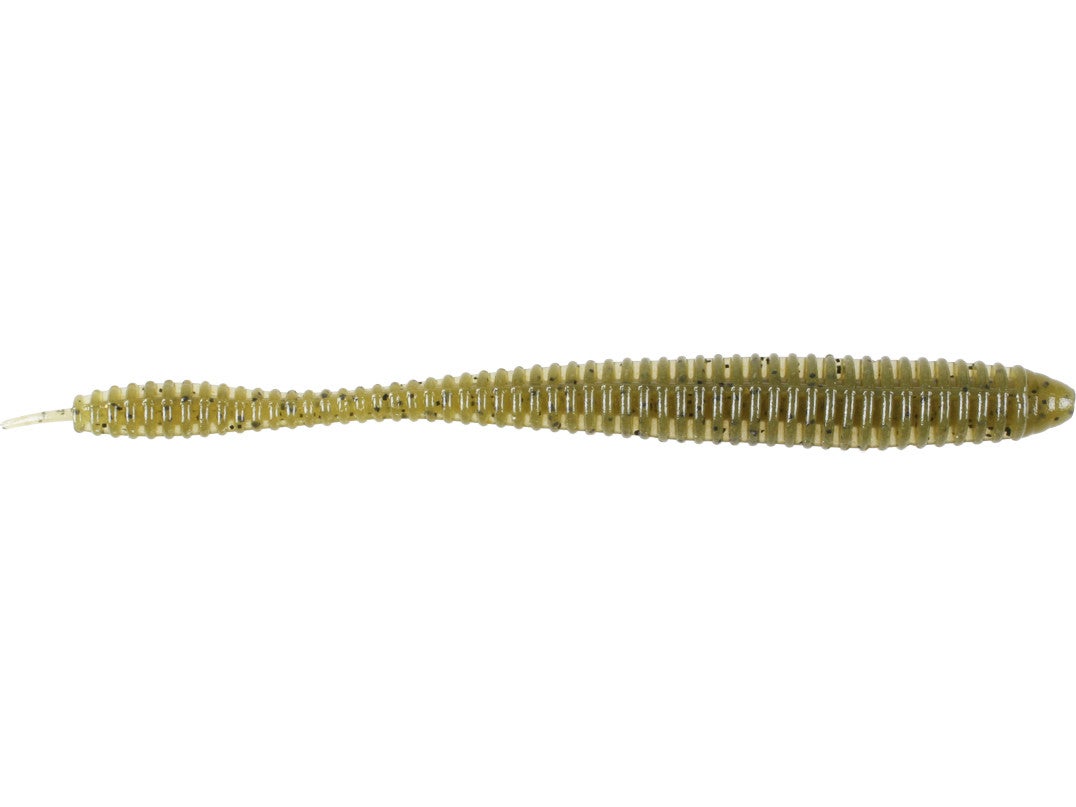 Constructed from an extremely pliable and supple soft plastic material, the Reins Bubbling Shaker is an incredible offering from Reins & Co., a premiere Japanese domestic fishing company recently making inroads into the US. Ideal for drop shotting, the Bubbling Shaker's ribbed body creates a larger profile and the texture of the ribs is mouth-watering to bass, causing them to hold on longer once they bite down. The bait's unique tail also produces a tantalizing action even with the slightest twitch of the rod. Featuring the attention to detail and creativity anglers have come to expect from Japanese domestic fishing manufacturers, the Reins Bubbling Shaker is available in a variety of proven colors and also has the added benefit of Reins' unique scent formula for additional fish attraction.
| | |
| --- | --- |
| Length | Quantity |
| 3" | 11 |
| 3.5" | 10 |
| 4" | 8 |
| 5" | 7 |
| 7" | 5 |
| 10" | 5 |
22 Colors
More From Reins Soft Baits
Customer Reviews
Comments: This worm will flat out catch fish anytime of year. 4" is great for a drop shot and the 5"-7" works great on a shaky head, awesome action the fish cannot resist!
From: Jason: Chicago 11/15/16
Comments: hands down the best drop shot bait! I've fished with crosstail shads, roboworms, dreamshots, etc & NONE compare to the shaker! I could be having a terrible day of fishing but still have confidence when i pull out this bait just because its that good. If you want BIG smallmouth in your boat buy this lure! bluegill is the best color
From: Brian: Chicago, IL 9/18/16

Comments: The 4 inch watermelon red was absolutely dynamite for me on my last trip. The bait is very soft & the ribs give it a perfect slow sink. set it up with a 3/0 worm hook & a 16th ounce mojo rig & the bass couldn't get enough. The only issue I had, is the bait is VERY soft. Went through 2 bags of them, but for how well they worked I will gladly sacrifice durability for fish in the boat. awesome scent as well.
From: Johnny: Minneapolis, MN 5/23/16

Comments: 3" is deadly finesse worm on tungsten jig head. You will be surprised on what this little bait will catch
From: Ryan: PA 9/9/15

Comments: this is my #1 dropshot bait or bait period. morning dawn is deadly, and brings in the big mommmas!! also, they are very durable and the bait is still soft.
From: Slade House: CA 10/3/14

Comments: This one of the best drop shot baits I have used, with it's unique tail action it drives the smallmouth bass crazy. I have had great catches in the 4.5 and 5 lb range very durable.

From: Michael: Southfield, MI

Comments: Awesome DS Bait!

From: Bill: Bridgman, MI

Comments: Excellent bait for dart head in winter, cast let hit bottom and dead stick for short time, will get you fish.

From: Ed: So Cal

Comments: This bait is hard to beat when choosing a worm to rig on a shakey head, super bouyant and supple action. The "Bait fish"color is great for mimicking that late fall shad die off ;)

From: Eric: Boulder City, NV

Comments: Super soft plastic like a hand pour, crazy action, a fish catching machine

From: Chris: Trenton, NJ

Comments: Best drop shot worm that I have ever used, awesome bait for magnum spots!

From: Steve: Atlanta, GA

Comments: This worm has unbelievable action, the 4 inch is my favorite drop shot worm right now, better than roboworms and the 5 inch is awesome on a shaky head, this is a go-to worm for me if i need to get a limit and excels when the bite is tough, I've fooled some monster smallies with this worm.

From: John: Plattsburgh, NY

Comments: Unbelievable bait on carolina-rig!Smells to hell and works very well under water!I've catched many perches und pikes.Try Watermelon Seed,it's my fav ;)

From: Dennis: Berlin, Germany

Comments: This bait excells in high pressure situations when hand poured worms just aren't cuting it. It works well paired with virtually any finesse rig imaginable, whichever style and technique you choose this worm will get you bit.

From: Mark: Menifee, CA
Comments: Great drop shot bait and works equally well on a shaky head. The ringed body traps air bubbles that make the bait float and releases bubbles when shaked. Moebi and Green Pumpkin Allstars are my favorite colors

From: Trevor: Magnolia, DE
Comments: By far the best dropshot worm I have thrown! I have been referring to the Bluegill color all year as the "Magic Worm" during tournaments when nothing else was producing.

From: Duane: Pinckney, MI