Reins Ring Craw 6pk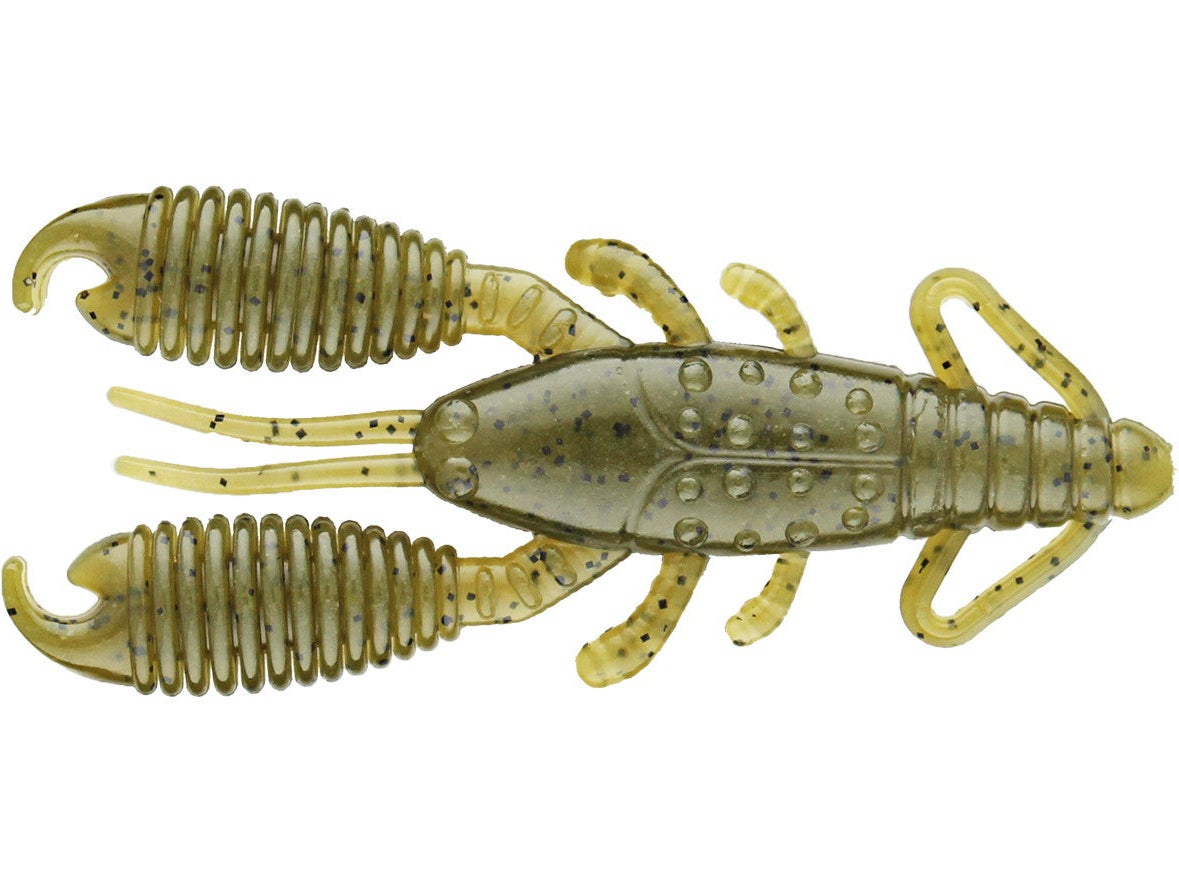 The Rein's Ring Craw delivers a realistic crawfish profile complete with subtle lifelike touches you don't find with other craw style baits. It offers you a large body easy for rigging combined with ringed claws and little feet and antennae that help attract fish from all around. Available in a variety of colors, the Reins Ring Craw also has a heavy salt concentration, and Reins' unique shrimp scent to keep fish on - all the way to the boat. Reins recommends using 1/0 - 2/0 wide gap hooks or 1 - 1/0 Jigheads with the Ring Craw.
10 Colors
More From Reins Soft Baits
Customer Reviews
Comments: Best finesse craw, Used this little gem on a zappu mustang head & tore up the smallmouth at one of the few lakes we have here in Texas that have brownies. The claws have a sick action and stand up at rest.
From: Robert: Spring, TX 12/16/15

Comments: Great Punching Bait. 4/0 hack attack hook and 1 oz. weight. Gets through the thick stuff. Love the scent they use too.
From: Dan: FL 7/23/15

Comments: These make awesome jig trailers, just the right amount of bulk on the body and the claws kick like a twin tail when you hop it.

Comments: This a great compact flipping/punching bait. Match it with a 1.5 reins tungsten and youre ready to roll. Wore em out on the Big O

From: Jake: Clewiston, FL

Comments: Great bait! I have caught two keeper fish on it. I am looking forward to the spawn to see what is the biggest fish I will catach with it.

From: Jeffery: San Antonio, TX

Comments: Great cold water jig trailer!

From: Joe: Westland, MI

Comments: sick little finesse craw! great for light texas rigging, or on the back of a finesse jig. Next time out on the water il have to put one of these bad boys on the drop shot and see how that works out. today i caught a crappie, a couple of dinks, and a 2.5 lber! great bait!

From: Chris: Stamford, CT

Comments: These make an excellent finesse jig trailer, this bait undulates with every movement of the rod tip. My favorite part of this bait is that the claws are extremely buoyant making them stand straight up when the bait is not moving. The other cool part about this is that when it contacts something solid like a rock or stump, it vibrates. Give these a try when you need to fish a jig in a high pressured area, you wonÕt be disappointed!

From: Mark: Southern California

Comments: Cool little bait. Works alright and caught a few fish on it, but for nearly a dollar a bait they aren't good enough for me to buy more. I'll stick with a Sweet Beaver.

From: Nathan: IL