Reins TG Tungsten Slip Sinker - $6.99 to $7.99
Japan's top tungsten company is now in the USA. The Reins TG Tungsten Slip Sinkers are composed of 95% tungsten and 5% nickel alloy, making them 1.8 times as dense as lead and 40% smaller than their lead counterparts. These characteristics combined with Reins precisely designed shapes translate into easier penetration of cover and less hang-ups on bottom structure, as well as, increased sensitivity. Reins also uses an inner core system to protect your line from frays because nobody wants to lose a big fish due to line wear from their sinker. Available in a wide range of sizes and colors, the Reins TG Tungsten Slip Sinkers deliver the ultimate in performance.
3/16oz - 3 per pack
1/4oz, 5/16oz - 3 per pack
3/8oz, 7/16oz - 2 per pack
Color:
Black
View Large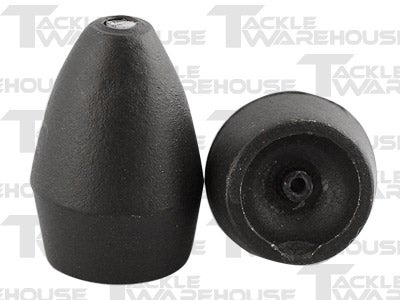 More Reins Weights
Comments: weights are pricey but definitely the best tungsten out there. Smallest most unique shape & I dig the matte finishes
From: Mike: Rutland, VT 9/9/15

Comments: Randall Tharp Just won $500,000 and Reins is all he uses! Highest quality weight made!

From: Duane: Pinckney, Mi. USA

Comments: I have tried many tungsten weights but they all either did not have a insert or one that did not do the job and I kept breaking off fish do to the weight causing a weak spot in my line.Then I tried Reins and my line brakage is next to non.I know they are more exspensive but you loose less fish.We buy the best rods and reels and boats but then we buy cheap bullet weights to save a buck or two.In the long run Reins saves you money and if you are a tournament fisherman it puts more pay checks in your pocket.

From: Erick: Richmond Va. USA

Comments: these are top quality, the inserts are super clean unlike some other brands. These will not bind on your knot either. By far the best I've used

From: Eric: NV

Comments: glued in inserts, a must! #1 tungsten on the Japanese market! And those guys only fish the finest quality.

From: Kirk: Indianapolis, IN

Comments: Best Tungsten weights on the market, period!

From: Bill: Palatka, FL

***Note: If you have questions about this product or need assistance with an order please email your questions to info@tacklewarehouse.com