Reins TG Tungsten Slip Sinker Heavy Weight - $7.49 to $19.99
Japan's top tungsten company is now in the USA. Offering a wide range of heavier sizes, Reins TG Tungsten Heavy Weight Slip Sinkers are composed of 95% tungsten and 5% nickel alloy, making them 1.8 times as dense as lead, and 40% smaller than their lead counterparts. These characteristics combined with Reins precisely designed shapes translate into easier penetration of cover and fewer hang-ups on bottom structure, as well as, increased sensitivity. Reins also uses an inner core system to protect your line from frays because nobody wants to lose a big fish due to line wear from their sinker. Available in black, green pumpkin and plain, the Reins TG Tungsten Slip Sinkers deliver the ultimate in performance.
1/2oz - 2 per pack
3/4oz, 1oz, 1.5oz, 2oz, 2.5oz - 1 per pack
View Large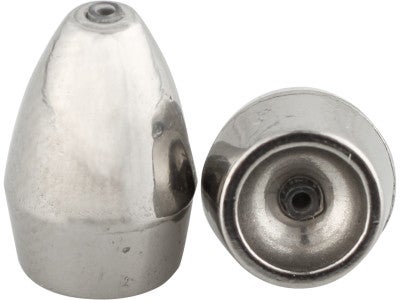 More Reins Weights
Comments: Finally someone has mad e the new standard of quality tungsten weights! No chipped paint, no frayed or broken lines; and heavy 2.5oz size for punching plastics through thick vegetation mats. I like these heavy weights and would not mind a extra heavy 3oz size for the jungle.
From: William: Thomaston, GA 11/03/14

Comments: The Reins Tungsten weights are the best I have tried so far. And I use a lot of them. The finish does not come off like the other weights on the market. The weight is actually smaller compared to the others since they have a higher amount of tungsten unlike the fillers from the other guys. And the insert is really nice to have.

From: Johnny: San Marcos Tx.

Comments: Best tungsten out there right now, smallest per size, cool matte finish and line insert is a must, finally a sinker that you don't have accidental break offs

From: Dave: Palm City, FL

Comments: The line insert is really nice, don't have to worry about fraying the line like try tungsten. Seems like these weights are smaller compared to other tungsten companies with the same size weight. Finish is really nice and durable

From: Mike: Hot Springs, AR

***Note: If you have questions about this product or need assistance with an order please email your questions to info@tacklewarehouse.com