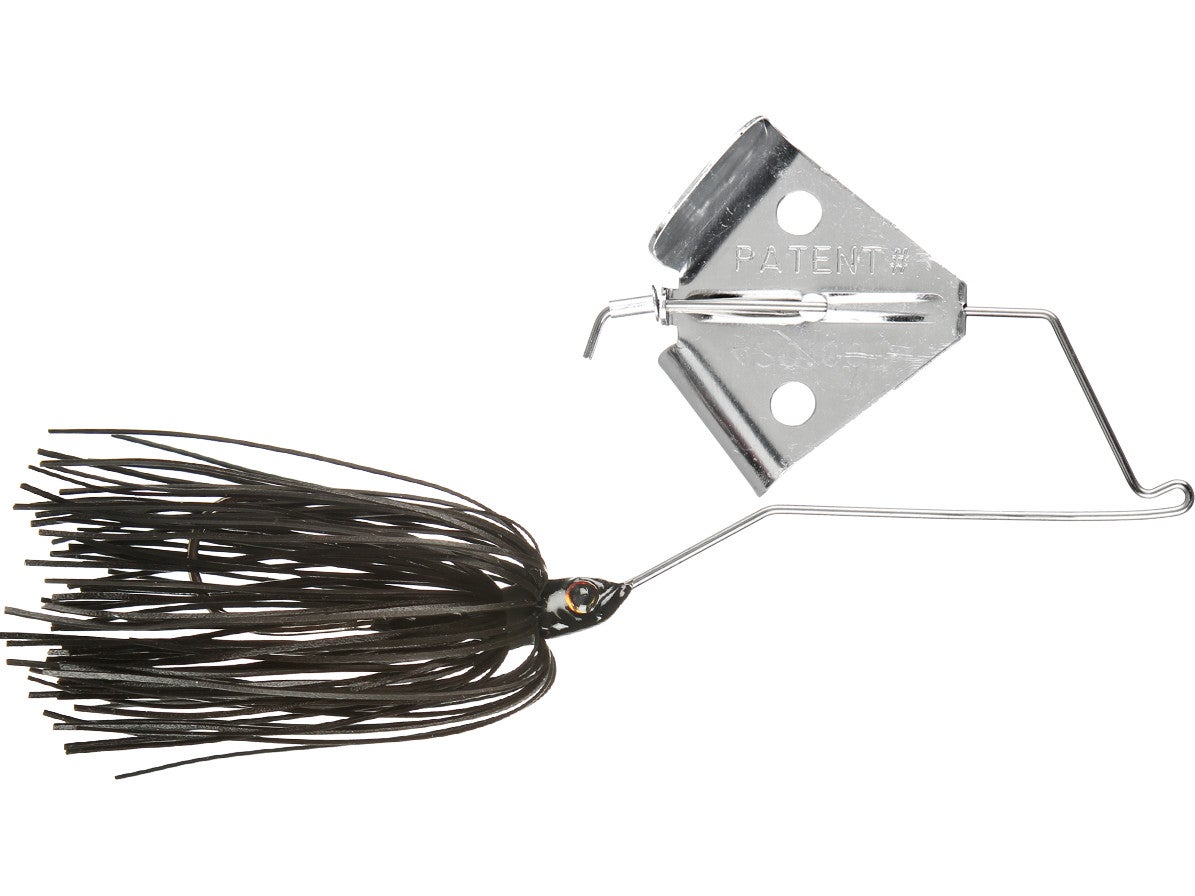 If you like throwing buzzbaits you'll love the Revenge Buzzbait. This bait has been designed by a master and displays thoughtful, useful features that will help you catch fish. The single delta blades of the Revenge Buzzbait turn easily to give maximum churning and plenty of bubbles thanks to the holes drilled on each side. The wire is the right diameter and bent correctly to help this bait get through grass and other obstructions. The down bend at the head will put the hook right where you want it; in the fish's face every time. The long, streamlined head will slip through heavy cover easily and the realistic detail, including the bright 3D eyes, will look good to any bass and get them to commit every time. Long, flowing silicon skirts cover the round bend Mustad UltraPoint hook. The head extends back on the shank of the hook, providing a bait keeper to keep any plastic or pork trailer in place, even in heavy cover. Don't let the big one get away; get Revenge!
9 Colors
More From Revenge Buzzbaits
Customer Reviews
Comments: This is a really good buzzbait all around. Gets up easily and has a very subtle wake for a buzzbait. Awesome presentation if thats what you are looking for, but of course it can be too subtle for some situations. Works great for me though and would highly recommend. 3/8ths pairs great with fluke and toad trailers. Get the 1/2 ounce if you plan to throw it with swimbaits. Needs the extra weight to track properly.
From: Chris: Central Valley, CA 5/18/15

Comments: I'm very impressed with this baits quick surfacing capability once cast. The squeak is perfect right out of the package and the detail of the bluegill pattern makes it great for rivers and lakes. I've had this bait a week now and it already has six bass to its credit. Excellent bait, i definitely recommend this bait as i will be purchasing more!

From: Mark: Savannah, GA

Comments: I love Revenge spinnerbaits and buzzbaits, they're the most detailed, innovative baits made. I've always loved the spinnerbaits, especially the deep runner series but these buzzbaits are the best. I'm impressed by how quickly they pop up on top after a cast, the angled bend really does make a difference in how easily they plane and it also puts the hook just a little lower, closer to the fish's mouth when they strike. Awesome colors, great action, excellent detailing, a definite must-have bait!

From: Will: Atascadero, CA

Comments: great buzzbait for here in the inland empire lakes in southern california. From fishing diamond valley lake night tournaments to fishing lake elsinore in the middle of the day with the black color, these baits will get you bit.

From: Henry: SoCal, USA

Comments: Great Buzzbait

From: Chad, GA

Comments: I was very impressed with how true this buzzbait ran. It displays a much more subtle disturbance on the water than many buzzbaits, and I opted to use the 1/4oz. shad with many of the skirt strands removed as a clear-water "finesse" buzzer. I really like them and will surely buy more for this upcoming season!

From: JP: Northeast, IN