Revenge Colorado Willow Spinnerbaits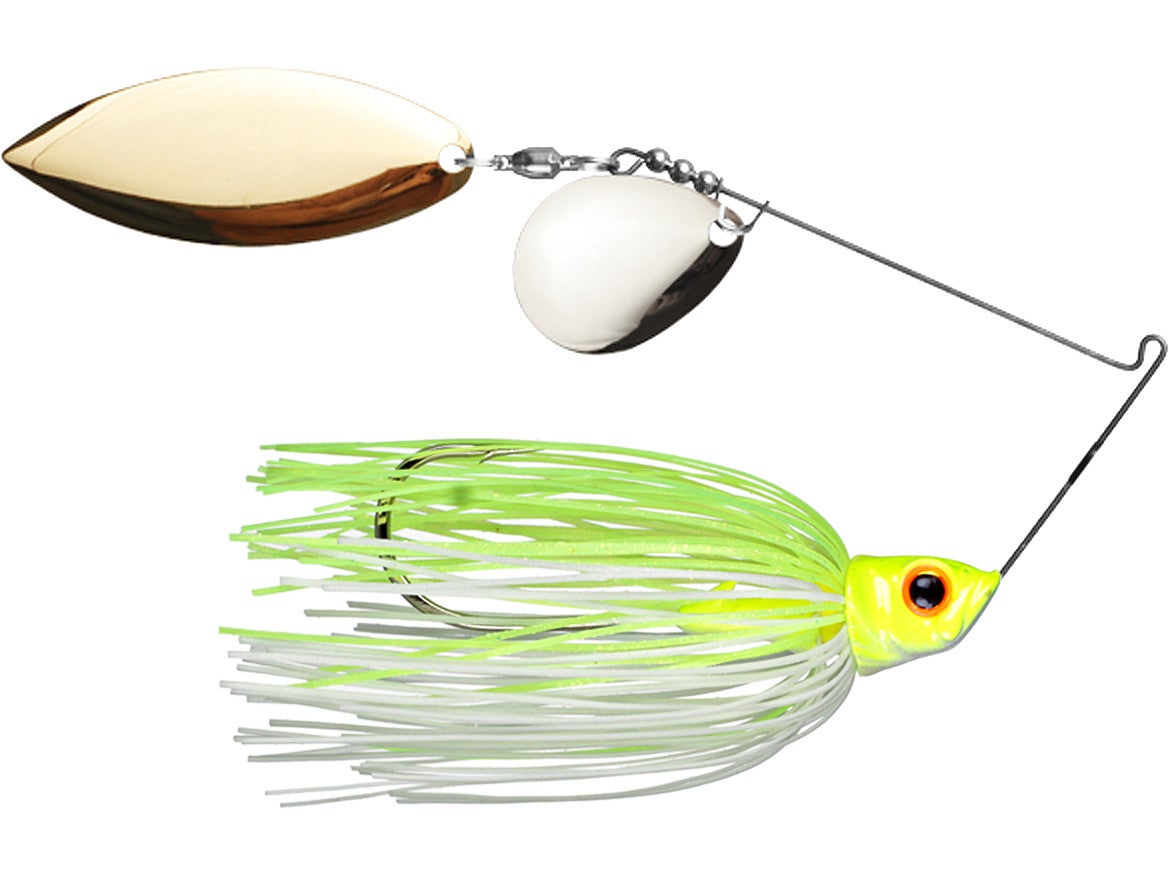 Delivering the ideal combination of vibration and flash thanks to their Colorado and Willow-blade configuration, the Revenge Colorado/Willow Spinnerbaits are great all-around performers for a variety of situations. Revenge blades are stamped from thin metal, which is deeply cupped for easy rotation even on the fall or when cranked slowly, and the fine-gauge wire used for the arm of the bait allows for maximum vibration. Built around super-sharp 5/0 Mustad Ultra Point Hooks for excellent fish penetration and strength, detailed head designs, complete with deep, black life-like eyes and hue-shifting paints, provide added realism and allow the head to shimmer in changing angles of light - just like a natural bait fish. Also featuring custom 40-strand silicon skirts that compliment the heads' paints and shimmer, the Revenge Colorado Willow Spinnerbaits are proudly made in the USA to provide anglers with high-quality, reliable, fish-attracting performance.
11 Colors
More From Revenge Spinnerbaits
Customer Reviews
Comments: Best slow rolling spinnerbait I have ever used, it will consistently catch bass even in mid 40 water temps, the downfall is after about 20-25 fish the wire arm will break from the abuse, but still worth it because of the realism of the action.
From: Willie: CA 11/23/14

Comments: Since I moved up here to S.J. from down south this lure caught my first spinnerbait fish. (I've since caught many bass on spinners and what a thrill it is!). Good hookups without a trailer hook. I think so far i've only missed 2 hookups. 90% good hooksets. I must be lucky. It's a quality lure.

From: Pat: San Jose, CA

Comments: This is a quality bait that runs right. Had a 5 fish limit over 27 pounds in October on this bait.

From: Doug: Longview, WA

Comments: Revenge Spinnerbaits are the only spinnerbaits i throw now, because i can trust em to catch fish and hold up. These are one of my few real confidence baits in both clear and stained water, and i love the tandem design, puts out a bit of both flash and vibration, the silverside color with both silver blades KILLS EM on overcast days in both clear water and lightly stained water, However like any spinnerbait or jig with a rubber collar on the market if u leave em in the sun or heat to long the collar will melt off and u will have a useless spinnerbait or jig, so right after i take em out of the package i wrap a 2inch piece of small diameter lead wire around the collar TIGHTLY just incase

From: Kevin: SoCal

Comments: The colors, detail, and blade components are awesome. It was catching a lot of fish (and yes, of course, pikes...). The downside is the poor design in wire - breaks after a few big hits. It bends out of position and when you bend it back n forth a few times, it just snaps off on a fish you're thinking is a 6lb'er.

From: Bassin Mississippi River: La Crosse, WI

Comments: Awesome spinnerbait. Good detail in head, good quality swivels and blades. They come out of the wrapper with great balance and blade sizes. Overall great value for the money. I have won many tournaments on this bait. I have tossed almost every spinnerbait made and revenge has its own box with all styles and colors.
From: Derek: Hampton, VA
Comments: Best spinnerbait I have ever used. The skirt and head are sweet, they hold up gr8 too. I would recommend these to any angler out there.