Revenge Deep Runner Spinnerbait Double Willow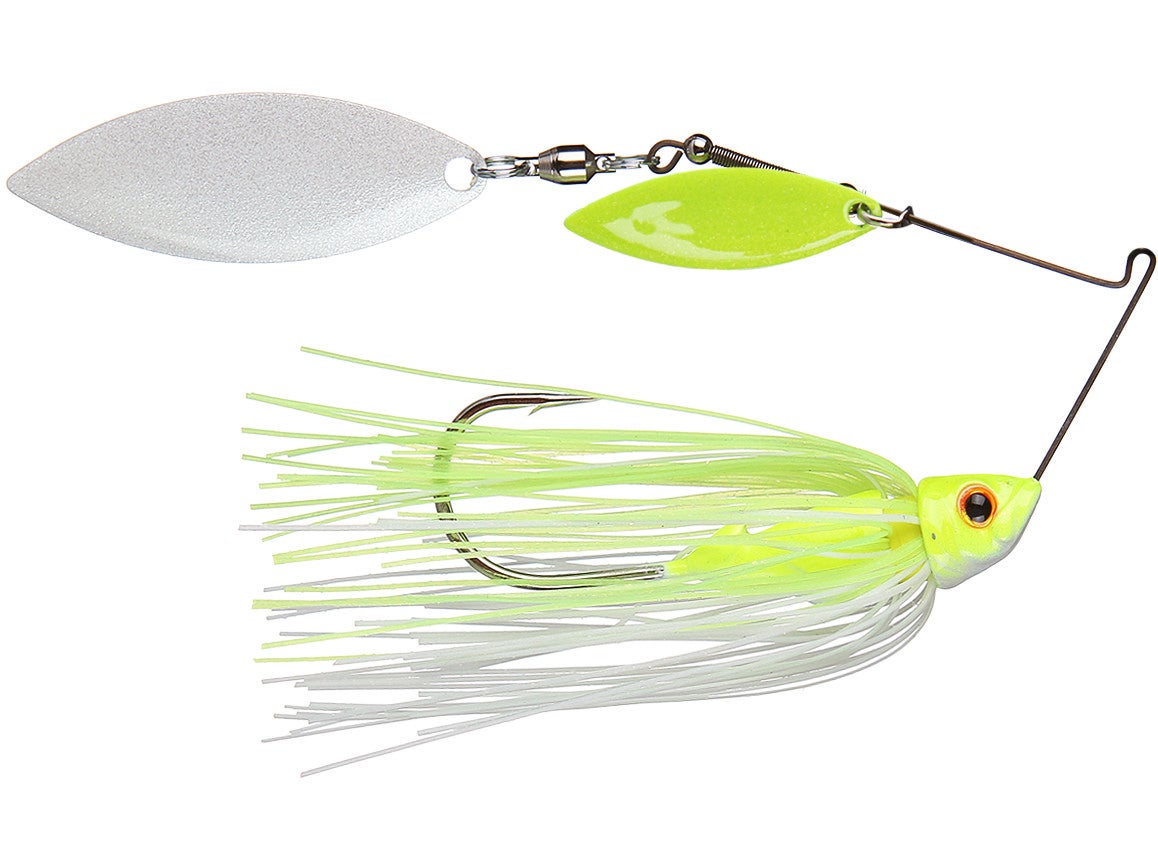 Ever had a big one on and it got away? Well, the creator of the original Vyper baits is out to help you get Revenge! These Revenge Deep Runner Spinnerbaits offer you the best components, great fish-catching designs, unique paint and finishes and custom 'tweaks' that make these baits real fish catchers and at a very reasonable price.
One of the first things you'll notice about the Revenge Deep Runner Spinnerbait is the detailed head design and the deep, black, lifelike eyes. Move the bait and you'll notice how the colors change depending on the angle of your view, in other words the bait shimmers like a natural baitfish, and the custom silicon skirts match the paints and shimmer as well and are kept in place by a deep Stay-On skirt keeper. Round bend Mustad Ultra Point hooks will get the fish you hook into the boat and the fine gauge wire used for the arm will allow maximum vibration from the blades, which are stamped from thin metal, deeply cupped for easy rotation even on the fall or when cranked slowly. The Deep Runner features scaled down, high vibration blades and an elongated, balanced head so your bait will stay at the depth you start your retrieve, even in deep water. You'll be finding yourself picking the Revenge blade when you tie on a spinnerbait, time after time.
Proudly made in the USA
13 Colors
More From Revenge Spinnerbaits
Customer Reviews
Comments: I put an 8, two 6s and a 5 on one bait in the same day. Wind was gnarly & cover was heavy. Wish I had more that day, but the one I had held up just fine. I'm here to scoop up more, even at 9 bones a pop. Ouch.
From: Jay6: USA 2/14/16

Comments: Simply an awesome spinnerbait!! This bait catches fish as well as it looks! If only Revenge would make the wire more durable and/or indestructable it would be the greatest spinnerbait ever made. But still a great bait, buy and enjoy catching fish!
From: Parputt: Canton, GA 5/21/14

Comments: BOMMMMBS AWAAAAAAAY! This is what you will yell when you fling this booger into the wind. Use a reel with a large capacity or your blade will keep on truckin. If you spool yourself on a cast, just go home and find a new hobby. Slow rolls EASILY, and gets eaten by the creatures of the deep...th ekind of fish you wanna post on your facebook page, dawg.

From: Meatwad: back to the wind

Comments: I slow rolled these bad boys south of the border and im here to tell ya they work! Caught more big bass over 8 lbs on a submerged rocky humps then you could shake a flippin stick at!

From: Brandon: Columbia Falls, MT

Comments: I wasn't sure this bait's blades would rotate well or provide enough lift and vibration, but I was very surprized and pleased. It's very compact for a 1/2 oz. bait and casts like a rocket. You can burn or slow roll it. I see this being a smallie magnet. Great service guys !!

From: Doug: WA

Comments: I've used many spinnerbaits without catching one fish. I tied one of these puppies on today and caught a 3.5 pound bass. Quality lure.

From: Pat: San Jose

Comments: Best spinnerbait ever made. You can go through 25-30 fish before u need a new one.

From: Gator: Phx: AZ
Comments:Excellent Spinnerbaits. Hook is not too great for mid-european application. Fine skirt and the lead-body has a very natural look.
From:Petr: Czech Republic
Comments:Not happy with new design keeps on braking at the head...
From:Travis: Sacramento, CA
Comments:I believe these spinnerbaits are the best on the market! You won't find a more realistic, natural looking spinnerbait. Keep a Revenge Deep Runner DBL Willow tied on and get ready to catch fish.
From:Benny: Canton, GA
Comments:Terrific spinnerbaits, especially slow rolled in 12 to 25 feet of water. Where the big boy's live, and their very picky on what they east, no problem here. These baits are special, and very durable, and quality components.
From:Craig: Portland, OR