Revenge Double Colorado Bladed Spinnerbaits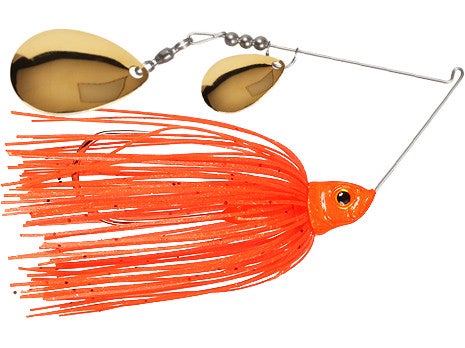 A double Colorado bladed Spinnerbait should be part of every serious bass anglers arsenal. These spinnerbaits produce maximum vibration even at slow retrieves, and can be the answer to hard to catch post frontal, cold and stained water bass. Revenge Baits is widely known throughout the industry for producing baits with conspicuous designs that not only catch your eye, but catch bass as well. Built with the highest quality nickel and gold plated blades and top of the line components, including super sharp Mustad Needle Point hooks, the Revenge Double Colorado Spinnerbait needs to be in your spinnerbait box.
7 Colors
More From Revenge Spinnerbaits
Customer Reviews
Comments: Bought 3 of these baits and have used 2 of them so far. The bait runs straight & has a really good thump to it at slow speeds. The fish I caught on them really hammered the spinnerbaits but both of the baits I used broke at the bend of the wire where you tie your line. This was only after a few fish and not any big ones. I still have one in the package and don't trust it to hold up very long. Very disappointed because I really liked the bait and for the price it should have lasted more than a day.
From: Dan: Lake Charles, LA 3/18/16

Comments: The Revenge makes a very strong spinnerbait. This bait not only caught fish, but held up against 7-9 lbers without bending out. The blades on this bait spin freely, making it work flawlessly as it comes through the water.
From: Grant: Staunton, VA 3/28/14
Comments: I bought several of these spinnerbaits in the blue gill color. They are extremely durable and they perform great. I have caught several big bass on these. Try slow rolling them when the fishing gets tough, then hold on!

From: Dale: trumann, ar.

Comments: Bluegill with double gold, awesome bait that will catch you fish when the going gets rough. Besides the detail and great colors, the wire is very heavy and durable. Easily survived 12lb pike attach with no deformation.

From: Biff: paradox, ny

Comments: Man,what a great spinnerbait! Just this past weekend (May 10) it was COLD up here in Michigan. I couldn't get a bite with a jig, wacky worm, anything for that matter. My buddy was beating me by 3 bass, until I tied on this spinnerbait!! Not only did I come back and tie him, I beat'em too!! Then a bad cast later, I lost my spinnerbait in a tree!! This is a great spinnerbait, looks so real in clear water. I recommend the bluegill color with the gold/nickle blades, so you get the best of both worlds!! Just ordered more, don't pass these guys up!!

From: mrbond007: East Lansing, MI
Comments: great bait for 4 fish (14" or bigger ) then the wire brakes at the head .

From: Kevin
Comments: Great bait for stained water. With all the recent rain in New England some of the local water was very stained. I got this bait last week and gave it a try yesterday after nothing else was working. The bass slammed this spinnerbait. I'm ordering more.

From: Jon: ME

Comments: These are some of the hottest blades on the market! In stained water, the dbl colorado can't be beat in the sping. They absolutely rival a local blade bait and they don't break at the bend.

From: Curt: GA