Revenge Double Willow Spinnerbaits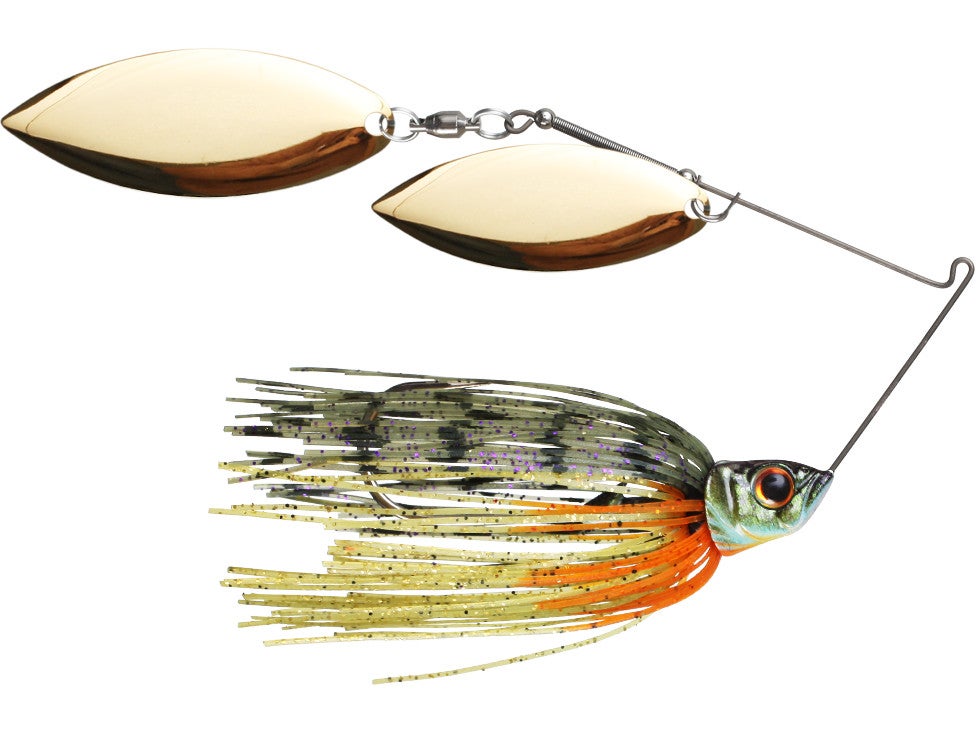 Ideal for clear water presentations, the Revenge Double Willow Spinnerbaits are designed to deliver maximum flash with minimal vibration. Built around super-sharp 5/0 Mustad Ultra Point Hooks for maximum fish penetration and strength, each bait also features detailed head designs with deep, black life-like eyes and hue-shifting paints. Just like a natural bait fish, the hue-shifting paints allow the heads to shimmer in changing angles of light as they move through the water. Revenge blades, stamped from thin metal, are also deeply cupped which allows for easy rotation even on the fall or when cranked slowly. The fine-gauge wire used for the bait's arm also helps facilitate maximum flash. Held firmly in place by Revenge's Stay-On skirt keeper, custom 40-strand silicon skirts compliment and complete Revenge's winning presentation. Get those finicky fish to react – with the Revenge Double Willow Spinnerbaits.
15 Colors
More From Revenge Spinnerbaits
Customer Reviews
Comments: I think this spinnerbait is awesome caught 10 plus small mouth all over 2lbs & this spinnerbait didn't break it did bend but just bent it back straight & it ran fine like it was new. I'm defiantly buying more revenge spinnerbaits.
From: Robbie: PA 4/30/16

Comments: Another story of a broken spinnerbait. First fish was a 14.5" largemouth. The arm was mangled. Caught a handful of fish the first day. It seemed to still be in good condition after re-tuning it after every fish. The next day it survived some 4# fish and a 37" tiger muskie. After a thorough inspection, it was deemed acceptable. The next outing I had a 4-5# smallmouth strike at boat side. I had it on for a moment then it came unbuttoned. All I got back was the half of wire with the blades. Took photos of the first fish incident and the final breakage. All in all, good color scheme, good vibration, poor durability. The risk of product failure is too great to buy another one.
From: Travis: Eagle River, WI 8/8/15

Comments: Great at catching fish but they break. Threw them this weekend and my tourney partner had three break on him. After seeing that and the other reviews, I'm switching to a different brand. Can't risk it on a tourney fish that could spell the difference.
From: Mark: NH 9/7/14

Comments: Superior bait in all aspects, transitioning all my spinnerbaits to Revenge excepting three Nichols colors. High quality, stron wire, great colors.

From: Biff: Paradox, PA

Comments: Great blade bait Very impressed with the quality components, caught a 4 lb LM and 12 lb pike on the bluegill and it looks and fishes like new. Making room for more Revenge baits and putting the others in storage.

From: Biff: Pardox, PA

Comments: The Revenge blades flat out catch fish. They work perfect for me at DVL here in so cal. But they do break. I've broken 3 so far this season. I broke several last year too so it's not a flaw. But I've also broken several other brands as well. Hard fighting Smallies and angry fat pig LMB's will wad them quick. If you tourney fish have a few or more on hand and if you have to bend it back, you better just tie a new one on. Slight straightening out, your good, but a bendo and it should just go to the component box. There's only a couple of blade brands that can catch as many fish as this one does but beware...

From: HawgZWylde: So Cal

Comments: By far one of the best spinnerbaits made. Never had one break and the skirts are great!

From: Bill
Comments: i wanted to comment on all the people talking about the wire breaking on these. i have 5 of these. i have caught at least a dozen bass on each one of them and have not had any issue with the wires breaking yet. if you own a spinnerbait with a wire so thick it does not bend then its not a good spinnerbait it just won't have enough vibration.. maybe there was a bad run of these or something i don't know but i do know the ones i have are certainly not weak.

From: Rob
Comments: It always seemed to me the ones similar to this they used to sell worked really well. In fact this brand was my first spinnerbait I used in N. CA. I caught many fish with them. I had to bend back the arm sometimes.

From: Pat: San Jose, CA

Comments: I love how these baits look and run in the water. Unfortunately I had a new one break in half at the head while fighting a 5lb catfish today. Cats do tend to roll a lot which is what I thought broke the bait. I'm glad it happened today instead of tourney day. I'll be looking at another brand or maybe try the heavy duty style.

From: J: Northern Cali

Comments: Update to my post below . After 2 years with these baits I have found that they are just good for about 4 good fish then they brake so beware. there good at what they do but they will brake after a few good fish. brake every time at the head,the wire is to weak ,which is what makes it work good tho . cost me to much money tho in tournaments when they brake and lose a limit fish, so Im back to looking for another brand .

From: Kevin: KY

Comments: These are great spinnerbaits for just someone who fishes for fun , BUT ARE NOT good for peaple who fish bass tournaments , These have cost me 2 tournaments now . 1 last year and i over looked it when the bait broke while fighting a 3 pnd fish , Now today in my tournament I had the winning fish to the net and the spinnerbait Broke in half . finished 3rd because the CHEAP wire used to make these Baits . they are good for 4 to 6 fish then you better junk it out . Some of you may say they don't break and thats cool but , They did on me 2 times now when it counted for money . Long story short great bait for just fishing but total junk when moneys on the end of your line.

From: Anthony: K

Comments: Great baits, my fav is chart n white. I wont buy any other brand for that color. Their is so brilliant in colors that when fishing murky water it really shines. Same color in other brand just doesnt get the job done. Colors seems dull. No problem with skirt falling off. Even the 10 lb bass which slammed it hard did not break the wires, and i was force to cast with braid that day. No stretch straighten it out but landed the fish.

From: CA
Comments: great bait havecaught 5 bass and i happened to catch a 3 pound rainbow trout which was amazing

Comments: Best spinnerbait on the market!

From: JC: San Diego

Comments:These are now my main and only spinnerbaits. They are great. I change the smaller blade to a tad bigger one. On some, I add my own custom skirts. I have been hunting for a long time to find that 1 spinnerbait that I can say is awesome and these are it.
From:Kevin: Kentucky, USA