Revenge Flip Jigs - $4.29 to $4.59

The Revenge Baits Flipping Jig is really put together. These jigs feature long, flowing, top quality silicon skirts in custom colors, a deep collar molded in the jig to keep the skirts where they belong, and removable double rattle chambers. The big 60 degree round bend Mustad Ultra Point Black Nickel hook will help you keep the fish you hook on the line and in the boat. The recessed line tie and pointed 'nose' allows the Revenge Flipping Jig to come through wood and rocks easily. The multi-colored finish on the heads is chip resistant and adds to the overall great appearance of the Revenge Jig. The Revenge Flip Jig is also a great swim jig.
Revenge Jigs are proudly made in the USA
View Large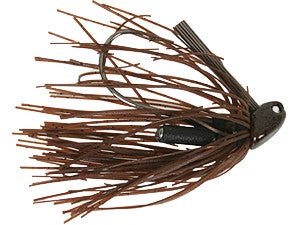 More Revenge Jigs
Comments: weed guard is extremely soft on these jigs so they tend to hang up easily in wood IMO. Would probably better as a swim jig than a heavy cover jig

From: Jordan: RI

Comments: Ever since my introduction to these jigs, I have been Hooked. The Sick paint Jobs with awsome skirt color combinations make these jigs stand out alone! Not to mention the bone crushing hook, massive trailer keeper barb and an industry best recessed line tie. If you look even closer at these jigs, you will notice that the lead is shaped in a way that when the when a fish takes the jig, on hook set the lead forces the brush guard and hook into the roof of the mouth to get solid hooksets in the sweet spot. #1 Jig in my book. Also check out their sweet line of Spinner Baits for even more impressive features.

From: Matt: Ottawa, Ontario, Canada

Comments: Ever since I started fishing these jigs back about 5-6 years ago, I've started catching so many more fish that it can't be a coincidence. The jig works great in wood and grass. The colors are awesome. The finish is hard to damage. If you are fishing a lot of rock you should check out their football head jigs. The triangle shaped head while great for wood and grass will hand up a little more in the rocks.

From: Marlin: Austin, TX

Comments: We fish the delta almost every weekend and have tried many jigs. The skirt quality and jighead are a perfect combo. When the jig falls, it falls at an angle and sits on the bottom with the hook rising at angle also. You can say that this jig falls and works truly like a crawdad. Us Cali Delta fisherman love using crawdaddy imitations and I would highly recommend this jig. Stop trying it and use it.

From: 2wo Fingaz: California Delta

Comments: Best jig on the market for fallen trees and brush, not so good in weeds.

From: Miles: Oregon, USA
Comments:This is the only flipping jig I buy. Skirts are lively and the perfect length to leave or trim; very strong, reliable hook; weed guard is thick and able to be trimmed or left alone in especially thick cover. Recessed line tie is terrific coming thru cover; jig will sometimes roll over in small rock but no more than other similar style flippin jigs. Best in/around grass and likewise for wood/laydowns.
From:Anthony: Connecticut, USA
***Note: If you have questions about this product or need assistance with an order please email your questions to info@tacklewarehouse.com