Revenge Swim Jig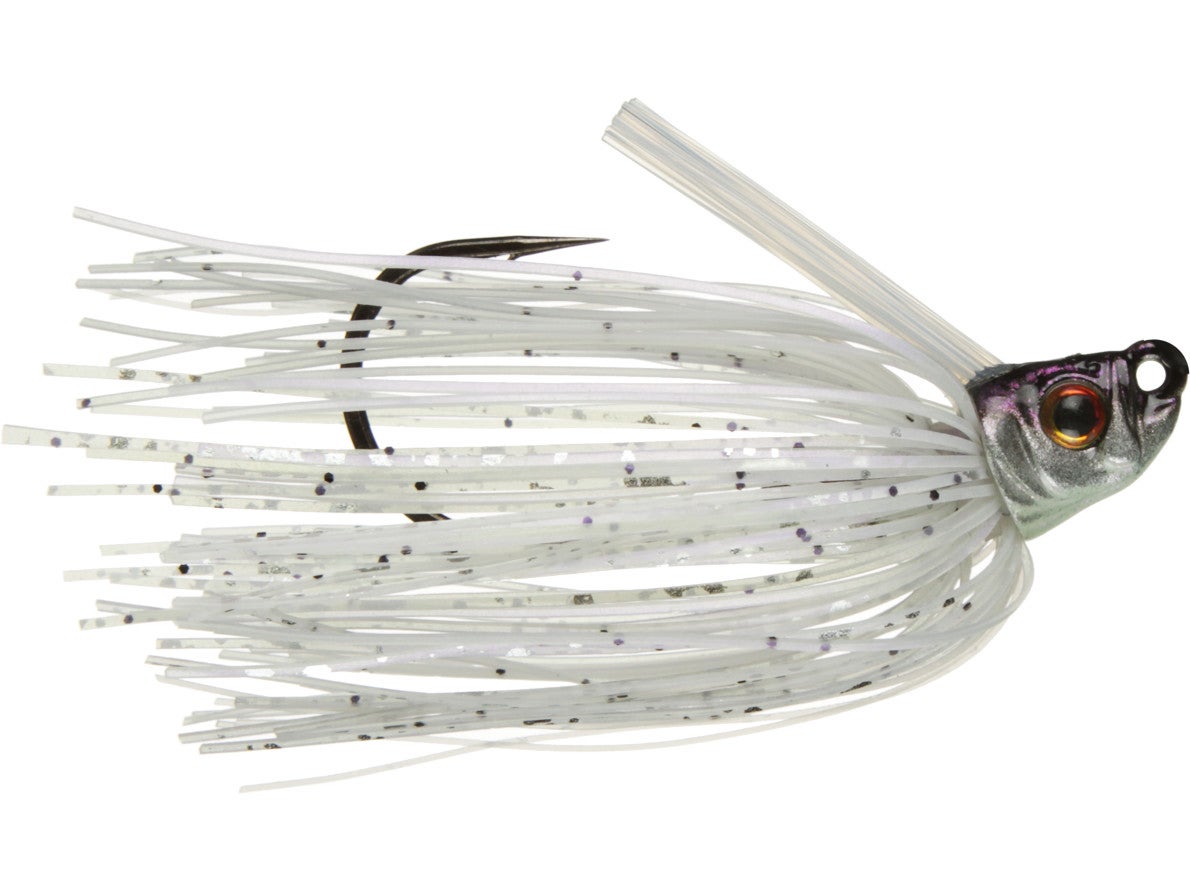 Swim jigs have been catching big bags of bass all around the country, and Revenge Baits has been working tirelessly on a game-changing premium swim jig that will catch you more fish - period.
Now available, the Revenge Swim Jig is crafted with a Mustad 28-degree 5/0 Ultrapoint hook for clean, powerful hookups, and unlike other swim jigs on the market, the Revenge Swim Jig is also designed with Revenge's signature recessed line tie. This helps to protect your knot and line from knicks, and also provides better penetration through the thickest of cover. Available in several proven colors, the Revenge Swim Jigs feature premium skirts, an ideal weedguard, realistic streamlined heads and even 3D eyes.
16 Colors
More From Revenge Jigs
Customer Reviews
Comments: Pulled in 8 tonight from the shore using the shad color with a gambler ez swimmer as a trailer. Great detail on these jigs & the recessed line tie is so good that I wonder why it isn't standard on all baits like this. One interesting thing about these is that due to the shape of the head the bait will actually rest on the bottom with the tail standing up at a 45 degree angle and the head pointed down. Most of my fish this evening came from letting the bait rest like that in the grass flats then popping it up & retrieving a short distance before letting it rest again. It looked just like a bait fish foraging for food & the bass loved it.
From: Alex: NY 6/24/16

Comments: Good jig landed 18 in one day but i did have an issue with the hook bending slightly. Great colors and overall look
From: Nick: CA 12/25/15

Comments: I just got this jig yesterday & I'll tell you it works like a charm. I've been fishing for all my life but I started taking a more serious aproach a couple years ago. This jig is the first jig I've ever had & it work great. I plan on buying a new one soon because I was fishing & set the hook and my line broke. I was fishing the chameleon color with a keitech shiner trailer in houdini color. Overall a great bait & plan on buying some more soon!
From: Clayton: OH 6/4/15

Comments: This jig has the best detail out there. They put a lot of time in there jigs.This jig is great with the basstrix trailer 5 inch. it gives it a good size and great action. If your fishing in clear water get these jigs nothing else. They are the closes things to a live bait fish.
From: Coleman: Dallas, TX 1/6/15

Comments: I flip, and swim these jigs. These jigs are simply beautiful, and the 1/4 oz size seems to rip the most fish. The long hook must aid in hook ups, because hook sets, and getting fish to the boat is a sinch.
From: Brad: Hayden, ID 12/21/14

Comments: Sweet swim jig, quality skirts and great colors. Super weedless with a very strong and sharp hook

From: Cody: ME

Comments: Scratch the vinyl record and hold the presses, got a new trick for these swim jigs in the 1/4 oz. size. Add the GrandeBass swimmin rattlesnake as your trailer. Not only does it swim with a great action but the texture it has when the fish grab it makes them try to swallow this thing every time.

From: L.J.: Sac, CA

Comments: Amazingly detailed! These are some of the best looking swim jigs I've found. I love the recessed line tie in the mouth of the bait, makes it the most weedless swim jigs I've fished. That's a big plus here in FL. Also love the long wide gap hook. Overall a very good swim jig A+
From: Willis: Panama City, FL

Comments: Of all the Revenge Baits i have purchased this the the best swim jig i have used , i always have one tied on with a D&M Custom Trailer , Works like a Champ , My new Favorite A+

From: Mike: Clea Lake, CA

Comments: I like to use the 3/8oz. size and rig it with the Lake Fork Magic Shad swim bait as a trailer. Swim it low-and-slow like a spinnerbait but down in the cover. Oh...I almost forgot, hang-on tight to your fishing rod because a careless grip could cost you.

From: L.J.: Sac, CA

Comments: Great Swimjig

From: Wayne: Charlotte, NC

Comments: Awesome!! So glad to see Revenge making a swimjig that looks like the Viberator! Can't wait to try them!

From: Alan: Talbott, TN