River2Sea Ish Monroe Bling Spinnerbait Double Willow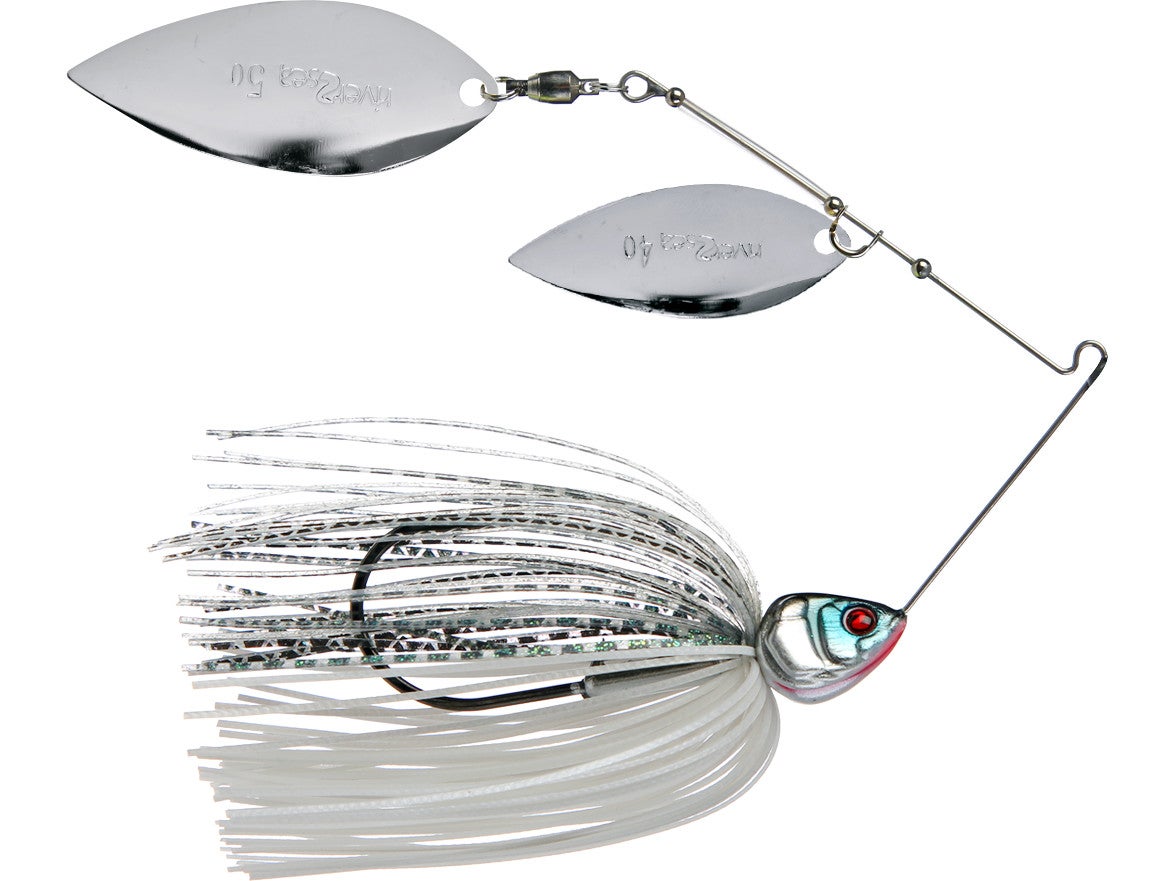 Designed by Ish Monroe, River2Sea's new Bling Spinnerbait is built to attract the right kind of bites. Constructed on a light wire frame for maximum vibration, the Bling also features ultra thin blades and premium ball bearing swivels for easier rotation at slower speeds. Its new flared head design also helps balance out the bait during the retrieve and helps it deflect off of obstructions. Equipped with premium hand tied silicone skirts and realistic Liquid Chrome paint Jobs as well, the River2Sea Bling Spinnerbait also features super sharp 5/0 hooks with a big gap for excellent hooking capabilities.
Get a little Bling in your life.
6 Colors
More From River2Sea Spinner Baits
Customer Reviews
Comments: This is my favorite spinnerbait. this thing is indestructible, I've caught tons of Bass and pickerel on this thing. No paint chips no broken wires. I've hit trees, rocks and docks with this thing and it runs straight and catches fish.
From: Geronimo: New Jersey 2/7/17
Comments: My new favorite spinnerbait! Went out and caught 15 bass on the first day. Spinnerbait held up better than most. Can fish this spinnerbait extremely slow! Runs straight every time!
From: Travis: Houston TX 12/30/16
Comments: This is my favorite spinnerbait hands down! I work in retail so trust me when I say I've literally tried every spinnerbait out there & this one puts them all to shame! Great head on this spinnerbait, sharp beefy hook, great trailer barb, beautiful skirt & the blades are so light & make such a thump when reeling it in. For all of the haters who says it breaks after 2 fish, you're doing something wrong. I've had spinnerbaits break on me usually after flipping multiple fish in the boat and bending it back & forth. I've had one of these spinnerbaits hold up to over 100 bass, countless pickerel and over 15 pike! It's still in my box today. THE BEST SPINNERBAIT OUT THERE!
From: Nick: NJ 5/19/16

Comments: Very impressed with the action of the blades & how straight it runs even with a bulky trailer. However, on the first fish I hooked up to (3lb), the spinnerbait frame completely straightened out. Similar to most of the other complaints people are having, the spinnerbait is fragile and simply isn't made to last more than a limit of fish. I wouldn't recommend this lure, especially considering its relativity high price.
4/25/16

Comments: Great bait, I personally like the thinner wire, it gives off a better vibration than the baits with heavier wires. Use a net and they will last! Very worth it!
From: Lucas: CA 2/2/16

Comments: This is a very high quality product in every way. The premium hand tied silicone skirts is huge plus point compare with other brand. My only wish is R2C can change the hook to GAMA. As for the durability issue, do not Swing or lift the fish, use net or hand. It will last you a lot longer
From: Jimmy: Markham, Ontario Canada 2/7/15

Comments: I am a die hard spinnerbait advocate, i catch about 80% on my fish on them all year round and have used just about every single spinnerbait out there, i will tell you that this is probably one of the best spinnerbaits I've ever used. the skirt is perfect and consistent, runs true, and gives off a great vibration. you won't be disappointed
From: Kurt: Ithaca, NY 9/12/14

Comments: first off a good spinnerbait IMO only last 10 r 12 small fish or 5 r 6 big fish before it's basically useless the thinner the wire the more action and vibration u get but they break faster. That being said this is an awesome spinnerbait, when money is on the line especially. For fun fishing I'd go with something more durable.
From: Tanner: Toledo Bend, TX 9/4/14

Comments: Can't believe I'm reading so many negative reviews on this spinnerbait. I have used it for about 8 months now and for whatever reason the spinnerbait has really been producing for me this year; more so than any other lure. It holds up great unless I hook a chain pickerel or mudfish. These two trash fish go so crazy that they will mess the bait up, but all you have to do is bend it back. I've used every spinnerbait on the market and even though one will break from time to time; they hold up better and catch more fish than any other spinnerbait I've ever used. I'm usually a big believer in reviews, but reading these reviews may help me to disregard other peoples comments in some cases. By far the best spinnerbait on the market.
From: Randy: FL 8/15/14

Comments: The especialy thin wire of this bait is its advantage and what makes it so fragile. However, this spinnerbait is very pructive, great falling action and a nice look. I recommend.
From: Clament: France 4/26/14
Comments: Avoid this bait! I have had two and neither one lasted the day! The swivel is not strong enough, I lost the blade on both rendering the baits useless! If this bait would stand the test of time it would be outstanding! I did not have a problem with the wire breaking or bending as in other reviews. It did catch some quality bass before the blade detached! River2Sea get it together upgrade the components..
From: Rhett: Oxford, PA 4/11/14
Comments: nice shiny paint and looks great. can reel extremely slow and blades spin great. but a little on the light side of the advertised weight. even put a trailer hook on and have a hard time casting and wont go as far as other spinnerbaits. wire seems okay so far and will keep some in the box at all times.
From: Joe: Eubank, CA 4/7/14
Comments: This bait is really good but the paint job not the spinner bait comes right of even wen I was just pulling it through open water maybe u guy should coat it another time.
From: Shad: CA 3/9/14
Comments: I expected these baits to hold up a lot better than they did since having Ish's name on it. I caught one 6lb bass with "Powder" and the wire broke right above my knot. The wire is too flimsy and is constantly having to be bent back into place.
From: Jaron: GA
Comments: I bought this lure at a local shop and checked here afterwards to see the reviews. Most people seem to be upset with the wire bending or breaking so I was nervous using it BUT I ended up catching about 40 bass and a 20" musky on it and still looks to be in good shape. As long as you use a net and don't lift the fish out of the water in to the boat/bank, it will hold up just fine....

From: Elvis
Comments: I think this spinnerbait it great, but wire bends super easy and after 1 fish mine got so bent I couldn't bend it back to swim true. I love this bait but can't decide if it is worth it.

From: Ryan: USA

Comments: Have never used these spinnerbaits, but I do make my own out of a similar wire. Personally if the spinnerbait im using doesnt have a wire light enough that it will break after a few fish I WILL NOT USE IT. A light wire is what makes a spinnerbait. Sure it cost money to replace the bait, but I would rather buy a new spinnerbait than not catch fish anyday.

From: Bob: AL

Comments: This is awesome bait looking, got my from cabelas, but these reviews are not good. Hope it doesn't break in 2 fish. the wire is the problem too weak and thin.

From: Alex
Comments: Much like the Crystal Spin, a great bait that falls apart. I caught several fish on it the first time I used it, but a little dink 12" fish snapped the wire. They were really good about sending replacements for the broken Crystal Spins, but I have yet to receive a reply on this issue. I'm losing faith in River2sea.

From: Greg: UT

Comments: I'm pretty disappointed in this bait. Just like the Crystal Spins, they work great until they snap in half. River2sea was really good about replacing them last time this happened with the Crystal Spins, but I wrote them a month ago about this issue and never heard back. I guess they should stick to hardbaits.

Comments: Bought it....what a waste of money....should have bought the Booyah. Fell apart after 3 fish. Don't waste your money on this pices of junk! More junk from River2Sea.

From: Cory: Moreno Valley, CA

Comments: They catch fish but the wire is cheesy. 1.5 lber jumped on me and the wire snapped at the line tie I reeled in to willow leafs and thats it.

From: poot
Comments: awesome spinner bait, the first time i used it i caught 2 fish. the only bad this is that the wire bends after you catch a fish on it. but u just bend it right back.

From: Trevor: San Jose, CA