River2Sea Junk Grenade Flat Rubber Jig - $3.49
The River2Sea Junk Grenade is a hand tied flipping jig designed to go into the heaviest cover and drag the big one's out for a fight. Junk Grenade features high premium components and world class engineering designed to attract the bite and keep them pinned, all the way into the live well. The R2S custom, Grenade Head is painted with a Natural Matte Finish and hand tied flat rubber skirts with silicone accents create flash and action. The River2Sea exclusive Tungsten rattles help call them in for a look, and the R2S exclusive Big Bite Flipping Hook will close the deal.
Comments: the weed guard on these jigs are too soft, which makes them hang in dense vegetation, or thin wood like willows. On certain lakes they are a poor choice. In other lakes with big wood or rock, they'd be just fine.

From: Jake: Richland, WA

Comments: Ok so I finally tried these for the first time (brown/orange) with my Havoc Pit Boss, which has great action by the way.. For the first 5 casts it was nothing but 5 lunkers.. hook was still sharp and sturdy, but sadly, lost it to a rock.. will be ordering more. Thanks TW and R2S!

From: Hmongbass: Madison, WI

Comments: gotta love these jigs I have them in black and blue and brown and purple and both look amazing in the water. These jigs are amazing when you pair them with a KVD chunk can't go wrong and they definately last a while.

From: Tommy: Chicago

Comments: Absolutely love River2Sea's rubber jig. The rubber produces more action over silicone and it's unique head is great for structure fishing. Not sure why Carter is having problems...this jig a winner for me.

From: Daniel: Spokane, WA

Comments: The finish and quality of the jig are excellent. The hand tied skirt is a very nice touch. I fish a fair amount of timber and this jig gets hung up more often than not. The weed guard is either too soft or not quite long enough. Either way, I would not recommend this jig for fishing in or around timber.

From: Carter
***Note: If you have questions about this product or need assistance with an order please email your questions to info@tacklewarehouse.com
Color:
Black/Blue
View Large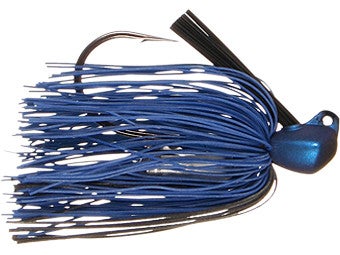 5 Available Colors
More River2Sea Jigs