River2Sea Larry Dahlberg Diver Frog 50 - $10.99
For years, anglers have been making lures they hoped would imitate frogs. Many look like a frog when they're sitting still, but put them in motion and they do nothing but water ski over the surface or plow clumsily through vegetation. That is until now ...
The River2Sea Dahlberg Diver Frog - now available in a smaller 50-size - looks and swims so realistically, it's a sight to behold. Give it a pull and it dives, creating a soft bubble chain with its legs kicking behind it. Stop it, and its legs retract as it slowly rises until its eyes poke out just above the surface - just like a real frog. Also, instead of letting it return to the surface, you can continue to stroke and stop it. The legs will kick and retract, kick and retract, swimming exactly like a real frog, and it will continue to gain a couple of inches of depth with each stroke until it reaches a depth of 24 - 30-inches.
Its unique "overhead" diving color with built in weedguard and "hook up" design also allows it to skip over vegetation with the best of them. Available in several realistic colors, the River2Sea Dahlberg Diver Frog 50 can do all the things a traditional hollow-bodied frog can do - slide over mats, pop and rest in a hole, or any combination of popping and swimming, and it can also nose down to bottom in the shallows, like a frog trying to hide in the mud. Each River2Sea Dahlberg Diver Frog 50 also comes equipped with a 2X Strong 4/0 Wide Gap Hook.
Need replacement legs or collars - check out the River2Sea Dahlberg Diver Frog Leg and Collar Pack.
Or if you're looking for a larger size, try the River2Sea Dahlberg Diver Frog 60.
River2Sea

Length
Weight
Diver Frog 50


2" body
5" (with legs extended)

5/8oz
Comments: This bait will catch you some nice fish and its awesome to see a bass shoot out of cover to destroy this frog, but like the other review don't dare store it in your tackle box or anywhere hot it will destroy the legs.

Comments: the action of this bait is incredible, reacts just like a real from. I find that the 60news is a little big so I just ordered a few in the 50. can't wait to see how these do in the spring

From: Ryan
Comments: this bait will not do well if you leave it in your tacklebox for too long. The legs tend to tear and rip after about a month of light use. Be careful, the action is pretty good and I got one 3lber. But I will not be buying another.

From: The Glide: Eugene, OR

Comments: this bait looks killer. great action and cant wait to get it out this summer and catch some bass. will see how the legs hold up i know people where saying they get wrecked in a little bit of hit or warm weather but i thought id try it out anyways

From: Matt: IL

***Note: If you have questions about this product or need assistance with an order please email your questions to info@tacklewarehouse.com
View Large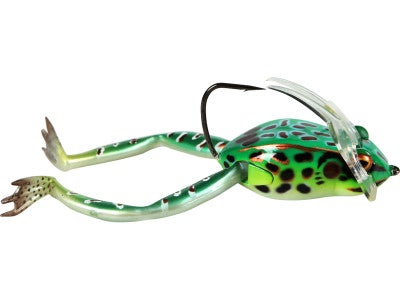 5 Available Colors
More River2Sea Top Water