River2Sea Rig Walker - $7.49

Designed to enhance the presentation of any umbrella rig, the River2Sea Rig Walker is a minnow style swimbait that's conceptually based on River2Sea's extremely effective Bottom Walker. The precisely angled line tie works in harmony with all A-rigs to accurately portray a small school of baitfish. The River2Sea Rig Walker also features an animated paddle tail that invites bass to bite, whether it's fished individually or with a fully rigged set-up. Available in a number of proven colors, the Rig Walker works with all Umbrella rigs, especially with the Bumbershoot. Equipped with a 3X strong 4/0 black nickel hook, the River2Sea Rig Walker adds an increased attractiveness to whatever umbrella rig it's combined with.
| | | |
| --- | --- | --- |
| Length | Weight | Quantity |
| 4" | 1/2oz | 5 |
View Large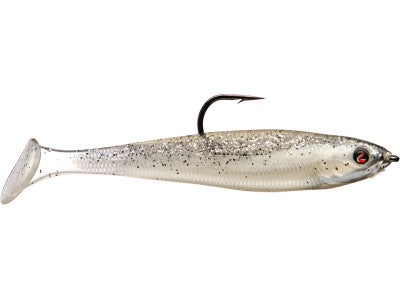 More River2Sea Swimbaits
Comments: I don't know what it is about these things but when a bass hits these they knock the snot out of them. I use all kinds of swimbaits and for whatever reason they just hit this thing harder than other baits. I don't really catch anymore with this than I do with similar swimbaits but when they hit this thing you know it that's for sure.
From: Joe: PA 7/23/14

Comments: Just like to say I really like these swimbaits. Love the colors but there are a couple things I would improve like putting some realistic eyes on them and have some different weight sizes. They do get a little heavy on an A rig but are great to throw as a single swimbait. They do catch fish!
From: Bryan: VA 4/28/14
Comments: I purchased these before my vacation back east. man they swim good and are durable.The fish nock the fire out of them. Awesome bait. Super swim action......

From: BASS LEGION: LAS VEGAS,NV
Comments: These things have a nice kick to them and look really durable...havent caught a fish on them yet so I can't say for certain how much they hold up. Cons: These are heavy, your arm will be killing you before too long. The baits have a nice kick but don't really roll at all, which is something I like in a swimbait

From: John: VA

***Note: If you have questions about this product or need assistance with an order please email your questions to info@tacklewarehouse.com