Roboworm Straight Tail Worms - $3.49 to $3.79
The Roboworm Straight Tail Worms have become a staple for finesse fishing, harkening back to the days of the 'hand poured' finesse worms so popular on the West Coast more than a decade ago. The Straight Tail Worms are surprisingly effective, especially during the warmer months when fish pressure and boat traffic are at their peak. Roboworm uses state-of-the-art robotic technology (hence the name Robo-worm) to create consistent, well-defined colors every time. It also allows them to create unique color combinations, usually only found in 'hand poured' worms. The super soft plastic Strait Tail Worms end up having a very sensitive, alluring action complete with a Salt Release System that provides a burst of salt when a fish bites ' causing them to hold on longer for solid hooksets.
The 4.5" and 6" Straight Tail Worms are great for dropshotting and any finesse technique you care to try. For a larger presentation try Texas-rigging the beefy 7" Worm. No matter what your favorite worm technique is or where you fish, there's a Roboworm Straight Tail Worm that will put fish in your boat when it counts.
(7" worms have "rib lines")
| | |
| --- | --- |
| Length | Quantity |
| 4.5" | 10 |
| 6" | 10 |
| 7" | 8 |

Click the logo to view their review.
Comments: By far the best drop shot worm made. Catches them when nothing else will. Morning dawn, Aaron's morning dawn, and Aaron's magic are my best. Only negative is the durability isn't that great, but ill trade a worm for a good fish any day.
From: Will: AL 10/12/14

Comments: Best finesse worm out there. Easily have 15-20 different colors in my boat. Top producers for me are morning dawn with the hot tip, bold blue gill, aarons magic, mean green, salt craw, and kerrlicious. Pick some up.
From: Matt: AZ 8/7/14

Comments: There is a reason that people measure the quality of other soft plastic worms against Roboworms: because Roboworms catch fish. Though they excel on drop shot rigs, I have found that Texas rigging them on a 3/0 hook produces more quality fish. While using a 1/8 oz. slip sinker and a Lazer Sharp Eagle Claw 3/0 wide gap hook on an Aaron's Pro Magic Roboworm (6 inch), I horsed up a 5-pounder off of a rocky point within a matter of minutes. I find myself catching great numbers of bass using them on a drop shot, but it is likely that many of them will not be tournament regulation bass. Please, if anything, buy a pack of bold bluegill. If you have the dough, also get Aaron's Pro Magic, New Ayu, Warmouth, and Margarita Mutilator. These worms are for real.
From: Matty: KY 7/20/14

Comments: Roboworms are the best plastic worms... PERIOD! I wish tacklewarehouse would get other colors that are available in all sizes. Afterdark is a good one and so is a color called baitball which is a killer bait but extermely difficult to find 7". please get baitball!
From: Alderson: Louisville, KY 4/27/14
Comments: Outstanding drop shot worm. They are not very durable and more expensive than other finesse worms but you can catch 2-3 fish per worm. When you do the math, each bait costs less than .25 a fish...100% worth it in my book.
From: Richard: TX 4/18/14
Comments: This is the ultimate drop shot & shakey head bait. I catch so many fish on this worm that it is unreal, most fish are in the 1-3lb range but I have caught bigger fish on this too. There are so many colors to choose from that it is easy to find the color that you are looking for. My favorite color is Aarons Magic red & blue flake. If that bite is tough I dip the end of the tail in JJ's magic and that tends to solve the problem. The only issue that I have is the durability, but who cares about durability if you are slaying the bass.
From: Brandon: MN
Comments: Do yourself a favor and pick up some Ehlers Edge colored roboworms. The color mimics a bluegill perfectly in the water. Like most people say, they tear up easily and work great on a shaky head. I would recommend carrying some worm glue to make sure the head stays on the bait keeper cause it will slide down after a fish or so. I dont mind because i keep my torn baits and use the smaller sections when fishing is tough and they want a smaller presentation. A must have for any finesse fisherman.
From: Jeremy: Dover, DE
Comments: Great worm with a shakey head..If none of the Zoom in the tackle box are producing try the bold bluegill. Only problem is they tear up easily. You will be lucky to get 2 fish out of one worm but nonetheless they are my go-to worm on Lake Lanier when the shakey head bite is on.
From: Curt: Buford, GA
Comments: Great bait for finesse fishing. It worked very well for pressed basses. I absolutlly recommend them. Aarons magic color worked very well for me.

From: Quino: Sevilla, Spain

Comments: Love the worms, but use them quickly. The colors will fade quickly. Even if you keep them out of direct sunlight.

From: Anthony: CA

Comments: bold bluegill killed it today... When fishings slow fish a Robison on a drop shot!!!

From: Matt: MD

Comments: best worm ever made for drop shoting , my favorite color is bold bluegill

From: Jonathan: VA

Comments: Used the 4.5 Aaron's magic on a Charlie Brewer crappie slider head (1/16 oz.). Catches bass when all else failed.

From: Ben: NC

Comments: Hands down the best worm for drop shot. I have used the 4.5,6, and 7 wacky it doesn't matter my last trip got us third in our tournament.

From: KD: KY

Comments: In person every single one of Roboworm's baits look like candy...just saying. They are really really great baits tho, I've been catching fish on their baits for years.

From: Alan: AR

Comments: I absolutely love these worms and have tons of faith in them. Only bad thing is I just wish you could reseal the freakin bag!

From: Chase

Comments: Don't even fish anything else anymore. Just drop shot these and I catch fish. It seems a little to easy. Stoked

From: Marty: Ventrura, CA

Comments: you gotta love roboworms! They never seem to fail me once! even on a slow day at the lake, i'm still hooking up largemouth bass with these roboworm straight tail! bold bluegil and arrons magic with red flakes is all i use!

From: Mark: Fairfield, CA

Comments: Kills em' Almost guaranteed to catch fish with these no matter how tough the fishing is.

Comments: With these baits you get action but give up durability. But durability isn't what catches fish. #bestwormever

From: Nick: Hoover, AL

Comments: Oxblood Light Red flk landed me a 7 1/2 pounder! In the 4.5In size split shotting

From: Dylan: CA

Comments: These baits are so soft and rip off the hook easily so you lose a lot of baits, but other than that no complaints

From: TP: OC, CA

Comments: This is one of the best baits i have found for drop shot fishing, this bait works fantastic in warm and cold water. This has become one of my favorites and a go-to bait for me i always have one tied on. I have caught so many huge fish using roboworms. The three best colors i have had success on are aarons pro magic, Pro blue blue neon bisp, and margarita mutilator.

From: Matthew: NC

Comments: Good good good finesse worm ya

From: Omar: Ohasistani, Arabia

Comments: I whacky rig these when the bite is tuff works every time! Great bait!

From: Jimmy: Chicago, IL

Comments: i love these best finesse worm on the market.

From: Crob: Afghanistan

Comments: You have to give up durability for action like that. The bass in my pond can't get enough of these things. You are not going to find color or action like that from any of the bigger brands. The other ones may last through more fish, well if you can catch any on them.

From: Richard: Jacksonville, FL

Comments: Great worms. Next best thing to a custom hand-pour ive used. Yeah, they tear...they are finesse worms, what do you expect. I figure one worm per fish is worth it to me. i toss the ripped ones in my bag and fix them with mend-it on a later date. Wish they had bigger worms available. Great color selection. Dropshotting Bold bluegill and blue crawl have been great producers when the bite is tough.

From: Mike: SoCal

Comments: Great worm!! When you "need" bites pull out the robo!

From: Louis: Green Bay

Comments: this worm is great I picked a pack of 7in and they work perfect I got the color green pumpkin neon. I went out to the lake early in the morning rigged on a 1/8 ounce shakey head and on the first cast I caught a 5lb bass on 8 lb line and my abu Garcia Ike dude combo and it worked great, but the only problem with it is the durability but if they made it more durable it would not have as much action. BEST WORM ON THE MARKET!!!!!

Comments: I fish the margarita mutilator 6" at a local pond nose hooked with a circle hook, and I have to say, this bait is amazing. If there are any fish in the general vicinity of the cast, they'll hit it only a few seconds after it hits the water. My only complaint would be that it is not at all durable, but as Rusty said, if they were more durable, they probably wouldn't have the same quivering action that the fish love.

From: Nicholas: CA

Comments: get real everybody if they were made more durable you would never get the action you get the consistancy of these worms is second to none so soft and even when dead sticking them they still wiggle and quiver best worm period .

From: Rusty: MI

Comments: not a big fan of how easily they tear up or the packaging but they do catch fish no doubt. i like the 4.5 inch for a drop shot and the 6 and 7 inch on a shaky head

From: Tristan: Hoover, AL

Comments: Like everyone else says these worms are great!!! I love the amount of colors and the price is reasonable. What makes these worms perform is also its downfall; if you have a fish shake its head or jump out of the water there goes your worm... Will I still purchase, oh heck yes... To make them a bit more durable I apply a nice coat of mend it glue on the nose ; )

From: Brett: Rochester, NY

Comments: BEST WORM I have ever fished i caught one of my biggest bass 7.2lbs

From: Vance: USA

Comments: These have got to be the best drop shot bait out there. The action of these worms on a drop shot rig is outstanding! I can catch fish with these on even the hardest days. The colors are amazing and they are so soft and supple. They are priced reasonably as well, so don't hesitate to buy a bunch!

From: Keegan: IA

Comments: This worm has let me catch fish where others are not. It has changed my whole technic for bass fishing. I cannot put it down, 'cause nothing else produces like it. 6" New Ayu. Going on 9 years of it.

From: Ryan: Cedar City, Utah

Comments: amazing drop shot baits. I caught a 4 pounder on this bait at kentucky lake when i was drop shottin with it. I was usind aarons magic and let me tell ya they are far better than any drop shot bait ive ever used

From: Jared: KY

Comments: Clear water, smack em!! There is one color on TW that has won me ALOTT of money. Drop-shot it, shakyhead it, reverse it, wacky-rig it. I like to drop shot it. Feel not for ticks, but for pressure as the fish swims off with the worm.

From: Aeolian: Kalamazoo

Comments: These worms are great for drop shotting but for a shakey head they rip to easily. I sometimes go through one or two before I catch a fish. These worms do have good action though.

Comments: On money day, my drop shot rod has a 4.5" tied on, shaky rod has 7". I don't mind the flimsiness; when 2 or 3 get chewed down, they make a nice minnow/fluke school d-shot presentation. Color? Margie Mutilator baby!!

From: Brian: Los Gatos, CA

Comments: Only worm you need for a drop shot! When bites are tough try wacky rigging it instead of texas or nose hooking. It looks strange but blue crawler is my best color.

From: Will: Benton Harbor, MI

Comments: 4.5 robo on a drop shot will catch bass no matter how highly pressured your lake is. I like the 6 incher for shakey head. 1 of the top 3 worms out there with the senko and curly tail power worm. not the most durable though, but it will catch you fish guaranteed

From: San Diego

Comments: My favorite worm, hands down! I used it to put more largemouth in the boat than both of my buddies last week. Aaron's magic onsistently performs well for me.

From: Steve: So Cal

Comments: Great worm!

From: Dan: Grand Lake, OK

Comments: Quite possibly the best plastic worm on the market. Deadly on drop shots. I'm a customer for life these worms changed my whole style of fishing just because of their sheer productivity and ability to consistently put keepers in the boat. Thank you roboworm

Comments: Most consistent worm on the market for largies ad smallies. really made of a soft plastic which allows fish to inhale them and hold on...shakey head or split shot them and you'll get bit.

From: Adam: Costa Mesa

Comments: one of my favorite worms, this worm outpeform all fineese worm, colors,salt,bounancy is perfect, i use it for shaky head, spilt shot, tx rigging i have over 50 different colors of roboworm and different sizes, cannot stop buying those worms

From: Tyler: Baltimore, MD

Comments: Great worm I use the 4.5 inch worm for drop shot and the 7 inch worm texas rigged and do great not very durable but they catch fish

From: Kodee: CA

Comments: great worm for where i fish which is lake mission viejo. ive caught most of my bass on the morning dawn red flake color great bait

From: Matt: Mission Viejo, CA

Comments: #1 drop shot worm. Smallies love em' and they come alive in the water. Caught a ton just dead stickin' the bait.

From: Brad: Louisville, KY

Comments: Very nice worm. They are not durable at all, and kinda expensive....But, they plain catch fish, and they are about all I use anymore.

From: Frank: GA

Comments: This is the best finesse worm made. Deadly for drop shot and have also caught bass texas rigging the 4.5 inch worm. Current favorite color is red craw and red crawler.

From: Emmanuel: Tucson, AZ

Comments: I've caught fish in literally every lake I've fished this is from montana all the way to Kentucky ! My favorite color is Aarons Magic for sure ( anything greenpumpkin or watermelon is good). I like using the 4in size on a 3/32-3/16oz shakyhead when I really need a bite, but I use both 4 and 6in size for dropshotting. This bait is extremely versatile and can be used for a number of applications and they float ! I almost alway have one tied on. What can I say I've fished these for 5 years all I can say Is they're legit.

From: Grant: KY

Comments: Best shakey head worm i've ever used. Works on every lake i've fished. From tournaments to just fun fishing, I keep one of these worms rigged on the deck of my boat.

From: Derrick: DFW, TX

Comments: no offenses to zooms trick worm and berkelys shaky head worms but the thing is bad azz on a jig head i floats and you can kill it mid lake let it sit for an hour... the thing floats your gonna get hits!!

Comments: I love all the sizes but especially the 7 inch on a 1/4 ounce shaky head its an awsome pig catcher ive caught fish up to 5 lbs on this worm, it also catches nice little keepers at 14 inches!! all around awsome worm!!

Comments: Basically the only dropshot worm you need. Versatile to.

From: Matt: USA
Comments: the best drop shot worm ever made

From: Gunnar: Las Vegas, NV
Comments: Oh boy, you can fish this worm 8 million ways. I dont know how you guys are getting it to stay on a shakey head, the fat robos are better for that. Weighless, light car. rig, dropshot, splitshot, wacky, izzy....the list goes on for days. Everyone has their favorite color and I am suprised TW doesnt have some special pours of their own, they would sell!

From: Meatwad: Out Of Town
Comments: Drop shot works well but if you wanna maximize this worms greatness put it on a 3/16 oz shakeyhead with 4 pound flouro and get your net ready !

From: Debeaux: Myrtle Beach, SC
Comments: One of the best worms i've ever used, durability is an issue because of how soft they are, but they produce. Drop shot or texas rigged,they are amazing. Aarons magic is one of my favorite colors. I recently purchased some new hooks supposed to make the worm last longer.

From: Seth: Chattanooga, TN
Comments: I like Carolina-rigging this bait on a small light wire worm hook and it more or less suspends or sinks very slowly. Also wacky worming it on a 1/8 slider works very well I would say. I also find drop shotting the 4.5" very deadly.

From: Chris: Barrington, NH
Comments: Best finesse worm on the market. Bold Bluegill in 6" is my favorite for smallmouth, spots or largemouth from farm ponds to high pressure lakes to the boundary waters. When you need bites, this is your ticket to a tight line!

From: Steven: Clarkesville, GA
Comments: These are not just for drop shoting. I cast the 4.5 inch straight tail Roboworm weightless on a 1/0 Gamakatsu EWG red hook with a Medium Light drop shot rod into flooded grasses where smaller "bait fish" are going for shelter, like fry of bluegill and baby bass. I caught two largemouth bass in the 6.5 to 7 pound weight range on the baby bluegill color in the last couple of weeks, plus many more largemouth bass in the 3 to 4 pound weight range.

From: Vince: Tucson, AZ
Comments: Best drop shoting worm ever, i always catch fish with these worms.

From: Cody: Antioch, CA
Comments:A very good worm for drop shoting, good hook holding and the colors are very effective.
From:Ted: Lake Arrowhead, CA
***Note: If you have questions about this product or need assistance with an order please email your questions to info@tacklewarehouse.com
View Large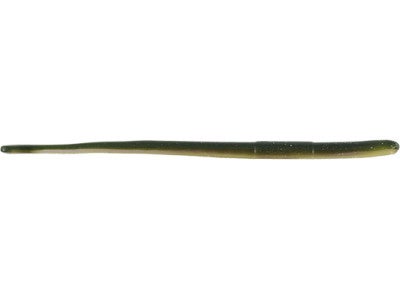 58 Available Colors
More Roboworm Worms