Roman Made Mother Swimbait - $439.99

The Roman Made Mother Swimbait was the bait Manabu Kurita used to catch the previous Lake Biwa record bass - prior to catching his world record-tying beast. Roman Made is well known in Japan as the premier big bait manufacturer. Extremely difficult to find in the US, each Roman Made bait is a work-of-art - handmade and hand-tuned one-by-one near Lake Biwa in Japan. Designed with Kurita to target large bass on Lake Biwa, the Mother is a special swimbait even by Roman Made's standards. They tried many different prototypes in different sizes, shapes and weights before finally settling on the Mother's current size. Once they found it, the results were astounding - and the fish responded right away. Beautifully crafted and now available at Tackle Warehouse, the Roman Made Mother Swimbait is in a league of its own.
Roman Made Retrieve Techniques Video
| | | | |
| --- | --- | --- | --- |
| Roman Made | Length | Weight | Rate of Fall |
| Mother | 12" | 10.5-oz | 2.0-sec/ft |
View Large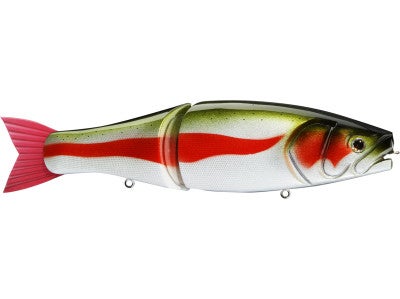 More Roman Made Swimbaits
Comments: This bait is great! I got it in Ayu color & I throw it on 15 pound braid. Throwing this on the light spinning set up sure does put up a HUGE fight. Other wise I'll throw it on a H2O express crankin rod. The crankin rod with a 3/4 oz bullet weight gives this thing incredible action! Landed a 16 pounder on it!!
From: Juan: CT 10/13/15

Comments: I had to sell my car to buy this bait, but it sure was worth it. Every fish I catch smells like the old Honda crv. I can't go anywhere to use it unless I can walk (I don't have a car) first cast I pulled out a state record from the community park puddle. Even though children are starving in Africa it's alright because I have a $400 swimbait. I've gone on to lose my home because I couldn't pay the bills. But I catch fish.
From: John: USA 10/3/15

Comments: This swimbait is a bit costly but well worth the money. I Throw this bait on my Berkley Cherrywood 7'3" Heavy with 19 pound braid and mono leader and the results are incredible. I have caught 8lber on this swimbait. Buy it, you will not regret it.
From: Jae: Euharlee, GA 9/9/15

Comments: Absolutely love this bait. Got it in Feb, and got a ton of followers and bites in the very first trip. So far I've got 4 fish on it and countless bites and follows. Using a LDC Custom XXH, Calcutta 401TE, & P-Line CXX 30lb test. Biggest so far, 8-6, all cast to catch video.

From: Travis: Western NC

Comments: Oh my God dude! I bought this for the muskie bite up here on Cedar Lake. They roll over and pop this like a moose on watergrass! Caught a few over 45" with this big girl! I'm hooked!

From: Buck: Dauphin, Manitoba, Canada

***Note: If you have questions about this product or need assistance with an order please email your questions to info@tacklewarehouse.com