SOB Mini-Me Double Willow Spinnerbaits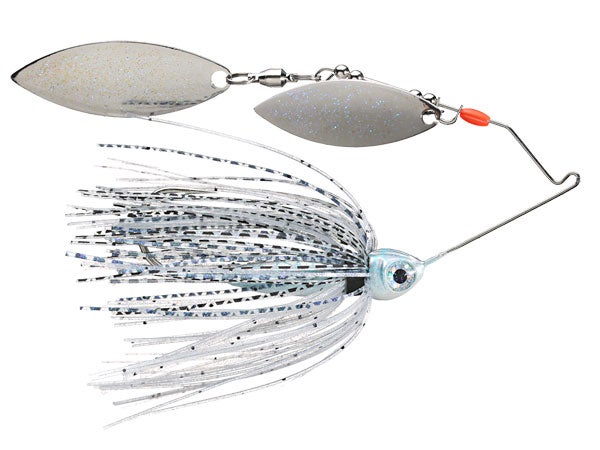 Built with a compact, yet hefty body, the SOB Mini-Me Double Willow Spinnerbaits offer an abundance of flash that excels around clear and heavily pressured waters. Designed with an innovative "hidden weight" behind the head, the SOB Mini-Me Double Willow Spinnerbaits provide the same weight as other spinnerbaits, but in a much smaller profile that finicky fish are more apt to attack.
Loaded with the best components money can buy, the SOB Mini-Me Double Willow Spinnerbaits feature two super bright willow blades, SPRO ball bearing swivels, and 100% hand-painted finishes. Armed with sticky sharp Mustad Ultra-Point hooks, the SOB Mini-Me Double Willow Spinnerbaits allow anglers to downsize their presentation to attract pressured fish, without sacrificing anything in weight or performance.
14 Colors
More From SOB Spinnerbaits
Customer Reviews
Comments: Absolutely the best spinnerbaits made! These baits get bit when other baits won't! And they get vicious strikes! They come through cover better & cast better than any spinnerbait I've ever thrown too! I will buy more of these! As a matter of fact, they may be the only willow blade spinnerbaits I ever buy again!
From: Kevin: TN 10/14/15

Comments: This spinnerbait does get bit for sure. Excellent for small bass but when big momma bites and you set the hook it opens up faster than ole girl down behind the alley when you flash her a $100 bill.
From: High: USA 9/14/14

Comments: The Mini Me is so unbelievably effective when burned around shallow cover or when you have fish schooling over deep water. Especially with Spotted Bass hanging around deep timber or pods of bluebacks. I have caught so many fish with this thing. As someone said earlier, it is unreal durable and my only gripe is the skirt isn't hand tied because the spinnerbait lasts forever and catches fish after fish so you bust up that skirt pretty quickly. As soon as I get mine, I wrap 80lb braid around the skirt and hand tie it down, and then remove the rubber collar.
From: Ryan: Snellville, GA 4/21/14
Comments: The SOB Mini Me is honestly the best spinnerbait I've ever used. It is compact and aerodynamic on the cast so it doesn't sail. If you thumb it down to a stop on the cast, you can put it in the water almost without a ripple. Even after catching numerous fish, it will adjust and track straight and true. You can burn it and not worry about it broaching the surface. Because it's got such a small profile, you can get it a little deeper than other spinnerbaits of comparable size. Colors are great, it's a durable lure and looks great in the water. It is worth every bit of 8 bucks!
From: Harold: Dothan, AL 4/19/14
Comments: These spinnerbaits come through grass like no others. A must if you fish grass. Great also if you like to burn them under the surface. You can wind them as fast as you can and they will not turn over. Great baits.....
From: Michael: Jacksboro, TN 4/18/14
Comments: Spotsticker Baits took over SOB Lures. Bill Dee, the owner of SOB, unfortunately passed away a few years ago. Bill was a great guy and his customer service was second to none. Luckily, Spotsticker has put these spinnerbaits back in the market, and with the same high quality as the originals.
From: Jordan: St. Louis, MO 4/16/14