Santone Lures Matt Herren Got 5 Spinnerbait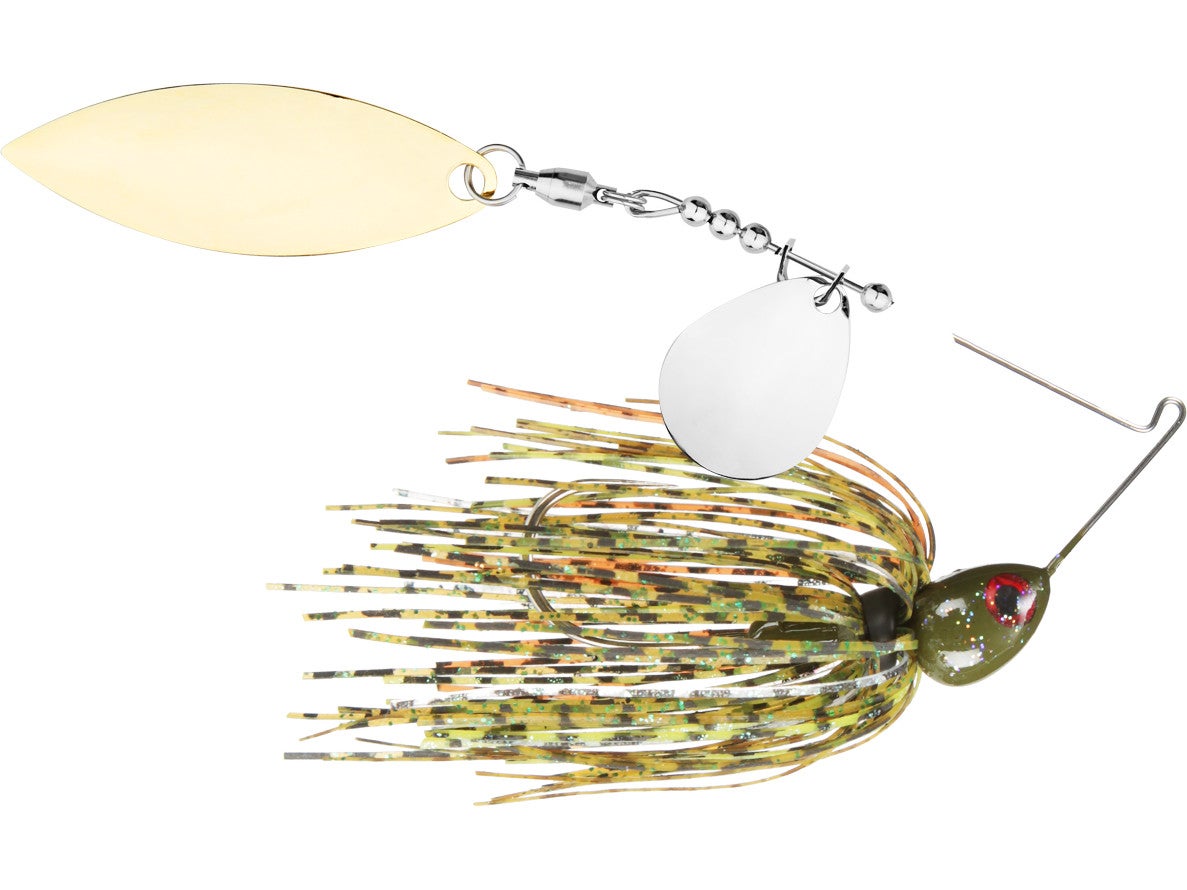 Hand-assembled with only the finest quality components, the Santone Matt Herren Got 5 Spinnerbait delivers a smaller profile that will attract big fish, but doesn't discourage quality bites either. Custom-made wire by Battlefield and quality blades deliver excellent action and flash, while a super sharp Mustad hook provides excellent fish penetration. Also equipped with a convenient trailer keeper, as well as, 3D eyes, a custom painted head and a quality silicone skirt, the Santone Matt Herren Got 5 Spinnerbait is available in a variety of colors for all different types of fishing conditions.
"To make a living fishing, I have to catch a limit everyday. The Got 5 Santone Spinnerbait is one of the baits that I depend on to help me do my job." - Matt Herren, BASS Elite Series pro.
8 Colors
More From Santone Lures Spinnerbaits
Customer Reviews
Comments: Great spinnerbait for the Jimmy Houston technique good vibe great hook no nonsense colors..but main thing it catches fish durability is good for light wire.. Matt great job this is my go to biggest fish 6.42 lb smallie
From: Joey: Grant, TN 6/14/16

Comments: Easily the best spinnerbait I've ever fished. The thin wire is not a problem at all, I boat flipped multiple 5 pounders with ease. Try them out you won't be disappointed!
From: Calvin: Granite Bay, CA 12/7/15
Comments: The Got 5 Spinnerbait is a great shallow water bait. Amazing vibration & easy to run through wood & grass cover. Great in rocks bumping off the bottom. The light wire will bend but very easy to straighten out & keep on fishing great. I have a lot of confidence in the Blue Heron & Mean Green.
From: Rick: Plano, TX 11/17/15
Comments: 5 stars! I tried these out because of the price point. I'm a big river fisherman and normally throw soft plastics but these are legit for any type of river fishing. The trailer grabber is awesome and the hook is super sharp. The wire will straighten but because of the light wire is why this is great for fishing rivers, plus the wire is easily pushed back into place. If fished in the right spots this spinnerbait is deadly. I highly recommend!
From: B: TN 7/13/14

Comments: Purchased two of these and found that the wire is very thin and bends/straights out easily. Action is nice, but because of the thin wire I wouldn't buy again
From: Timothy: MI 6/6/14

Comments: Has become my go to secret spinnerbait,high quality baits.

From: DMac: VA