Savage Gear 3D Craw - $8.99 to $9.99

In a market that is flooded with craw-style baits, the Savage Gear 3D Craw stands head-and-shoulders above the rest. Created from a 3D scan of an actual crayfish, its true-to-life detailing and ultra-lively moving whiskers and legs deliver a whole new level of realism. Its two air-filled claws and an air-filled cavity also further accentuate its natural underwater movement, and give it a dead-on defensive crayfish posture when at rest. And if that wasn't enough, the Savage Gear 3D Craw is also infused with iodine, salt, and a special crayfish scent that makes it even more enticing. Iodine in crawfish makes them a staple for big female bass egg development, and that is why Savage Gear infused the 3D craw with iodine, salt and crawfish scent.
To maximize the action and effectiveness of the 3D Craw, Savage Gear also developed three specialty rigging options – a Stand Up Jighead, Stealth Spike, and a Weedless Weighted Hook. Each rigging accessory is built specifically for the Savage Gear 3D Craw and Savage Gear 3D Shrimp to give them a highly reactive, lifelike movement. However you choose to fish it, the Savage Gear 3D Craw will blow you away once you see it in action.
Check out video footage of the Savage Gear 3D Craw in action by clicking on the ICAST 2013 icon below the main image.
| | | | |
| --- | --- | --- | --- |
| Savage Gear | Length | Weight | Quantity |
| 3D Craw | 3" | 1/5oz | 4 |
| 3D Craw | 4-3/4" | 1/2oz | 3 |
Comments: Purchased a couple packs of each size in a couple colors. The candy color is an outright fish catcher. I used them with the stealth spike and was stitching the craw over some deep rock and the largemouth and smallmouth were all over it. I want to try the stand up jig head. Very lifelike and lots of leg and claw movement even on a very slow retrieve. I will be purchasing more in the future.

From: Charlie: AZ

Comments: I agree with the first comment, too pricey for what you get (or don't get ) bought both sizes and two rigging setups. The stand up jig is no better than any shakeyhead, and the glider system just spins in the water as far as I could tell. The 4/34 inch are about $3.33 a piece, not worth the money for one or two fish per.

From: Brett: IL

Comments: poor quality bait spirals in the water when fish bite this bait gets destroyed. i caught 4 fish on the 3 pack and have no more baits. get creature baits instead they are cheaper and more durable

Comments: I RECIEVED MY CRAWS YESTERDAY OCT 3 2013 TODAY ON THE FOURTH THE BUG SET IN I LEFT FORTY MINUTES EARLY FOR A DENTAL APPOINTMENT STOPPED AT A SMALL LOCAL TOWNSHIP POND.HOOKED UP THE SMALL CRAY ON THE 1/0 SAVAGE GEAR CORKSCREW HOOK. I SAID 10 CAST THAT IS IT ON THE 8TH CAST CAUGHT A 15 INCH LARGEMOUTH.THESE ARE QUALITY BAITS YHE CLAMSHELL PACKING IS THE BEST I EVER SAW. THE CRAYFISH HAS A SQUID AND SHRIMP SMELL LIKE KIETECH BUT NOT OFFENSIVE AT ALL. ONLY TACKELWAREHOUSE HAS THE WHOLE GAMMIT OF DIFFRENT WAYS TO FISH THIS QUAILITY BAIT TACKELWAREHOUSE IS RESPONSIBLE FOR 90% OF THE BASS I CATCH GOOD FISHING GUYS TRY THESE CRAYS

From: RICHARD: MOUNTAINSIDE NEW JERSEY
Comments: would not recommend this bait it is expensive and gets destroyed on the first or second fish if you dont hook it perfectly it spins in the water over all not worth the money at all.
***Note: If you have questions about this product or need assistance with an order please email your questions to info@tacklewarehouse.com
View Large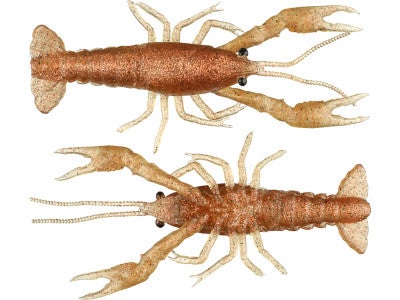 More Savage Gear Soft Baits