Savage Gear Glide Swimmer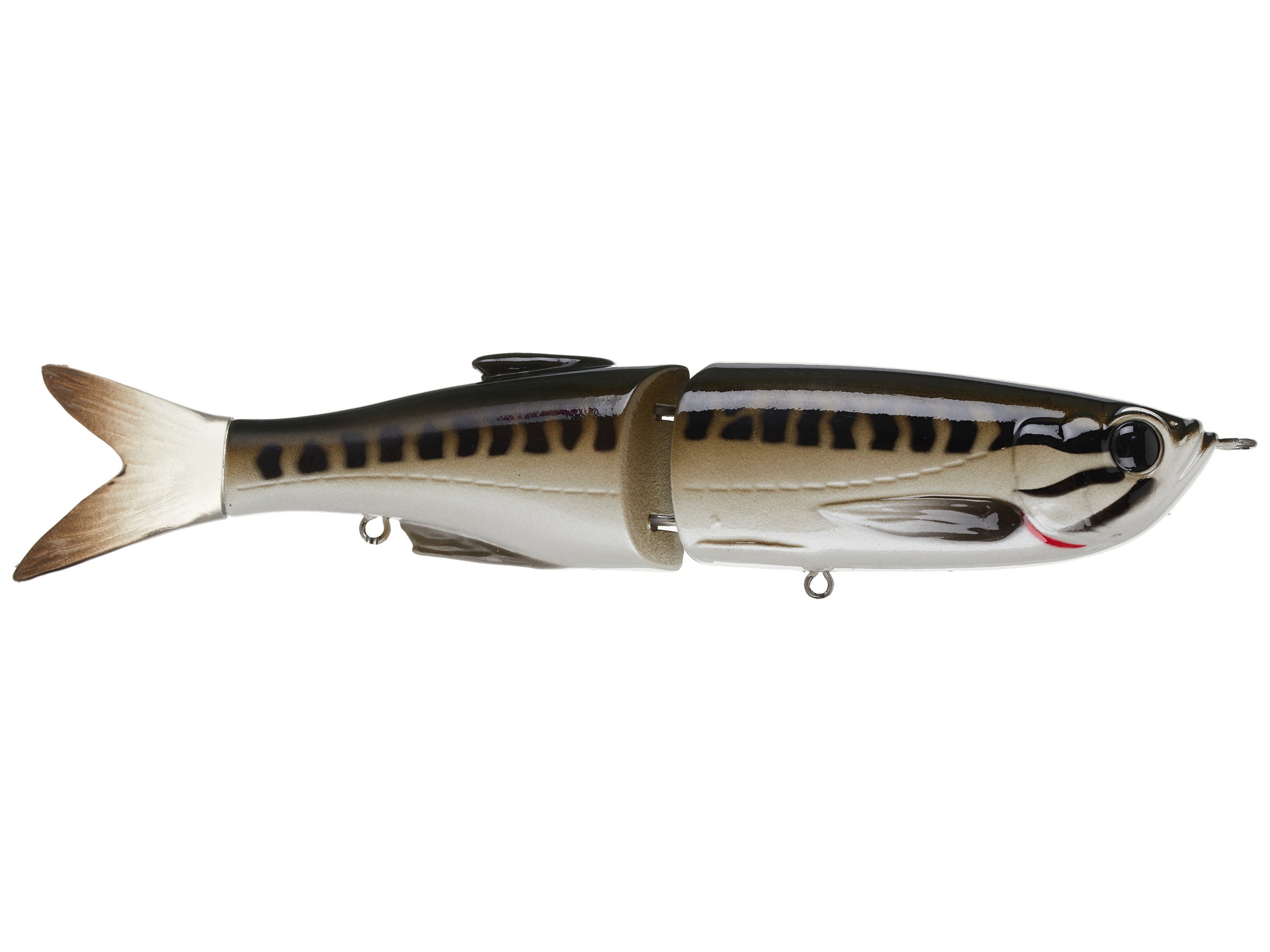 Developed over the past two years by Mads Grosell, the Savage Gear Glide Swimmer offers anglers an ultra-realistic, easy-to-fish swimbait with a finely tuned swimming action. On a straight retrieve, the restricted V-joint causes the Savage Gear Glide Swimmer to deviate from the centerline and glide back-and-forth in a seductive "S" pattern. With a slight twitch, the slow-sinking Savage Gear Glide Swimmer makes a hard turn and exposes its entire side, which is ideal for eliciting strikes from following fish. Built with a semi-soft PVC tail, the Savage Gear Glide Swimmer has everything that a swimbait needs to put fish in the boat – and then some.
| | | | |
| --- | --- | --- | --- |
| Savage Gear | Length | Weight | Class |
| Glide Swimmer | 5-1/4" | 1oz | Slow-sink |
| Glide Swimmer | 6-1/2" | 1-3/4oz | Slow-sink |
| Glide Swimmer | 8" | 3oz | Slow-sink |
9 Colors
More From Savage Gear Hard Baits
Customer Reviews
Comments: Bought the 8 inch and 6 inch in the hitch color. Added a split ring on them & headed to the river. The St John's river is loaded with big bass that get a lot of pressure. The 8" got several follows. Switched to the 6" & got hammered almost immediately. In 45 minutes I nailed 6 bass from 2 to 8 lbs. I love throwing a bait that they have never seen before. These are tops in my book. Service from TW was fast & easy. I will be making lots of future purchases form TW. Hats off.
From: Scott: St. Augustine, FL 7/28/16

Comments: I just took this bait out last night and got on a few 3 to 4lbers. The bait has a good action especially to trigger that night time bite. It's a solid bait but the back hook did get caught in the tail a few times not to significant maybe 1 out of 20 cast I had the issue. All and all I love this bait for spring and summer.
From: Alex: Orange County, CA 6/7/16

Comments: Just bought this in the 5" inch in the hitch color haven't used it yet but it does not come with a split ring & it comes with a feathered hook not the regular EWG hook.
From: Jack: OH 2/24/16
Comments: Awesome bait that's produced many bites! great action and awesome color options. I fished the smallest version and I just ordered one of each of the bigger ones. Great bait for the money and don't let the issue of the tail getting hooked stop you from getting it. I've made 1000+ casts with this bait and it's only happened around 10 times. Solid buy imo.
From: Callum: Austin, TX 11/20/15
Comments: I don't fish for followers, I fish for strikes! I've owned five of these and hauled in several trophy sized striped bass on them this year. It's a lot more comfortable to cast all day than a heavier lure too. Love this bait!!
From: Cole: Hot Springs, AR 10/27/15
Comments: Love these for Muskies, I use the Hitch, Dirty Silver & Rainbow Trout. I do change the hooks out & run a smaller hook (#2 short shank VMC) on the back on the 6.5 to prevent the hook catching on the tail & a #1 Owner ST36 on the belly hook.
From: Mike: Auburn, WA 10/22/15
Comments: Not much thought or knowledge of good "Glide Bait" attributes were present when this bait was designed. Fast sinking and too much joint gives it an undesirable X action that doesn't glide/swim through the water in that lazy "S" motion that gets followers. If SG addressed both issues it could be a salvageable.
From: Outcast: CA 9/10/15

Comments: These do catch fish but imo you're better off with the Swaver. The joint has too much play and the bait sinks too fast which gives is a weird glide and sink too much on the pause. Save your money and buy the swaver 200. Youll thank me later. Hopefully savage gears new glide bait is better
From: Jbird: RI 6/4/15

Comments: wow! Threw everything I had at muskies. Than BAM 5 muskies in 30 minutes. You should see the teeth marks on this thing! Highly recommended. it swims very well too but deadly with a jerk jerk pause then pull
From: Kris: Columbus, OH 4/27/15

Comments: I own three of em: baby bass, trout & chartreuse pattern. So far the baby bass pattern has caught fish on a consistent basis. And yes, the rear treble hook occasionally gets hung-up on the body; some say to downsize the rear treble hook, I find if I don't get real aggressive with my casts, the hang-up doesn't happen as much & I can live with that. I've been throwing it on a 7' rod with a bait casting reel spoiled with 10lb mono. Great bait for the money. don't let the treble hook hang-up stop you from buying this bait.
From: Mike: CA 4/25/15

Comments: Most of the reviews seen involve the split ring issue which makes a difference but personally isn't quite needed if fished on lighter line (15-20 lb etc) but its all good and isn't a big deal. My main suggestion for this bait is to downgrade the size of the rear hook because it often catches on the top side of the bait just before the back fin. Other than that its a great bait at a great price!
From: Matt: San Diego, CA 11/17/14

Comments: This bait is advertised with a split ring. However, it does not come with one. U'll need one. It has great action and one of my first casts a 4lb'r nailed it. She spit the hooks though. You'll need to set them real hard. Back treble hook gets stuck on the lower back if not hooked in to rubber tail. For the price, buy this bait.
From: Nick: Speedway, IN 5/30/14

Comments: i typically wont make a review on a product if i haven't used it yet. However, the bait is advertised with a front split ring and mine did not come with one, not a big deal but don't advertise the bait with a front split ring if it does not come with one. On another note, this bait is sick and will most definitely get bit-has a great action
From: Unknown: USA