Savage Gear Glide Swimmer - $13.99 to $24.99
Developed over the past two years by Mads Grosell, the Savage Gear Glide Swimmer offers anglers an ultra-realistic, easy-to-fish swimbait with a finely tuned swimming action. On a straight retrieve, the restricted V-joint causes the Savage Gear Glide Swimmer to deviate from the centerline and glide back-and-forth in a seductive "S" pattern. With a slight twitch, the slow-sinking Savage Gear Glide Swimmer makes a hard turn and exposes its entire side, which is ideal for eliciting strikes from following fish. Built with a semi-soft PVC tail, the Savage Gear Glide Swimmer has everything that a swimbait needs to put fish in the boat – and then some.
| | | | |
| --- | --- | --- | --- |
| Savage Gear | Length | Weight | Class |
| Glide Swimmer | 5-1/4" | 1oz | Slow-sink |
| Glide Swimmer | 6-1/2" | 1-3/4oz | Slow-sink |
| Glide Swimmer | 8" | 3oz | Slow-sink |
View Large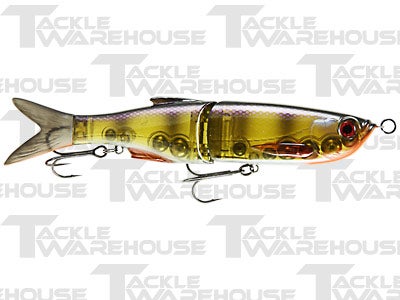 More Savage Gear Hard Baits
Comments: Most of the reviews seen involve the split ring issue which makes a difference but personally isn't quite needed if fished on lighter line (15-20 lb etc) but its all good and isn't a big deal. My main suggestion for this bait is to downgrade the size of the rear hook because it often catches on the top side of the bait just before the back fin. Other than that its a great bait at a great price!
From: Matt: San Diego, CA 11/17/14

Comments: This bait is advertised with a split ring. However, it does not come with one. U'll need one. It has great action and one of my first casts a 4lb'r nailed it. She spit the hooks though. You'll need to set them real hard. Back treble hook gets stuck on the lower back if not hooked in to rubber tail. For the price, buy this bait.
From: Nick: Speedway, IN 5/30/14

Comments: i typically wont make a review on a product if i haven't used it yet. However, the bait is advertised with a front split ring and mine did not come with one, not a big deal but don't advertise the bait with a front split ring if it does not come with one. On another note, this bait is sick and will most definitely get bit-has a great action
From: Unknown: USA
***Note: If you have questions about this product or need assistance with an order please email your questions to info@tacklewarehouse.com