Savage Gear Line Thru 3D Swimbait 6" Ver. 2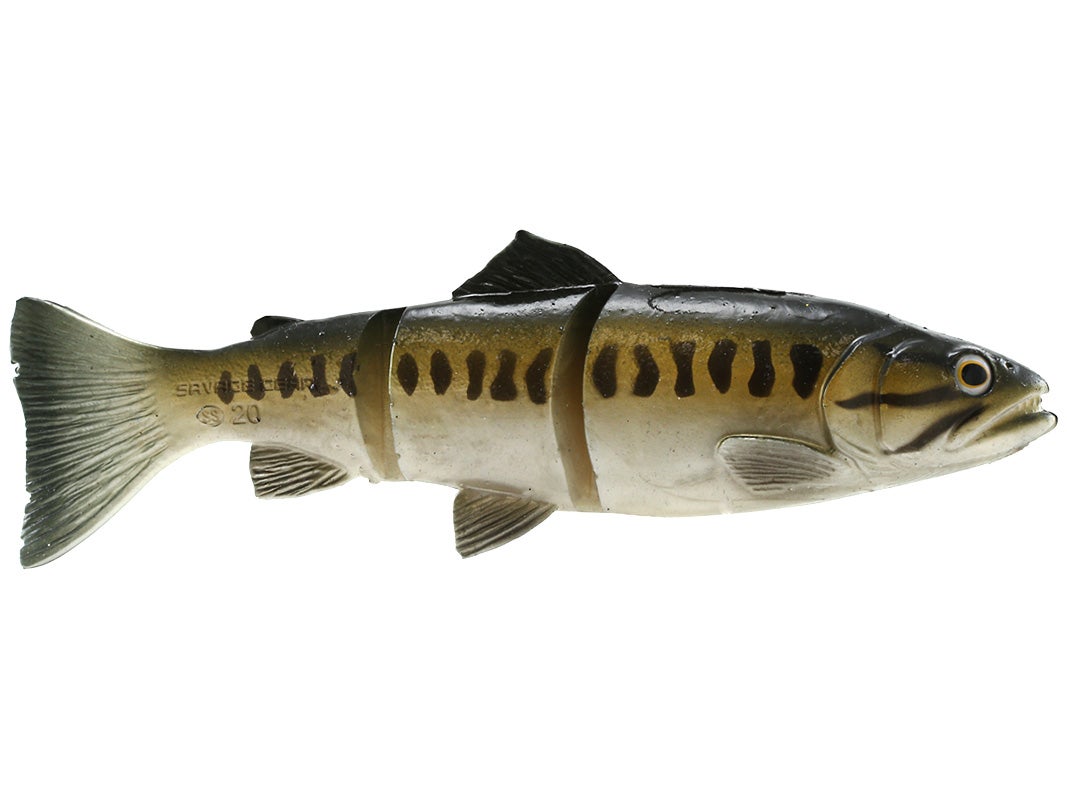 An extension of Savage Gear's award-winning Line-Thru Trout series, the Savage Gear Line Thru 3D Swimbait 6" provides all of the lifelike detailing and big-bass attraction as the original – now in a scaled-down profile. Designed from 3D scans of an actual trout, the Savage Gear Line Thru 3D Swimbait delivers precise anatomical accuracy that will coax the most seasoned bass into striking.

Constructed with a forward-thinking line-thru design, the Savage Gear Line Thru 3D Swimbait 6" features a specially-designed cavity in the back of the head that holds hooks securely in place and keeps them from tearing the bait. Once bass strike, the hook is designed to disengage from the body, so fish can't use the weight of the lure to spit the hook. In addition, the hook position also offers increased weedlessness in heavy cover and a stealthier appearance when bass are peering up from below.

To best match fishing conditions, the Savage Gear Line Thru 3D Swimbait is offered in a three different versions – floating, slow-sink, and sinking. Each model is precisely weighted to entice big bass on the surface, in mid-range depths, and around deep structure, respectively. Available in a number of highly developed patterns, the Savage Gear Line Thru 3D Swimbait 6" is the ticket for enticing trout-hungry trophies into striking.
| | | | |
| --- | --- | --- | --- |
| Savage Gear | Length | Weight | Class |
| Line-Thru 3D Swimbait | 6" | 1.5oz | Sinking |
| Line-Thru 3D Swimbait | 6" | 1.25oz | Slow-Sinking |
| Line-Thru 3D Swimbait | 6" | 1oz | Floating |
4 Colors
More From Savage Gear Soft Swimbaits
Customer Reviews
Comments: Bought the Juvenile trout floating version & i was sorta skeptical about it working because i've never caught anything on a trout swimbait before. Tossed it right past some weeds that were poking out the water. as i reeled in closer to the weeds and left it there thinking to myself if something would come up and just swipe it since its floating at the surface, few seconds later the surface exploded with a bass swinging my trout in his mouth. This thing is fun to use, caught plenty of fishes on the first day using it! super durable & for the price definitely worth it!
From: Max: Fresno, CA 9/8/16

Comments: I have a "moderate sink" model in dirty silver & am quite impressed with its action. The line enters the bait through its forehead instead of through the nose as with the floating & slow sink models. The bait rests on the bottom with its tail raised slightly. The only cons are that the bait has a very strong plastic scent upon taking it out of the package and that it somehow seems to pick up every bit of grass in its path. The floater & slow sink would probably come through grass much better. Also, gently running a paper clip through the line channels helps free it up of any extra plastic blocking the line thru system.
From: DanTheFisherman: CA 6/10/16

Comments: Received some valuable info from Mike of Savage Gear about the 6" 3D Line-Thru swimbait, ver. 2. I learned that the treble hook can be rigged top or bottom because there it has a "Y" shaped tube that can feed line up or down. The slow sink has an ROF of 4-5 ft. in 10 sec. & the sinking version is ROF 10.
From: Ed: Champaign, IL 2/19/16

Comments: AWESOME BAIT! Love it, have all sink rates of the baby bass pattern and man does it get smashed. Caught some giant smallies in the 6 pound range, and several nice pike off one bait, still swims great. Moderate sink is the best. Line thru design works perfectly. Savage kills it!
From: Nigel: Canada 5/11/15

Comments: this lure is amazing for the price. Throwing it on the side of a bank always produces. Very realistic but tears easily. You might need some mend it after a few fish
From: Logan: FL 2/9/15

Comments: These things are great! im liking this sb in floating model. they crush it and the bottom hook makes hook up ratio near perfect! now they need to make an 8" bottom hook!
From: Matt: FL 10/24/14