Savage Gear Soft 4 Play Swimbait - $8.99 to $12.99
The Savage Gear Soft 4Play Swimbait features a soft yet durable body construction, complete with two joints that accentuate its lifelike swimming action. Realistic scale and gill patterns, 3D eyes and a profile that imitates a variety of baitfish make the Soft 4Play one of the most unique and effective swimbaits around. Also extremely versatile, you can rig the Savage Gear Soft 4Play on a offset hook for superior weedless performance, on a jighead, or used with the Savage Gear 4Play Lipculls to generate a killer crankbait action.
| | |
| --- | --- |
| Length | Quantity |
| 3.75" | 4 |
| 5" | 3 |
| 7.5" | 2 |
Comments: this bait is awesome , straight retrieve this looks like the real deal , pause when retrieving and it start to die like a real dieing fish , give her a few twitches and it looks like a real injured minnow . I give this a 9.5 just because nothing is perfect , but it's pretty close. Tip buy the swim bait hook for it there designed well and can be used for other soft baits . That's if you'll ever throw another one .

From: Dirtybird
Comments: I seen video on youtube, the guy was catching giant pike off these, look similar to magic swimmer soft but more action in video. I have both sizes of magic swimmer soft and these look great in video. These catch fish and hope to get some when they stock up again, looks sold out in all smaller sizes which I want.

From: Alex
Comments: These look amazing on the tw video, where are the exclusive colors?? If made available I would probably be using nothing else this time of the year.

Comments: great producing bait. The 3.75 inch works great for bass and even for trout. When used with a jighead you can either swim it or jig it on the bottom. I was very suprised how good the action was Very durable.

Comments: What hook is everyone using with the 5 inch?

From: Troy: USA

Comments: I totally disagree with the review of Mike, this lure is super strong and durable! If you don't believe me go check some video of this lure and you will see that this babe right here, is build for cow! This is my goto lure when i'm fishing pike so those are really durable lures! Try them out, you won't be dissapointed!

From: Billy: USA

Comments: Great bait by savage gear!! Its an ideal beat for big perch!

From: Marco: The Netherlands

Comments: Piece of Crap. One heavy pike attack and the Swimbait is destroyed

From: Mike: Boston

***Note: If you have questions about this product or need assistance with an order please email your questions to info@tacklewarehouse.com
View Large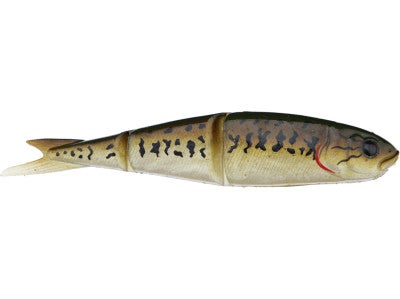 9 Available Colors
More Savage Gear Soft Baits