Scum Frog Bigfoot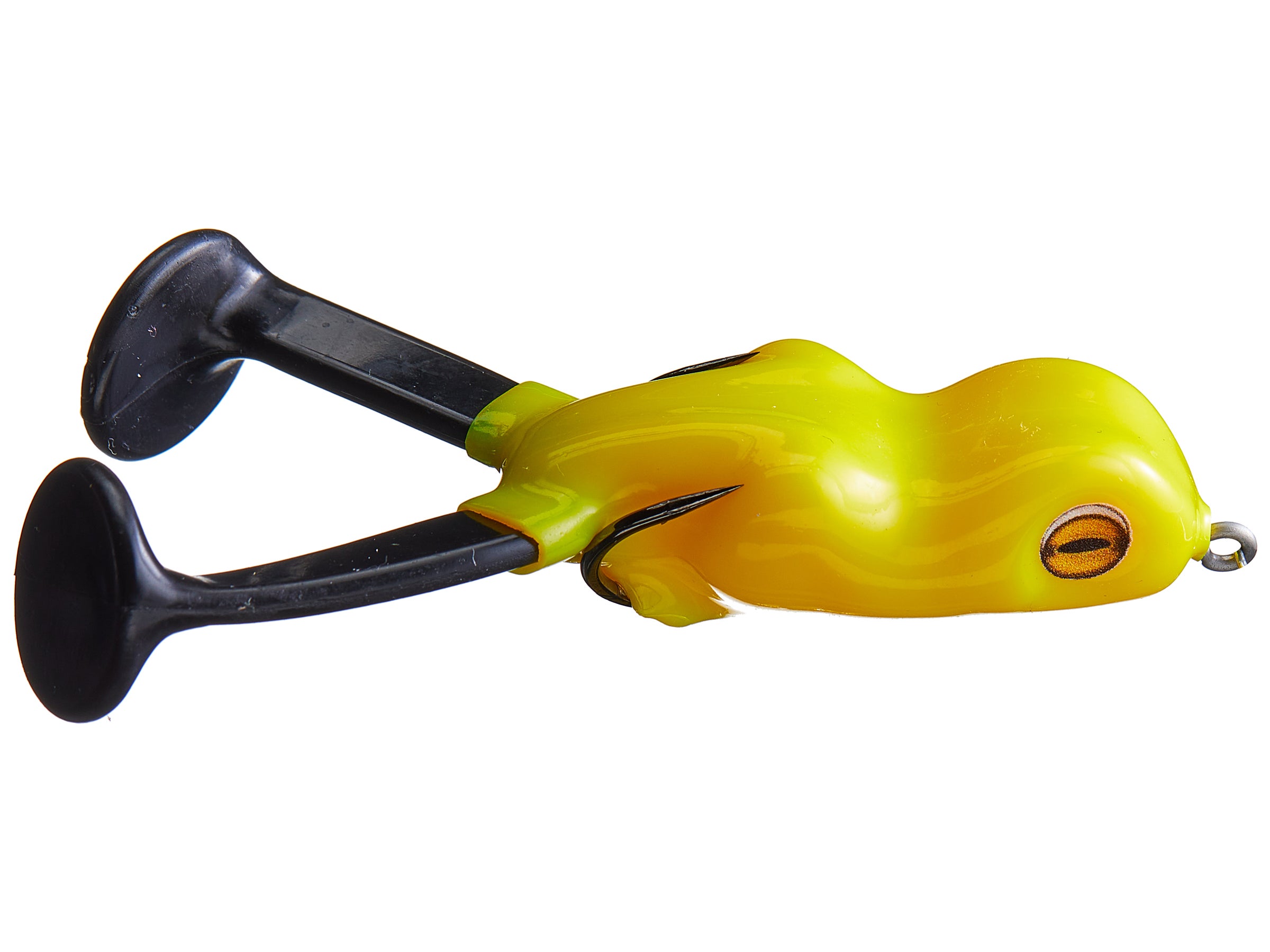 Southern Lure Company knew they had a winner when they designed the Bigfoot. The Scum Frog Bigfoot features the erratic action of a soft bodied plastic frog and the buoyancy and snag free benefits of a hollow bodied frog. Whether you will be fishing open water, sparse cover or the thickest vegetation the Scum Frog Bigfoot is the frog for you.
11 Colors
More From Scum Frog Topwater
Customer Reviews
Comments: These frogs are fantastic caught multiple bass & 6lbers on the same frog & the legs never pulled out & never lost any eyes. Even had a northern take it & the frog is still in good shape. Its a good old war horse lure.
From: ED: WI 6/5/16

Comments: This frog is amazing it's a true lunker lure. If you're not getting much kicking action out of it stretch the legs to make them more flimsy.
From: Justin: AL 9/3/15

Comments: Love this frog catches fish but every time you hook a fish the legs come out so I take a paper clip and stick through the top and through the legs cut it and bend it close to the body and the legs wont come out making it the best frog ever after that modification
From: Seth: VA
Comments: way too light! I guess there is a reason they don't have the weight listed lol. Action is decent, but overall was not impressed with this frog. Best bet is spro. But if you want that kicking action just go with a stanley ribbit or zoom horny toad. I know those arn't hollow body, but they work just fine when I need a bite.
From: Jack: Ct
Comments: When I bought this lure I thought it looked like a great lure. It has good sound when rolled on top, but it doesn't have good action and it doesn't throw any water. I have thought about customizing it, but I keep forgetting to. For me it is a 2 star bait.

From: Noah: AL

Comments: I hate this thing. Every time I cast the lure it flips on to its back??? Waste of money and I will not be purchasing again.

From: Eric: WI

Comments: This is the best frog on the market for the price. It has caught me more fish than any other frog combined in my box. All around great product.

From: Jake: Duluth, MN, US

Comments: the legs come off almost every time you get a bass but i might try to put some small hooks on so they will not fall off

From: IL
Comments: Great Frog holds up well 100 percent hook up ratio great action

From: Elk County, PA

Comments: best frog ever

Comments: My friend had one of these and was throwing it all day with no hits at all. I threw the evolve nervouse walker and caught ten lunkers. All in all this frog is horrible. The eyes fall off after a few hits and the legs rip off after about 2 bass. Save your money for a better frog!!!

From: Chris: MI

Comments: this frog catches numbers and BIG fish,hook up ratio isnt always the best.Maybe try to widen the gap on hook?other than that this thing gets violently attacked!

From: Shawn: SD

Comments: Threw this bad boy in thick veggie and killed the bass all morning. Had no action on the kopper so i went back old school and boy was i glad i did. Legs tend to pull to one side but little moification and its as good as new! i would recommend this frog to anyone!

From: Leng: AR

Comments: great frog, but legs rip after a couple hits

From: Jason

Comments: the eyes are not realistic, they are just stickers and will fall off on the first cast. other then that great top water bait, get a hit everytime i bring it out.

From: Brett: SLO, CA

Comments: Love this frog all up untill the a bass rips the legs or pulls the legs to one side...I suggest using some glue or mend it before using the bait.

From: Robert: Davenport

Comments: BEST FROG EVER!!! caught 3 large mouth around 2 or 3 pounds in less tan 1 hour

Comments: It's like a weedless buzzbait. It's works for me. Had great luck with the black color at night.

From: Ken: Virginia, USA
Comments: Amazing turbulence form this bait, great for edges.

From: Brian: Quincy, MA
Comments: I love fishing with frogs, rats & snakes. I have many soft plastic frogs but this due is one bass catch'n bait. Bass hit so hard i have to pull the legs out of it's throat. Thats how bad they want it. I have the watermelon red. I WILL BE GETT'N OTHER COLORS!!!! This is a must have frog for DYNAMITE TOP WATER EXPLOSIONS.

From: Bob: Hilliard, OH