Seaguar Senshi Mono Green Line - $7.99 to $11.99
MSRP $9.99 - $15.99
Offering exceptional knot and tensile strength, the Seaguar Senshi Monofilament in Green is an excellent choice for fishing around thick vegetation and stained waters. The Japanese-made Seaguar Senshi Monofilament in Green also possesses a thin diameter that makes it easier to detect structure, lure action, and strikes – greatly improving your catch ratio. In addition, the Seaguar Senshi Monofilament in Green is also incredibly soft and supple for a great castability and flexibility. Next time you're fishing muddy or stained waters and want to harness the strength and stealth of a Japanese warrior then reach for the Seaguar Senshi Monofilament in Green.

Senshi - Japanese for "Warrior"
| | | | | | | |
| --- | --- | --- | --- | --- | --- | --- |
| Line Diameter | 6lb | 8lb | 10lb | 12lb | 15lb | 20lb |
| Inches | .008 | .009 | .010 | .011 | .012 | .013 |
| Millimeters | .200 | .230 | .250 | .280 | .300 | .330 |
Comments: WoW! Thin diameter, handles great, and super strong. Fished it in 20 pound version alongside a reel with high end 20 pound fluorocarbon in Mexico and was extremely impressed. We could barely break the stuff when we got hung up, handled and performed just as well as the fluoro WITHOUT all the kinks and hassels. Great mono!
From: Scott: USA 4/4/14
Comments: Best Mono out there. Soft . Supple. Thin diameter. Not the most abrasion resistant, and has some memory issues. This is the best mono out there. Just wish they made the big spools of the green
From: Luke: CO
Comments: Really nice line, thin diameter, yet still strong and easy handling. Does have limited stretch but still very suitable for cranks. Casts well, but not much better than invisx, I guess that's also a testimonial for the quality of seaguar products. Would definitely recommend this and other seaguar products!
From: Spit Wad: Idaho
***Note: If you have questions about this product or need assistance with an order please email your questions to info@tacklewarehouse.com
View Large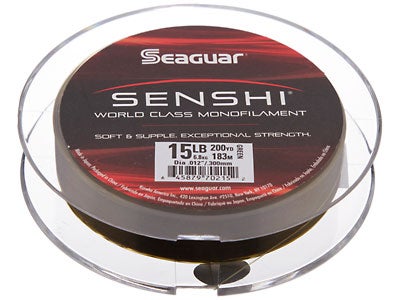 Place Your Order
More Seaguar Fishing Line