Seaguar Senshi Mono Clear/Fluorescent Line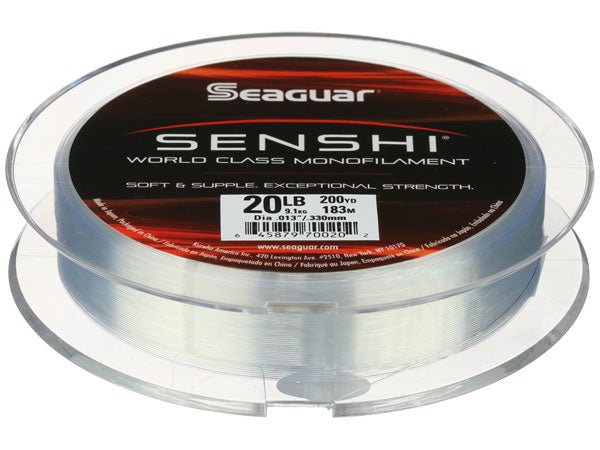 Engineered in Japan, Seaguar Senshi Monofilament Fishing Line offers exceptional knot and tensile strength to help anglers tackle heavy cover with confidence and deliver solid hook sets. Its unique composition also allows it to remain soft and supple for easy handling, and the sensitivity and thin-diameter of Seaguar Senshi Monofilament Line makes it easier to detect structure, lure action, and strikes - greatly improving your catch ratio. Senshi also has unique fluorescent properties under black light, which makes it an excellent choice for night fishing!
Senshi - Japanese for "Warrior"
| | | | | | | |
| --- | --- | --- | --- | --- | --- | --- |
| Line Diameter | 6lb | 8lb | 10lb | 12lb | 15lb | 20lb |
| Inches | .008 | .009 | .010 | .011 | .012 | .013 |
| Millimeters | .200 | .230 | .250 | .280 | .300 | .330 |
Place Your Order
More From Seaguar Fishing Line
Customer Reviews
Comments: Used 10 lb. Sensi today and caught my personal best Largemouth. 10 lb 3 oz. on a Jerkbait. I have been using Sensi for over a year on my crankbait and jerkbatit rods. Great Line.
From: Jack: Milledgeville, GA 1/13/17
Comments: Tried the 12lb to see if it was better at not retaining memory than the 15lb & 20lb. Was worried about it snapping since it's a very thin line, but I actually ended up catching a 6ft alligator on my frog. Fought with this alligator for 28 minutes and surprisingly, the knot never broke & the line never snapped! This line cast like a dream & is highly visible above water, but starts retaining memory minutes after spooling onto your reel. If they could fix this problem, this line would be one of the best.
From: Brad: Brandon, MS 6/8/16

Comments: Casts & handles easily, but has terrible knot strength. I put an overhand knot in it and was able to snap the 20 pound very easily. I couldn't do that with 12 pound Suffix Seige. For the price I was expecting more. It is very thin for 20 pound line which is why I bought it in the first place, but I wouldn't use it for something where you are going to be setting the hook hard. Maybe it would be a good cranking line,but there are better choices for a lot less money. On the water same experience as the overhand knot; it breaks way to easy for 20 pound.
From: Steve: Austin, TX 11/2/15
Comments: It performed as well as any mono that I have used over the past 35 years. I tried this line in 15# and 20# test because of the advertised line diameter. I may be wrong but it does not seem close to the advertised specs.
From: Jeff: Bridgeton, NJ 12/23/14

Comments: I loved the smoothness of this line. However. this line breaks very quickly. I had to re tie every 30 minutes or so or the line would break. I tried two different spools and had the same result with each. Also tried it on different rods to make sure it wasn't the result of a sharp tip. Lost several good fish due to this line. I love the seaguar flurocarbon, but will not be buying anymore senshi.
From: Joe: MS 9/23/14

Comments: The 15 lb. line broke at 14 lbs on my spring scale midlength on a leader with an Albright to braid and Palomar to hook. Pretty impressive for .30 mm. It is a great crankbait line and a decent finesse line as well. You can see this stuff above the water with no problems and it is invisible within 2 ft. below the water. I am now confident that I can fish the thinner offerings without fear of break-offs. It is nylon however so don't expect it to hold up around rocks and pylons. It is very manageable on a spinning reel if you are cautious and I give it a 4.5/5.
From: Tom: GA 6/24/14

Comments: I like this line as it has low memory yet is very strong. I have caught large red fish (I inshore saltwater-cating reel) with it. However when buying use diameter for sizing not test strength. Most lines in 12 lb test (Trilene, Ande, Spider) are (0.12 in/0.30 mm) Seaguar call this 15lb test. Cajun,Trilene,Ande,Spider 12lb test=same as 20lb test SeaguarSenshi. All test claims are not equal but all did. measurements ARE. So Seaguar is a thinner Mono = if You use 12lb test use 20lb in Seaguar (same line), If you use 10lb then use 15lb in Seaguar and then compare line/knot strength.

From: TC: San Leon, Texas

Comments: i am new to bass fishing and have a brand that i love and have been using for years. i am not that great with a bait casting reel. so i go through a lot of different line to find one that i like and can use. and so far this mono is the best i have come across. easy to cast and really holds up well. i cast little baits farther than ever before. and i have my own pond and it has a lot of weeds from the bank to 6 feet out. i hooked a bass on a spinnerbait and it ran straight for the bank. my rod was bent n half and it took me well over 5 minutes to pull it out. i thought it was a big one but turned out to be only 2 pounds and 15 pounds of weeds. the kind did not break and after 2 spools of it i have yet to loose a hook or have a single break off. would recommend this line to anyone .

From: Joe: KY

Comments: this line is week! It might have also costed me big fish in a night night tourney.. Easy 5+ broken me off! No good

From: Parker: CA

Comments: great line in general but I definitely recommend 15lb over 20. The 20lb is a bit thick for a low profile bait caster.

From: Caleb: NC

Comments: To everyone complaining about the blue color there's a reason to make it fluorescent. I realize not much of the country fish after dark, but here in the southeast fishing is at its best after dark and fluorescent is a must. When I do fish during the day the blue line has no effect on how many bites I get. Whether you like the color or not though Seaguar makes great line.

From: Will: AL

Comments: i've switched line co. 3 times in the last 6 months and i've finally found a line that i'm super happy with !! this line casts a mile,knot strength is great and is super sensitive !!! great line for the price and if i switch over to braid i'll use the kanzen. great line !!!

From: Bob: Kerrville, TX

Comments: Very impressed with this line , I also love the segura flourocarbon too, the senshi is strong bent my fly jig hook and did not break on 6lb , also super smooth and cast great too only wish it was clear .

From: Todd: Corbin, KY

Comments: Really enjoying this line. Memory isn't bad and its pretty tough. Works well in cold water also. Only one break-off on it this year in heavy cover and I forgot to retie after a large fish that was around a tree. Only concern is knot strength. Seems like I have to retie 2 or 3 times sometimes before the knot doesn't snap. Also not crazy about the blue. If they went to a clear I would love it. Until then certain rods still have trusty Big game on them.

From: Blake: Skiatook, OK

Comments: Everything that seaguar said about this senshi line was definitely true it is soft and supple it feels like your touching silk, very thin diameter, strong, has an awesome knot strength and it turns blue(kinda lights up) when faced with sunlight (the fish cant see it too!).... I would suggest if your using a baitcaster though get that 20lb one cause this line has memory on it but not too much I will still consider it a low memory mono but I hope that seaguar improves that so what I mean is get the 20lb test one cause baitcasters are made to have heavy lines because its harder to free backlashes (if you ever get one) and small diameters on a baitcaster dig in to each other over all I LOVE IT!! and I will definitely recommend it

From: Von: Joliet, IL

Comments: i use 8 pound its pretty abrasion resistant ive caught several northern and yanked my lure out of a tree

From: Anthony: Madison, WI

Comments: Lines small doesn't twist comes off reel well I like it and would recommend it

From: Doug: Marrero, LA

Comments: Great line. I havent had any problems with it in timber. I dont really care for the blue color though.

From: Mike: USA

Comments: well you shouldnt be using mono around timber so that settles tht case any good mono would fray. mono is the best line out there i really dont by into that whole invisible fluro stuff i mean ya its invisible but will it catch more fish? i doubt it.. i caught bass on steel leaders in clear clear clear water.. and fluro does not like to work its real stiff and you can cast as far i like the sensitvity but i think mono is the way to go that way i can use cranks jigs and top water all with one reel and line.. great line guys use braid around timber

From: Jake: PA

Comments: if you use it around any timber good luck this line frays when it rubs it i would not recomend this line for any one unless you are fishing a lake with nothing but sandy bottoms grat fluoro but not mono

From: Shane: TX

Comments: Great line i use 12lb and 20lb

From: Gary: Lancaster, CA

Comments: Great line for topwater fishing. Casts a mile and low stretch allows you to work the baits well and get a solid hookset.

From: Tom: Rochester, NY

Comments: great line so far it supple and the thinnest mono i have found low stretch i would recommend it. it is blue but not to blue to and if you want you could color it. good line

From: Brandon: Turlock, CA

Comments: I love seaguar line and have used it for many years without fail. I was excited to see they come out with this Mono and just got my hands on some. The line cast great and was everything I expected "EXCEPT" It's Fluorescent blue!!! Never expected that from Seaguar. I'm not a big fan of blue line. I hope they will come out with clear or green in the near future.

From: Dave: Mountain Home, AR