Sebile Swimbait Rig - $8.88 to $9.95
Perfect for swimbaits and large soft plastics, the Sebile Swimbait Rig features tungsten rubber weights that twist on and off to let you adjust depth, rate of fall, action, and castability. The main hook point is also opened by 15 degrees to help increase the number of fish hooked, and a wire welded to the shank holds a strong split ring and an additional super sharp treble hook. The premium black nickel finish on both hooks also provides lasting corrosion resistance in freshwater and saltwater. Available in multiple sizes to accommodate a variety of baits, the Sebile Swimbait Rig is part of the innovative Sebile Soft Weight System family.
Comments: Looks like a good idea and probly effective. It doesn't state how many you get in a package. So I assume it's 10 bucks for ONE ?! If that's the price we pay for unique but easy to make tackle I'll pass. (by easy to make i mean by a funded company with proper equipment it's a cake walk for this hook setup and Cheap to do.) The tackle industry is really 'gaffing' us all. I should invest in some equipment and make my own to sell for 3 bucks each or less.

From: Pat: San Jose, CA

***Note: If you have questions about this product or need assistance with an order please email your questions to info@tacklewarehouse.com
Color:
5/0
View Large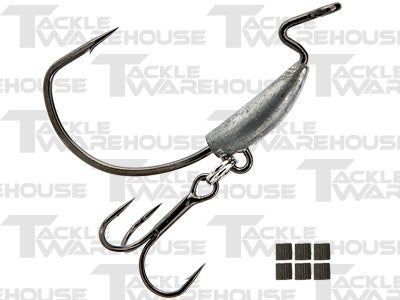 Place Your Order