Shimano Calais DC Casting Reels - $649.99
Shimano has taken their Digital Control technology to a new level with the Calais DC. The original DC system is excellent for most bass fishing and inshore applications. However, the original Digital Control was not ideally suited for slow spool speed applications like skipping or pitching.
To address slow speed applications Shimano developed the 4x8 Digital Control Brake System. To develop the 4x8 system Shimano analyzed the various environmental and mechanical conditions related to casting. Shimano divided the casting spectrum into four modes and created four profiles to control each one.
X Mode: Extreme Distance - a specific profile that allows for more than 50,000 RPM
L Mode: Long Distance - an all-around profile for most fishing applications
A Mode: Accuracy - an excellent profile for skipping or pitching
W Mode: Wind - a profile for casts into a headwind
Adjusting the 4x8 brake system is a simple process. The sideplate swings open easily once the Escape Hatch is pressed. Once the proper mode is selected and the sideplate returned, the braking system can be fine tuned with the eight settings available on the outside of the sideplate.
The Shimano Calais DC boasts an impressive list of features, but one that is unique to this reel is the tapered titanium levelwind insert. Titanium provides the lowest friction of any Shimano levelwind insert. The tapered design not only makes it easier to thread the line during setup, but further reduces friction and line angles during the cast for more distance.
The Calais DC is the Rembrandt of Shimano baitcasting reels. The beautiful black nickel body houses the best of what Shimano has to offer. Nothing is held back with the Shimano Calais DC: 11 ball bearings, solid aluminum frame and 4X8 DC technology make the Calais DC a masterpiece.
-4x8 Digital Control
-S A-RB Bearings
-Magnumlite Spool
-Septon handle material
-Super Free (SF)
-High Efficiency Gearing (HEG)
-Tapered Titanium Levelwind Insert
-Greaseless Spool Support Bearings
-Super Stopper
-Assist Stopper
-Escape Hatch
-Septon Handle Material
-PV Power Handles
-Cold Forged Handle Shank
-Drilled, Cold Forged Drag Star
-Dartainium Drag
-Recessed Reel Foot
-Clicking Drag Adjustment
-Metal Plated Finish
-Asymmetrical Spool Window
-Aluminum Frame and Sideplates
-Platinum Premiere Service Plan
-Metal Series
-Approved for use in Saltwater
View Large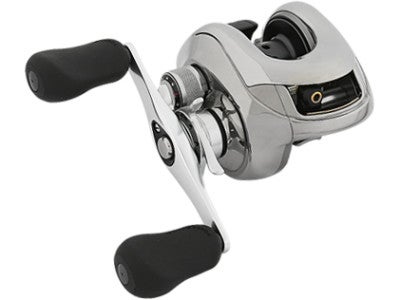 More Shimano Reels Casting

Comments: I have 10 of these on my g-loomis rods. I have had them for over 5 years now and they still preform and look brand new. If you are looking to make a good investment in a reel for your rods I would recommend these to anyone. Great product Shimano
From: Scott: Harare, Zimbabwe 2/12/15

Comments: I purchased 3 of these last year after I retired and got them for my Christmas. Hands down!! best reel I have ever used and love it! I plan on getting 2 more this year on black Friday. Expensive, yes but you get what you pay for with these reels. Settings are very easy once you figure them out and you know what to use for any situation. Very easy to change your settings. I can not say enough about how nice these are. I was scared to spend so much on a reel but have not regrets they will be around when I am not!
From: Bob: Alexandria, AL 10/6/14

Comments: Hands down one of the best bait casters out there, it is not backlash proof (nothing is) and just like any other tool, you need to how to use it, the skill is in your hand, not the reel. All the poor reviews are OBVIOUSLY from people who don't know how to setup a bait caster. This reel is perfection, slightly heavier than other reels in this price point, but IMO that balances better on rods - an ultra reel on a flipping stick will always lead to a tip heavy feeling. This reel casts a mile and balances nicely, palms nicely, smooth drag, nothing but good to say about it.
From: MQ: BC, Canada 5/14/14

Comments: Good reel, casts good in the wind with proper adjustment. Scratches easy and a bit heavy. Looking forward to the new Stella fi.
From: Edgar: Culver, IN 2/28/14
Comments: I have three of these reels and they are superb. A boat partner kicked one overboard and it was submerged for about 45 minutes till we found it in 9' of water - took us a while 'cause the reel was on the rod which was standing striaght up in the water. I have not disassembled that reel and it fishes perfectly - three years later! I have braid on one for swimbaits and the other two have fluoro and all three are bullet proof. If you set the internal adjustment correctly you can fish in any condition without issues. Great in the wind!

From: Tom: Aurora, CO., USA

Comments: Used my 200DC this past summer on a 7'H GLX throwing 1/2oz and 3/4oz spinnerbaits on 16lb Fluorocarbon. I got to really test the digital technology when casting into head on winds from 20-40km gusts and it worked with ease with no backlashing and incredible distance. Set on "W" it was great as you often are covering water I was throwing downwind, upwind, across the wind etc. You could see it slowing down at times and the line staying tight to the spool. Finish has held up. Unreal cranking power, I could pull anything with this reel handle, in pads fish didn't stand a chance. 5/5

From: Mike: Ontario, Canada

Comments: My new Calais DC is better than the competition but nearly as good as my 10 yr old Calais CL 200-5 centrifical brake. The DC growled on retrieve, terribly out of the box and factory maint. didn't help. It backlashes much more than old Calais. The DC computer backlash curve is not as quick/effective as the old Calais centrifical brake immediately after the casting surge. Please bring back the old Calais and its half the price!!!

From: Chuck: Colville, WA

Comments: After owning a bunch of baitcasters the last few years, ( curado 200e7, abu MGX, Gen2 revo Premier, revo Toro50, curado 300dsv) I finally pulled the trigger on calais dc and never looking back. Gets kinda cold in the winter time chasing steelhead but otherwise just an amazing machine. The best baitcaster I ever owned and if I just saved instead of buying the other reels id have two of these by now. If they made it lighter with different material so it wouldn't be cold to the touch, then it would be perfect. Great summer time use but also used winter time because its that good.

From: John: Rochester, WA

Comments: I bought this reel after my wife left me and i felt old. Unfortunatly i still can't cast without back lashing no matter how much i spend.

From: Gary: GA

Comments: You will not find a better reel than this. I own a few of them and I have not had one single issue with any one of the units. Simply put, this is the Rolls Royce of reels.

From: G.E.: Chicago, IL

Comments: calais it self already cast like a dream. this cast like no other reel on the market. pick up a z200 and return for another calais dc. the z200 comes no where close to the calais dc. it not just a ultimate casting reel. it hauls in some monsters out the water. it has a super smooth drag. 7.0:1 gear ratio is also a plus since the curado e7 was one my favorite reels. i been very happy with my 2 buys. big props to shimano

From: Sean: TX

Comments: i agree with all the comments. got one and its the best out there. only bad thing is the price. i guess youre paying $250 for the dc. oh well i like it

From: Tony: TX

Comments: Buying this reel when my income tax comes in next year. Very nice reel but can break the bank.

From: Clayton: AL

Comments: just plain amazing. feel like a pro with this reel each time cast. i can cast and land a lure anywhere i want. im not the best caster when it comes to baitcasters. but some how with this reel i have. awesome reel but not the price

From: Franky: Jacksonville, FL

Comments: Bought this reel for bass fishing. One day we went saltwater fishing with some friends. Took it to put it to the test on some big fighting fish. Well it pass that test. Then it got to windy for popping corks. And we only had baitcasters on the boat. And yes alot of backlashes and motion sickness. So I was the only one casting against the wind with live shrimp. My buddies were so impressed with this reel they bought one for themselves. $650 is alot money for baitcaster. I only bought this reel cause my brother inlaw gave me a $300 TW gift card. Great guy. But if your looking for a serious reel and have money to spend. You will like this reel. I hear Shimano might come out with the same reel, but lighter and even with xship. "Its what I heard". Good luck and enjoy if you get one.

From: Ricky: Pasadena, TX

Comments: Best reel I have ever used for gusty wind conditions. Very reliable all the time, but worth every penny when spinnerbaits in the wind are called for.

From: Mike: Saint Louis, MO

Comments: This reel is a Shimano masterpiece. It was a gift and great gift. Thanks grandpa. I cant afford this right now. But if I had money I would buy a second. This reel is awesome and unbelieve. Best low profile out there. The only flaw is the price and weight. But if you have the money to spend then this reel is all you need. It does it all. Well how can put this. If you love to fish Shimano reels well then this the super reel of them all.

From: Cory: Brain, TX

Comments: This is honestly the biggest rip off and waste of money. This is pure TRASH. The bearings fell out, the reel feel off, the magnets.... are just a piece of crap, and the heaviest reel i have ever used. PLEASE DONT WASTE YOUR MONEY ON THiS. If you want an outstanding reel get the Daiwa Spincast Silvercast-A Reels. This is the best reel for your money and its a tad cheeper.

From: Matthew: Byron, IL

Comments: looks good but needs to trim some weight off and trim the price, then we'll talk

From: Matt: Lakeville, MN

Comments: This is the best reel ever made!Smooth, cast distance, sound, and hand positioning. Nothing compares

From: Todd: Valley Forge, PA

Comments: A must have for fishing windy conditions. I can make casts right into the wind and not backlash. They are expensive, but worth it. You need to fine tune it for it to work at its best.

From: Randy: West Texas

Comments: The best I have found. Top of the line. Not backlash proof, but once you get set for your casting, it's awesome and accurate.

From: Hank: TX

Comments: this reel is way smoother and much more balance/sturdy and will alway cast further compare to its little bro ...(curado)

Comments: best reel that i've tried so far.

From: Jaycee: TX

Comments: Simply the best

From: Big dog

Comments: This is a great reel and is one of the best on the market. If you tune it right you can cast your lure a mile. They are a little overpriced but the quality can't be beat.

From: Dustin: USA
Comments: Overpriced for what it can do. I've been using curado's for years and this reel barely and I mean BARELY outperforms them at over 3x the cost.

From: Harry: New Jersey, USA
Comments: I think it was a waste of money-my 59.00 dollar megaforce cast further than this reel.

Comments:This is simply the best of the best. My fishing has gone to a new level. And to my friends, I always say, don't touch!
From:Chris: New Zealand
Comments:AWESOME REEL, works like magic, love that zing noise too. I paired it with a Megabass DTI rod and hold on to it tight!!!
From:Kenny: Phoenix, AZ
***Note: If you have questions about this product or need assistance with an order please email your questions to info@tacklewarehouse.com