Shimano Calcutta Conquest Casting Reel - $549.99 to $579.99
Delivering ultra premium round reel performance that can fit in the palm of your hand, the Shimano Calcutta Conquest Casting Reel is packed with Shimano's most advanced features and technologies. The Conquest line of reels has been a staple in the Japanese domestic market for years, proven again and again to stand above the rest.
The Calcutta Conquest features Shimano's refined Micro Module Gear system for the smoothest retrieves in the industry. Smaller teeth on the gears also mean there are more contact points between the gears, resulting in a more efficient gear train with less gear "feel." X-Ship material provides enhanced gear durability and reduced friction, greatly enhancing casting performance especially with lighter lures. Shimano's S3D: Stable Spool Design virtually eliminates spool vibration, and in conjunction with the SVS Infinity provides easy-to-manage, consistent control and brake force for complete cast control. A top-of-the-line reel perfect for a range of applications, the Shimano Calcutta Conquest Casting Reel has it all - and then some.
The top-of-the-line Shimano Calcutta Conquest Casting Reel delivers ultra premium round reel performance that fits in the palm of your hand combined with Shimano's most advanced reel technologies.
View Large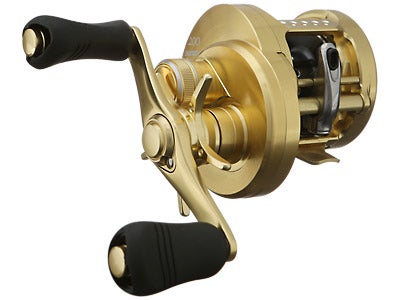 More Shimano Reels Casting

Comments: Awesome reel, comfortable in the hands, I bought this reel for throwing big swimbaits, Calcutta Conquest has the strength, durability, and casting distance you need. I throw 8inch Wood lunker punker and has not been fatigue at all. Best reel for the $
From: Tom: Sacramento, CA 7/23/15

Comments: Wonderful reel. The overall construction of this reel is really a work of art. The micro module gears are a great addition to the calcutta. In fact it's so smooth that if you're not used to the feel of this reel you might think you forgot to set the drag or the gears are slipping. Also because of the way they designed the reel a 200 size feels like a 100 size. Great for palming. The breaking system is easy to adjust internally with four on/off break positions. Once the internal brakes are set to you preference you can make on the fly adjustments on the outside of the reel with a knob. Out of the box it free spools for 6 seconds. Which is pretty awesome. I haven't had mine very long but once broken in I'm sure it will free spool even longer! It casts like a dream and the retrieve is powerful. Yes it's expensive but if you appreciate quality at its highest level you will absolutely love this reel.
From: Bill: Chicago, IL 1/3/15

***Note: If you have questions about this product or need assistance with an order please email your questions to info@tacklewarehouse.com